Stock Inventory Manager by Iksanika
Start save up to 95% of your time on products stock inventory management in your Magento store today!
Add a simple, yet efficient, extension to enhance your online store management possibilities. Stock Inventory Manager empowers you to update product stock information on the fly.
* Editable fields in grid to make specific bulk products update
* In-grid Stock management
* Absolute and relative values (+/-/* 50 for increase/decrease/multiply by value)
* Search Line
* Filter products by Categories
* Support and allow manage third-party Multi-location store products quantity
and more.
Stock Inventory Manager is designed for better admin experience. It gives you amazing power and flexibility thus helping you run your store effectively.
One Page Bulk Products Update With In-grid Editable Quantity and Is_In_Stock Fields
It's never been easier to make bulk products update at current time on a single page.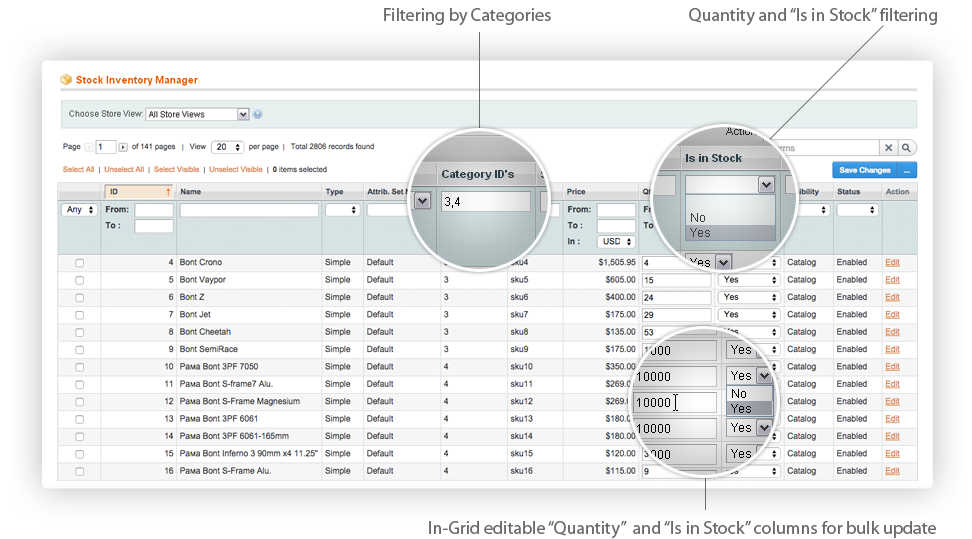 Whatever way you use to add products into your Magento store - through Product Manager, CSV/XML files or API - you know how time-consuming it usually is. Stock Inventory Manager is a comprehensive tool to help you easily edit Quantity and Status of specific products, as well as perform bulk updates, through in-grid editable fields. You can filter products by given products attributes and make quick stock inventory changes right in Stock Inventory Manager Grid and proceed with bulk update of selected products in one click.
Stock Inventory Manager Grid is enhanced with categories filtering features to make process of products selection easier. Extension also support list of third-parties Multi-Location quantity extensions and allow select products quantity related to selected store and proceed bulk update.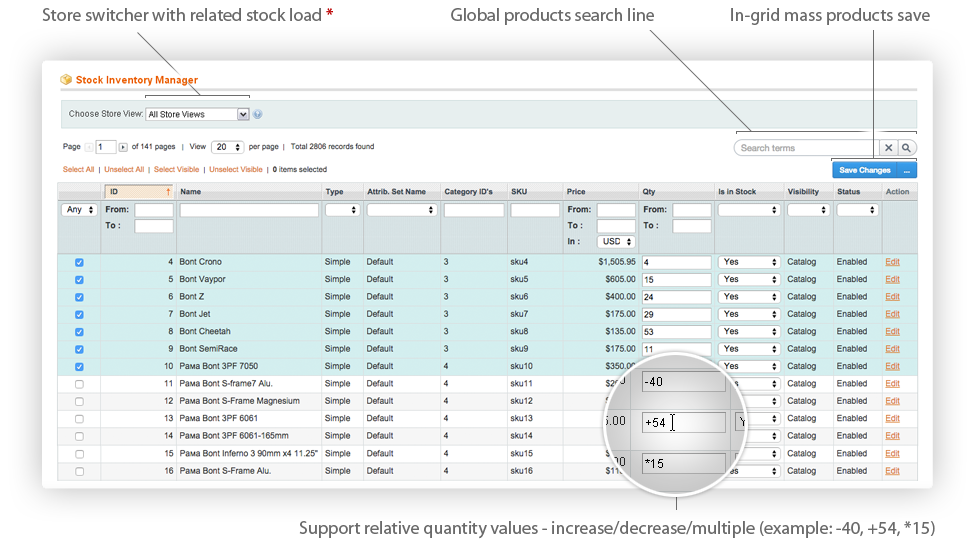 Stock Inventory Manager Grid support absolute and relative values for Quantity products attribute - it allow you instead of spending time on recalculation current stock inventory with new inventory for selected products, simply use commands +/-/* to update current quantity with new inventory. For example right now you have 5 items in stock of selected product and you receive new products items into stock in amount of 55, as result you can just put +55 into editable Quantity field and Stock Inventory Manager will automatically recalculate and save 60 as final result.
To make bulk/mass update of stock level and status you need just change stock level and/or status and click 'Save Changes' button.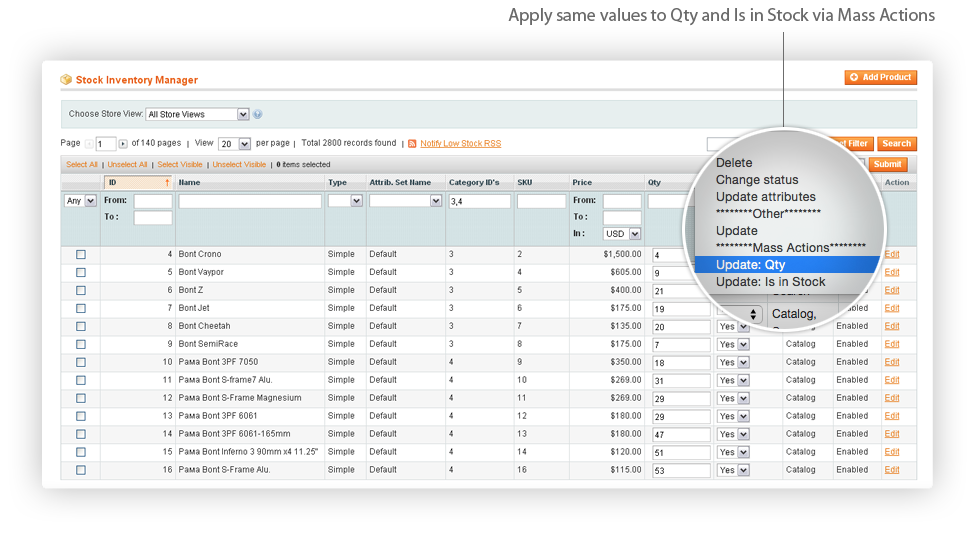 Stock Inventory Manager extension for Magento allow you apply same values for list of products. You need just select required products, after select required action to update Qty or 'Is in Stock', then specify value and click Submit. Extension will update all selected products with same values. For Qty you can use Absolute and Relative values as well.
It's never been easier to make mass products stock inventory update in your Magento store at current time on a single page through in-grid editable Quantity (including Multi-Location Quantity) and 'Is In Stock'. Let's try it now!
Other extension features:
* Easy 1-minute installation
* Meets Magento programming practices for most versions and customizations compatibility
* Free upgrades during support period
* Our excellent support team is waiting to hear from you each business day from 9:00 am to 5:00 pm GMT
Visit Extension Page: http://www.iksanika.com/products/stock_inventory_manager.html
Advanced Admin Products Manager is full version of the extension.
PLEASE USE THIS FORM TO REQUEST SUPPORT