Advanced File Manager FileMagus

File Magus
is an advanced web-based file manager with plenty of abilities for you to easily manage files and folders of the website. You will have an impression you work locally thanks to the modern interface of File Magus (indeed, you can even drag a file from your computer directly on server).
Bulk copying, moving and deletion, archives, FTP and HTTP connections, direct preview of files and even ability to edit code files. Plenty of settings, hot buttons, pan interface, executing OS commands – your work with Magento's files has never been so easy.
This video shows how File Magus works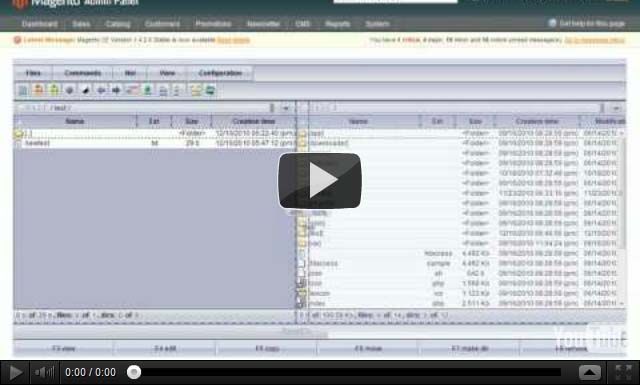 Features
» Creating, copying, moving, renaming, deleting files/folders
» Syntax highlighting editor for editing files
» Changing Windows/Linux file/folder permissions
» Changing Linux file/folder owner
» Compressing/decompressing
» File search by name, content, size, creation date
» Downloading, uploading files (files can be drag&dropped from desktop to browser!!! FF >=3.6, IE 9)
» Files/folders comparison
» Files/folders list builder
» Splitting/combining files
» Windows/Linux OS command line
» HTTP downloader
» Full-functional FTP client. Up to 4 parallel connections
» Viewing system information and more...