File Downloads & Product Attachments
File Downloads & Product Attachments
is designed to manage easily
Magento product attachments
on a store.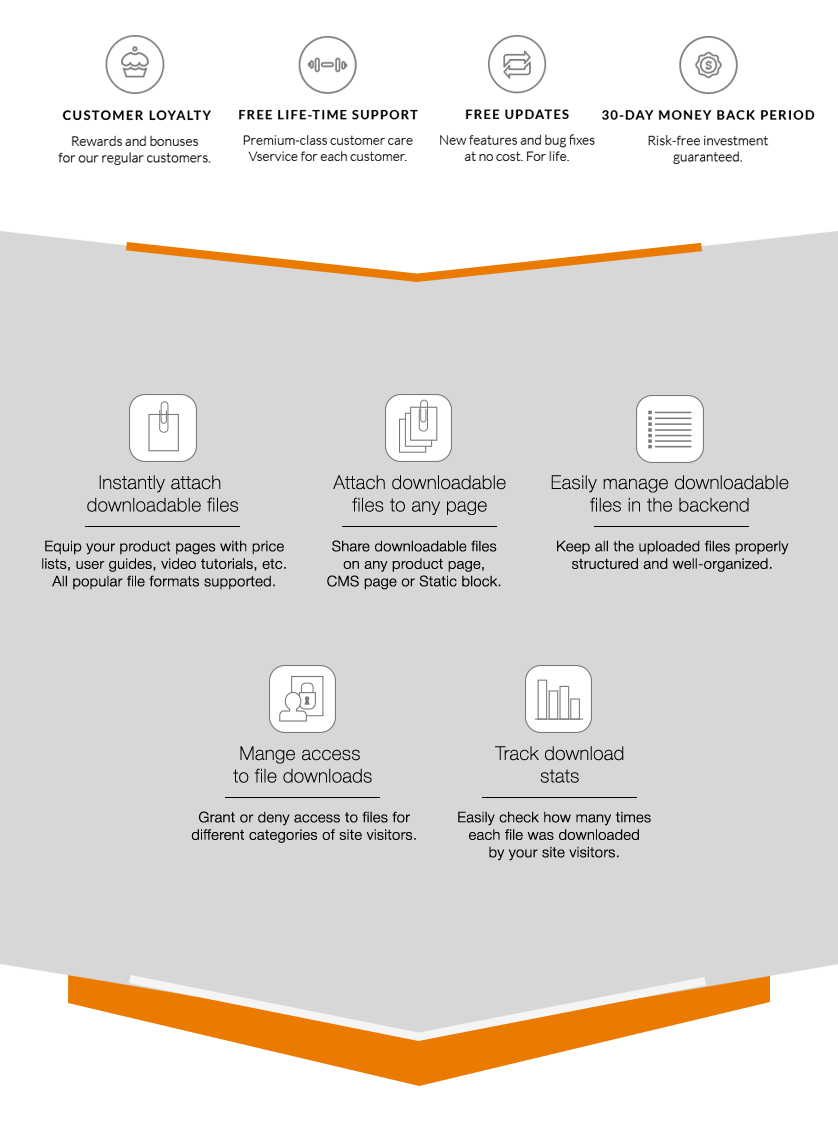 All Features
Attached sharable files in any popular formats
File Downloads and Product attachments Magento module allows attaching downloadable files in any popular format: "pdf", "jpg", "jpeg", "html", "xml", "swf", "flv", "avi", "wmv", "mov", "wav", "mp3", "zip","jpg", "jpeg", "gif", "png", "bmp", "txt", "csv", "htm", "html", "xml", "css", "doc", "docx", "xls", "rtf", "ppt" and dozens more.
Attach downloadable files to either a single product or several products at once
Attach files for any chosen store view
Upload files while editing products from the 'Attachments' tab
Multi Upload option to upload an unlimited number of files all at once
Use file URLs instead of uploading physical files
Upload files directly to the server and import them in the back-end
Attach files to any page of your Magento store
Place files and media content to any product page, Static block and CMS page
Share downloadable files on Category pages
Display all file downloads grouped by categories
Display all file downloads from a Category page at once
Display video content in a user-friendly pop-up
Show file downloads in a separate tab on a product page
Display the number of downloads and a file size for each file on the front-end
Select any placement of file downloads block
Easily manage all file downloads in the backend
Easily manage any number of file downloads in the admin panel.
Group files by categories, sort alphabetically, by upload date, size and the number of downloads.
Manage file downloads permissions
Manage access to file downloads for different categories of site visitors.
Restrict access to downloadable files for all guests (non-registered visitors) per file or globally
Allow access to files only for chosen customer group(-s)
Limit total number of downloads
Get an overview of file download stats
The Downloads counter lets you see how many times each file was downloaded. Thus, you can find our which files are the most popular with your audience and which ones get little attention.
File Downloads report is added for each customer at the Customer section in the back-end.
Other features include
The ability to upload files directly to the server and import them in the back-end. Thus you can upload big files directly to your server.
The ability to import relations product-file in bulk in a .csv format.
SEO benefits - all downloadable fixes get indexed by Google
Alt tag of downloadable files get filled with a file name
Downloadable files cab be added to "New Order" emails
The ability to limit the total number of downloads
A user-friendly notice is added when a file size exceeds the maximum allowed file size on the server
Customer Experience
Free LIFETIME support
Free LIFETIME extension updates
Free service of resolving module conflicts
30 days money back
Easy to install and use
100% Open Source
Live Demo
Frontend: product-attachments-extensions.magentoext.com
Admin: product-attachments-extensions.magentoext.com/admin (Please select "File Downloads" in the list of available extensions)
User Guide
You can look through extension User Guide here.
Live Examples
Fiel.com
Tresoroeffnung.de
Displaywizard.co.uk ("Downloads" tab)
Finnpc.net
Decaturespresso.com
SharkBrand.com
Aed.com ("Downloads" tab)
Fitness-Seller.nl ("Downloads" tab)
Related extensions:
Advanced Product Options
- custom options for all products
Shipping Suite
extension - Shipping solutions for different zones and rates
All Mageworx
Magento extensions
:
Support
If you have any questions, contact our Support Department and our team will get back to you shortly.
Updates
Like our Facebook page to receive timely updates and get 5% discount for all MageWorx's extensions
Product tags: magento file permissions, magento file upload, magento upload file, magento file manager, magento file upload extension, magento download file, magento file upload extension, upload file magento, magento admin file upload, file upload magento, magento file download extension, magento product attachment, magento file download, file upload in magento, magento product file upload, magento file system, product attachment magento, magento upload file extension