Digital Signature for SFG Forms

Now supports Tablets and Smartphones on iOS, Android and WinMobile!
Modern life is fast, and sometimes it takes far too much time to download and print an agreement, sign it, then scan, upload back and send. Or even worse - go to a company's office to complete this.
Digital Signature module solves these problems. No more delays - create a form-based agreement and insert a special area where your customers will sign online and submit it.
Being legal in plenty of countries, this digital signature requires no special equipment, stylus, etc. - just a computer and a computer mouse.
This plugin is dependent; it can be installed and will work only together with our
SmartFormer Gold Form Builder
.
With the help of the plugin a special area can be inserted into forms, where customers will leave their signatures. Signature will be converted into image and can be either inserted in the emails' body, or saved in DB, or both.
This video shows how the Digital Signature plugin works: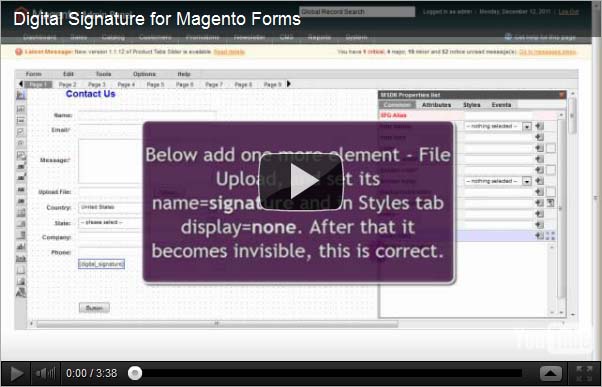 Features
» Signing with mouse's movements
» No special equipment required for signing
» Insertable in forms
» Signature converted to image
Useful Links
Extension Page:
Digital Signature for Magento Forms
DEMO:
Digital Signature DEMO
Documentation:
Digital Signature User Guide