Sirv (CDN + Image processing)
Sirv resizes and crops images to any size on-the-fly. Easily add watermarks, text, borders and color effects. Processing is done in a split-second - you won't even realise. It's free to create your account. Business plans start from $9/month for 3 GB storage, with more storage at $29, $99 and $299 per month upwards.
7 reasons to use Sirv
Faster page loading - server response of 1 millisecond, thanks to highly-optimized caching.
Fast mass processing - generates new images in just 1/20th second.
Responsive imaging - perfectly sized images to suit every screen size, created from one master image.
Beautiful watermarks - perfectly anti-aliased, unlike normal Magento watermarking.
Instantly reduces your server load - no more hammering of your CPU or RAM.
Always online, always fast - zero delay or loss when your traffic spikes.
Better search ranking - faster loading sites are ranked higher by Google.
Try it
Click the URL, then change 300 to another number:
Notice how fast Sirv generates brand new images when you adjust the URL.
Features
Other on-the-fly image processing options include:
Watermarks
Text overlays
Crop and scale
Any image format (JPEG, PNG, WebP)
Colour effects
Greyscale
Borders
Examples
Resize images on-the-fly
Add watermarks with images or text
Your image URLs
You're images will be served from a unique subdomain such as https://yourcompany.sirv.com/. Personalize this from your My account page.
Add Sirv to your Magento store
It's easy to install Sirv:
Create a free Sirv account or login to your existing account.
Return to 'Sirv' listing on Magento Connect > Get Sirv extension by clicking 'Install now' > Click 'Get extension key' > Click 'Select Key' (you will need to be logged in to do this).
Go to: Magento admin > Magento Connect > Magento Connect Manager.
Paste in the extension key and click "Install".
Sirv is now installed.
Next, sync your images with Sirv:
Go to: Magento admin > System > Configuration > Catalogue > Sirv.

The fields in the 'General Settings' section will automatically populate.

Enter your Sirv details in the 'Sirv Account' section.

Login to your Sirv account.
Go to your My Account section of Sirv and you'll see the details for S3 Key, S3 Secret and S3 Bucket.
Copy those three things into the 3 fields of your Magento admin > System > Configuration > Catalogue > Sirv > Sirv Account' section.
Click 'Save config'.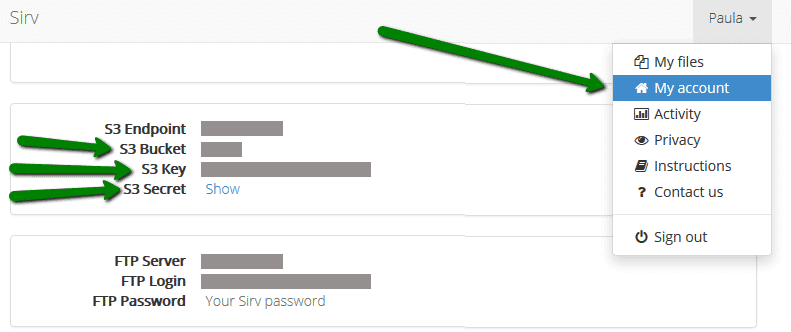 Sirv has now been configured.
Finally, activate the automatic image sync process:
Go to any product page on your Magento store. This will start the automatic sync process. All your product and category images will be copied to your Sirv account.
Go to: Sirv > My files > A new Magento folder will now be showing. This folder contains all your product and category images. Sirv duplicates your Magento image folder structure.

Adding new products to Magento
When you add new products to your Magento store:
Create a new product in your Magento admin panel.
Upload your product images as normal via your Magento admin panel.
Once your new product has been created, the product images will appear automatically in your Sirv Account > My Files > Magento folder.
Pricing
It's free to create a Sirv account, giving you 500 MB storage. This is burstable to up to 3 GB for 30 days and allows you 1 GB data transfer per month.
Choose a professional plan with more storage and data transfer, starting from just $9 per month for 3 GB storage. View all Sirv plans.

Watermark your images
Sirv supports the Magento native watermark functionality, adding beautifully antialiased image and text on your images. Watermarking product images helps you protect or brand your images with logos or text.
Conflicts
If you experience a conflict between Sirv and any other Magento extension, tell us and we'll fix it for you absolutely free. We're here to help.
Please send us a review or post it here on Magento Connect!
About Sirv
All these images were generated on-demand by Sirv. You too can create a new image with Sirv.