Shipping Table Rates by Amasty
Please find full description, live demo and user guide at Magento Shipping Table Rates module page
Сreate extremely flexible Magento shipping methods.
---

Create shipping methods for all types of shipping.
For example you can create one method for ground shipping, one for air shipping and another one for express delivery. You can set individual rates for each method. These steps will simplify shipping management and you can apply methods for different products.
Set special, higher or lower, Magento table rates for a certain product or a group of products.

You can assign different shipping rates for particular types of products. For example, set higher rates for fragile, extra large items, the ones located in this or that warehouse and so on. Just create the necessary options for 'shipping type' attribute and assign them to the products you need. Let's say, shipping type 'Tires' and assign it to all tires. Then create the rate to apply to all products of this type. Ability to set shipping rates for product types enables you to provide correct rates for all products and not lose money on shipping some of them.

NEW!

Estimated delivery dates.

Now you can set the number of days for delivery for each shipping method. Thus your customers will know how many days it will take to deliver their order before completing checkout.

Rate combinations to suit all possible requirements.

You can create any rate combinations. Let's say you have products located on the east coast (and have created shipping type 'CA warehouse' for them) and the rates for delivery to NY and CA will differ a lot. Another example is when you provide free or almost free shipping when a customer buys 5 or more products.

Different types of rates available.

You can use flat rate shipping as well as percent-based rates – both individually and in combination. For example, you can charge $5 per order plus 1% of product price plus $2 per product.

Calculation of rates based on a number of criteria.

To use advanced Magento shipping calculator specify address, weight, price and quantity parameters for calculation of shipping prices. E.g. you can have $10 flat rate for orders, which weigh between 2 and 5 pounds, cost between $20 and $50, when 3 or fewer products are purchased. Or 1% of product price + $3 per product fee for orders delivered to California, when there are more than 5 products and they weigh less than 100 pounds.

View all the rates for the method at the summary tab.

All the rates imported for certain shipping method are shown at the 'Methods and Rates' tab. You can delete them by one, sort and search.

NEW!Show maximal or minimal rate for products with different shipping types

Now you can not only sum up shipping rates of products with different shipping types, but also choose whether to use minimal or maximal rate. For example, if a customer adds to cart two or more products with different shipping table rates you can show him/her minimal or maximal rate for all the products.

NEW! Set minimum and maximum shipping rate

You can assign a minimum and a maximum shipping cost to a method. This means if the total calculated is lower than the minimum cost for your shipping, the price will be increased to the minimum cost amount. At the same time if the total calculated is greater than the maximum cost, the price will be decreased to the maximum cost amount.

Create multiple table rates.

Based on the criterias you use as conditions for applying certain methods you have a variety of rates. All of them are shown in the 'Methods and Rates' tab. You can set base rate for the whole order ('Rate' column), percent per price rate ('PPP' column), flat rate for each product in the order ('FRPP' column) and flat rate for the unit of weight (kg or lb). 'Rate', 'PPP', 'FRPP' and 'FRPUW' are added to each other, so in our example if we have 3 products which together cost 200 and are 10 lb weight, shipping price will be: 12 (flat rate per order) + 6 (3% from product price) + 21 (7 per product) + 10 (1 per each lb) = 49

Partial match for non-numeric zip codes.

You can set a rate to apply to zip codes with 'XYZ' in the code.

Bonus option: sort methods by priority

Now it is possible to sort shipping methods by your own custom priorities, not only by cost. Please, contact us to activate.
Manage shipping rates easily.
---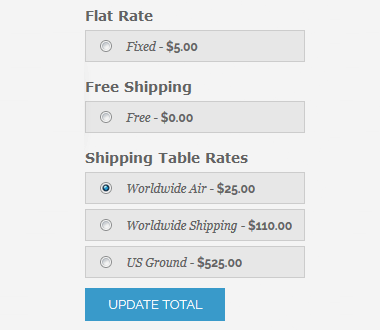 NEW!Set any shipping method as default
With the free Auto Shipping tool you can easily set any shipping method created with the extension as default and display it on the shopping cart page so that customers will see the final price including shipping expenses at once.
Simple import of rates.
You can import .csv file with shipping rates for the custom methods. It is possible to specify one country or all countries, using "*" symbol, use numeric zip ranges and list several states, separated by comma. E.g. if you specify "*" symbol for 'Quantity From' field, and "10" for 'Quantity To' field, the rate will be applied to all orders with the number of products between 0 and 10.

NEW! Auto process files with duplicating conditions
Now you can upload CSV files without worrying that some conditions may duplicate and you would need to sweat searching for them. The module will automatically process files and remove duplicates with the corresponding notice. After receiving the notice you can quickly check the files and choose only the necessary conditions.
Manually add and edit magento shipping rates.
If some rates become outdated with time, you can either edit or remove them. You can also manually add new records with rates.That feature allows refine shipping rates list by removing useless information.
NEW!Add notes and comments for each shipping method
Write special comments for each shipping method to provide customers with any additional information you need. The comments option supports HTML tags, therefore you can easily customize your notes and add pictures if needed. All created comments will be displayed on the shopping cart and checkout pages under the corresponding shipping method.
Deep integration with native Magento features.
---
Ability to create rules for prices after discount.
You can indicate that a shipping rate should apply to price of the product after discount. Let's say a product costs $100. If after the discount it becomes $70, shipping rate for 70-dollar products will apply to it.
Virtual product support.
Virtual products price may be included in the table rate (optional).
Free shipping promotions support.
The extension fully supports discount functionality related to shipping in Magento - free qty by coupon, free shipping for particular method etc.
Shipping Table Rates user guide
Live Demo:
Frontend
and
Backend
Also the extension:
---
is easy to use
meets all Magento development practices
is 100% Open Source
is easy to install (takes just a couple minutes)
Additional services:
---
Professional 120-day free e-mail support, help and guidance
Risk free purchase, 2-week money back guarantee
Paid extension customization
Please visit the official Magento Shipping Table Rates module page to see the complete Change Log list
Extension Updates Log:
Version 2.2.3-January 18, 2016
– New options for min and max possible rate value
Version 2.2.2- November 13, 2015
– Compatibility with 3-rd party checkout extensions improved
Version 2.2.1- October 27, 2015
– Admin routing patch (SUPEE-6788) compatibility
Tags:
shipping table rates, shipping methods, shipping method, multiple table rates, shipping rates, table rate shipping, shipping calculator, multiple flat rate shipping, shipping costs, shipping table rate, multiple table rate