Search Pro by Amasty
Please find full description, live demo and user guide at Magento Search Pro module page
Well-working search feature is the basement of ecommerce success.
---
Your customers will appreciate the search solution which works brilliantly.
Incorrect work of standard Magento search was one of the things we didn't like about our new website - inadequate search results were frustrating to say the least. We had to give direct links to product pages to customers, as often the needed modules were buried deep in the search results. To make sure our customers can easily find the products they are looking for, we've developed this module. And now the problem is gone.
People buy products only when they can find them.
Before launching this Magento search extension we tried it on our site. It didn't take us long to notice two major positive changes: no more questions of the kind 'where is the module?' and more orders. We have around 70 products in our store, with larger catalogs the positive impact should be a lot more significant. Do not surprise customers with bad search feature. Surprise them with great shopping experience.
Setup the search extension according to your needs and preferences.
---

Choose the search type you prefer.
You can select the search type you prefer – 'Like', 'Fulltext' or 'Combined'. Please feel free to choose the one which suits you best.
Set search priority for attributes.
This Magento advanced search tool does search among all product information to insure accurate search results. At the same time you can set search priority for the module. For example, that first it should search in product name, then in product description and only after that in all other attributes.

Take advantage of the native Magento features.
The extension is completely integrated into Magento and supports its search features. For example, if you've specified synonyms for search terms in admin panel, the extension will respect them. The module feeds information into the 'Last 5 Search Terms' and 'Top 5 Search Terms', so there will be absolutely no negative effects of transition to Search Pro.
Autocomplete feature for much better search usability.
---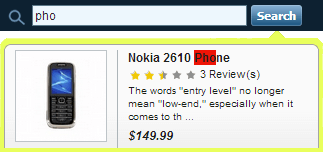 Customers can find products faster
While customers start typing something into the search box, the autocomplete Magento tool automatically starts searching and displaying products according to the entered information. So customers can find the right products much faster with the quick search option for Magento. The autocomplete Magento search results are shown in a popup window, which can be configured. Customers can click products in the window and get right to the product details pages, which is very convenient.
Autocomplete window features
You can configure the following parameters for the auto-complete window:
Number of products displayed in the popup
Minimal number of characters entered by customers after which the window pops up
Autocomplete window width
Product name and description length to be shown
Display of reviews
NEW!Add to Cart button in the autocomplete window
Display Add to Cart button right in the autocomplete window to provide customers with fast and easy way of making purchases.
Manage the autocomplete window look
It is possible to manage a number of design parameters for the popup window, such as border color, font color, text highlight color, background and font color for products, which are hovered with mouse.

Search Pro user guide
Live Demo:
Backend
and
Frontend
Other Features
---
100% Open Source — Easy To Customize
Follows Magento Code Architecture
Separated HTML/CSS/JS
W3C Validated Code
Please visit the official Magento Search Pro module page to see the complete Change Log list
Extension Updates Log:
Version 1.4.3 - May 19, 2015
– Minor improvements for relevance calculation
Version 1.4.2 - May 12, 2015
– Compatibility with Magento PATCH_SUPEE-3630_EE_1.13.x-1.14.x_v2
Version 1.4.1 - Apr 13, 2015
– Mobile and Tablet Friendly version based on the device screen size
Version 1.4.0 - Mar 17, 2015
– Possibility to display "Add to Cart" button in search results window
Version 1.3.2 - Aug 20, 2014
– Fix for missing Multibyte String PHP extension.
Version 1.3.0 - May 26, 2014
– "More Results" link added to the popup block.
Version 1.2.5 - Dec 03, 2013
– Fix for "Enter" key on search field.
Tags:
advanced search, improved search, search autocomplete, autocomplete search, search box, site search, quick search, better search, search bar, better magento search, improve magento search, improve search, search autocomplete extension, advanced search extension, advanced search module, magento autocomplete search, search, magento advanced search, magento search, search box, magento site search, magento quick search