Request for Quotation
The trusted quotation module for 8k+ users
Find out why Cart2Quote is the most popular B2B extension and
get started for FREE.
"Cart2Quote has become an exceptionally convenient
time-saver and a massive money-saver. Cart2Quote
doesn't just process quote requests it has turned our business around."

Ryan Freeman, President National Fitness Distributors

Strategically Place Quotation Buttons
• Enable "add to quote" buttons per specific product
• Enable "add to quote" buttons per store view or website
• Enable quotations and quote buttons for specific customer groups
• Specify the visibility of buttons in the Magento grid/list view
• Configure the visibility of the "add to quote" buttons on the product page
• Supports responsive webdesign and works flawless together with Magento's RWD theme
• Cart2Quote supports all Magento product types
(checkout the demo store)
• Has Ajax forms, Quick Quote forms, MiniQuote widgets and more
(checkout this demo video)

Create Proposals Via Your Magento Backend
• Enter custom prices per product
• Add custom shipping prices
• Add additional surcharges per quote with
Fooman Surcharge
(when installed)
• Upload additional attachments with a proposal email
• Enter shop owner comments per product
• Show realtime profit/reduction margins
• Add or delete products from the quote request
• Add or delete tier quantities for a specific product
• Convert a quote request to order using the admin panel
• Configure the visibility of the "add to quote" buttons on the product page
• Auto-send proposals based on Magento tier prices
• Watch the demo video:
Submit price proposal via the backend

Customer Relationship Management (CRM)
• Send PDF proposals by email
• Send reminders and expiry emails (transactional emails)
• Manually send messages from within Magento (CRM)
• Create and update custom message templates
• Watch the demo video:
Cart2Quote CRM tool

Assign specific sales representatives
• Assign sales people to quotation requests manually or automatically
• Add internal comments to a quote request
• Assign super admins with special rights
• Show all quotation requests per customer in a grid

Connect with your favorite CRM & ERP systems
• API with wsdl2 support
(download the API manual)
• Quote request export via the Quotation grid actions
• Out of the box SalesForce integration with our partner
PowerSync

Customize your Cart and Checkout + Not2Order
• Set alternative checkout URL for third party checkouts
• Disable order references in the cart
• Enable Ajax add to quote popup
"Unlike other quotation solutions out there, Cart2Quote is developed to create more sales. It is not simply adding a quotation button and form, but it is adding a completely new sales channel to your Magento store!"
What our customers say:
"Cart2Quote is the extension of choice.... These guys deliver great tools! With the lack of quoting extensions out there it is surprising to find their extensions so well done! True quoting with great functionality without much competition shows how great of a company they are... Well done guys... Well done…"

              TurboDoug on Magento Connect
"Why -Reinventing the wheel- as it's already (well) done, We integrated it in a global solution as we need to provide this functions to our customers. we start from the free version, went to the Professional and soon we'll go on the Entreprises for it's ability to communicate via the API."

              Galilee on Magento Connect
"Cart2Quote has dramatically enhanced the experience that we are able to offer our customers. We are a fast paced business that has succeeded by being flexible for our customers, and Cart2Quote allows us to bring some of that flexibility in to the static environment of the online store. Not only is Cart2Quote great software, but the team behind it is professional and responsive. We recently also purchased Not2Order, another great app, and can't wait to see what they do next."

              Sam Crowther on Magento Connect
More testimonials and examples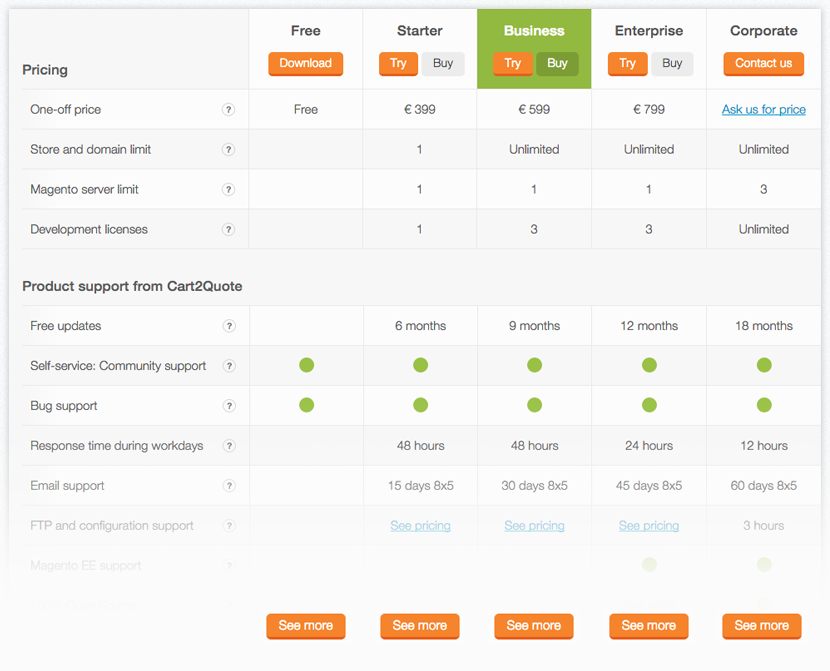 Versions & Pricing
We offer five versions of our Magento Quotation Module:
Free, Starter, Business, Enterprise and Corporate.
- The Free version offers only the front-end side of the quote request
- The Starter and Business versions are fully loaded
- The Business and Enterprise versions are usable on unlimited domains
- The Corporate version has unlimited development licenses
Compare The Cart2Quote Versions.
Looking to hide prices and disable the ordering of products in combination with Cart2Quote? Have a look at Not2order also.
This Magento extension works seamlessly with Cart2Quote.
Go to:
Not2order - Hide Prices, Disable Ordering
Resources
Web:
Cart2Quote website
Screenshots:
Quotation processes and screenshots
Showcases:
Examples and Testimonials
Live Demonstration:
Live demo Magento quotations
Pricing:
Versions and Prices Cart2Quote
Download Quick Start PDF:
5 Step PDF manual
Online manuals:
Installation and user manuals
Supportdesk:
Support forum

Now you're in Business