Product Feed by Amasty
Please find full description, live demo and user guide at Magento Product Feed module page
Great sales channel to boost your conversions
---
E-commerce merchants from all over the world have highly appreciated comparison shopping engines or CSE's for their opportunity to draw more targeted traffic to online stores and visibly increase sales rates.
CSE's easily collect product information like pricing, shipping methods, delivery terms etc. from all participating vendors to enable customers compare these data on a single page. Google shopping is a vivid example of that strategy.
Key Features
---
Ready-made templates for feeds creation:
- Shopping.com
- Getprice.com
- Google.com
- Myshopping.com
- Nextag.com
- Shopmania.com
- Bing.com
- Thefind.com
- Shopzilla.com
- Amazon Ads
- Sears.com
and many others. Email us to add a new template for free.
Easy configuration of price formats;
Ability to filter products by their attribute sets;
Different types of products are supported: simple, grouped, configurable and virtual products;
Use feature-rich tool to create product feeds
---
With the Product Feed Magento Extension you can create the feed just in a couple of minutes and get your store items displayed to millions of new customers.
Unlimited number of shopping feeds;
Flexible feed configuration;
Possibility to generate feeds in XML, CSV and TXT formats;
Mapping option: combine several fields to create one value depending on conditions;
new!Advanced logic for custom fields' values;
Possibility to include into the data feed:
- Product type;
- Product base image;
- Most product attributes;
AND/OR logics for advanced product filtering;
Ability to specify custom prices and attribute values for each feed;
Ability to choose particular product types to include them into the shopping feed;
Google Analytics Support: use campaign tracking code to tag the destination URL of each product and track the traffic from shopping engines in the "Traffic Sources > Campaigns" report;
Ability to generate an url with predefined product parameters to lead customers to the certain store page;
new!Possibility to add to the feed a product category including all sub categories with a single click;
Advanced XML editor to easily change XML tags in the feed;
Unlimited distributions for each feed: you can create one feed and distribute it to numerous different service providers;
Custom defined interval of the feed generation and distribution;
Ability to set time for feed generation (for example, to generate feeds at nights not to slow down site load speed);
EASILY CHANGE XML TAGS WITH ADVANCED XML EDITOR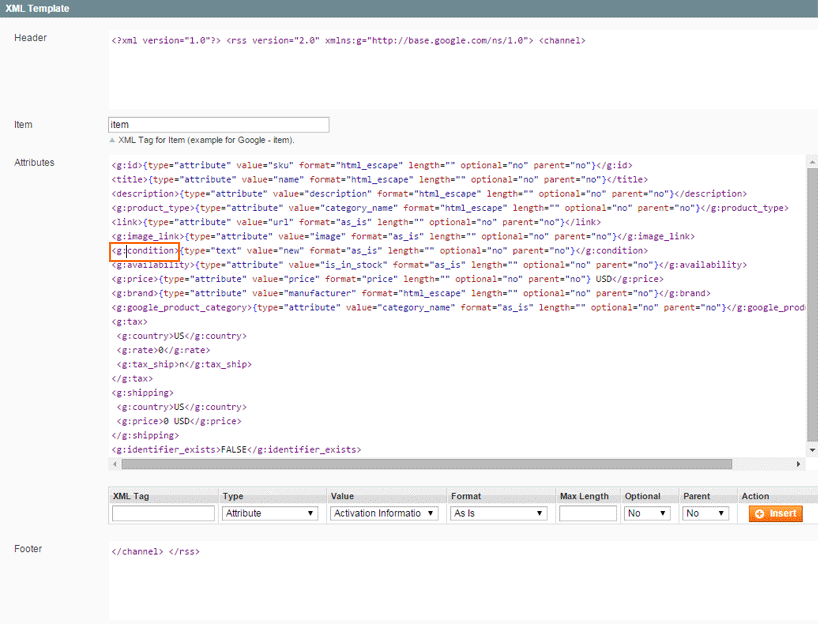 CREATE A NEW FEED CHOOSING APPROPRIATE PRODUCT FIELDS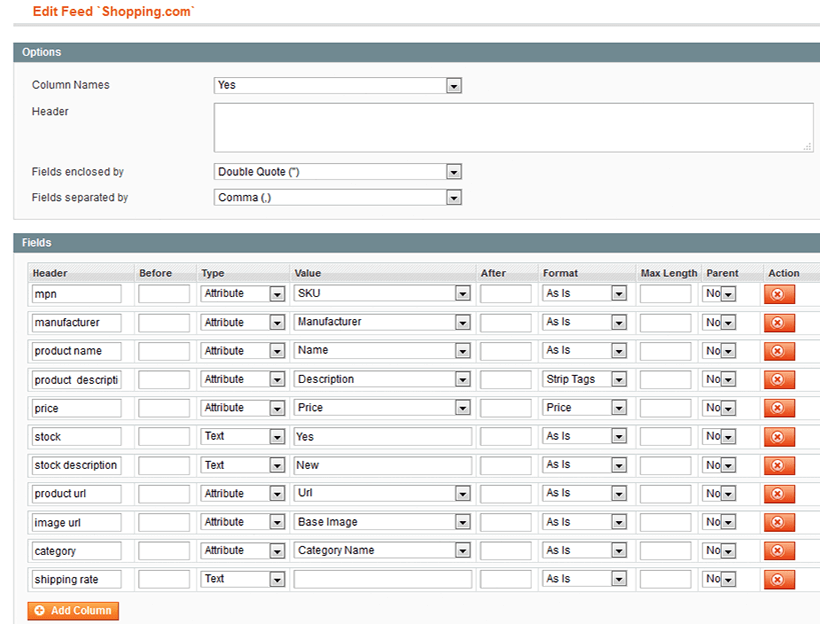 Advanced Features
---
Generate product feeds either manually or automatically;
Upload feeds to FTP/SFTP account or directly download them from Magento admin panel;
Easily manage feed columns;
new! Ability to duplicate and generate feeds in a bulk;
Specify whether to include out of stock and disabled products into the feed;
View feed generation progress bar when manually generate the feed;
This Magento Feed Manager extension will help you use different merchant channels like Google shopping or Bing shopping to the full.
Product Feed user guide
Live Demo:
Backend
Also the extension:
---
is easy to use
meets all Magento development practices
is 100% Open Source
is easy to install (takes just a couple minutes)
Additional services:
---
Professional 120-day free e-mail support, help and guidance
Risk free purchase, 2-week money back guarantee
Paid extension customization
Please visit the Magento Product Feed module page to see the complete Change Log list.
Extension Updates Log:
Version v3.2.2 - Apr 25, 2015
- Option to set feed generation time, for example to generate feeds at night
- New condition by stock availability
- Inner code refactoring for categories filtration logic
Version v3.2.1 - Mar 20, 2015
- New templates for shopzilla.com, Amazon Ads, cj.com, sears.com and newegg.com.
- Feed can be uploaded via Secure FTP. Useful for Amazon Ads for example.
- Updated XML editor for product feed.
Version 3.1.0 - Feb 03, 2015
- Minor fix for Google feed
- Filtering products by attribute sets
- New output URL called 'URL with predefined simple product options'
Version 3.0.0 - Jan 23, 2015
- Extension core code refactoring to improve speed and scalability
- Advanced logic for custom fields' values implemented
Version 2.5.1 - May 27, 2014
– New variables %today% and %now% for date conditions.
– Default build-in templates now are store-specific.
Tags:
google shopping, export products, product feed, google shopping feed, google product feed, data feed, google feed, feed manager, amazon feed, bing shopping