Privacy Policy (Generate One With Iubenda)

Every website needs a privacy policy. It's the law literally everywhere. Iubenda lets you generate a privacy policy in seconds, beautifully designed, completely customized to your needs and remotely maintained by a legal team.
This extension will let you generate and add a privacy policy to your website right after the setup, as a badge attached to the lower border. You will receive an email right after with instructions on how to customize the result and seamlessly integrate it with your website.
Does my website need a privacy policy?
Most countries' privacy laws require websites to provide information about the personal data collected, even if they are simple cookies. This is true in Europe, in the US and in many other countries. For all of us this means that even if your website simply collects analytics data through Google Analytics (as a popular example), we're required to state this in a privacy policy.
What is the advantage of using iubenda over writing it myself?
Writing a privacy policy by yourself likely means wasting time and being frustrated by the complexity. If you aren't an expert chances are you'll find and copy from a template found on a similar website. As a result you may actually fail to both protect yourself from fines and to accurately inform your users.
Iubenda lets you generate the privacy policy by selecting services and features used by your application (e.g. Google Analytics, Google Adsense, or simple registration forms and a mailing list). Our application turns your choices into legal text which is precise, customized to your specific needs and easy to read for your user or visitor.
What about hiring a lawyer?
Hiring a lawyer is always the best option, but it comes at a price. Our service is also backed by lawyers, but - thanks to the automation provided by the software - helps you save hundreds of dollars in legal fees for a highly professional result.
Does it work in multiple countries?
We do our best to monitor and to bake in all the most important countries' privacy laws and keep the privacy policies generated by our service always up to date.
How does the result look like?
This is an example of privacy policy generated by iubenda: http://www.iubenda.com/privacy-policy/367780
The simplified privacy policy page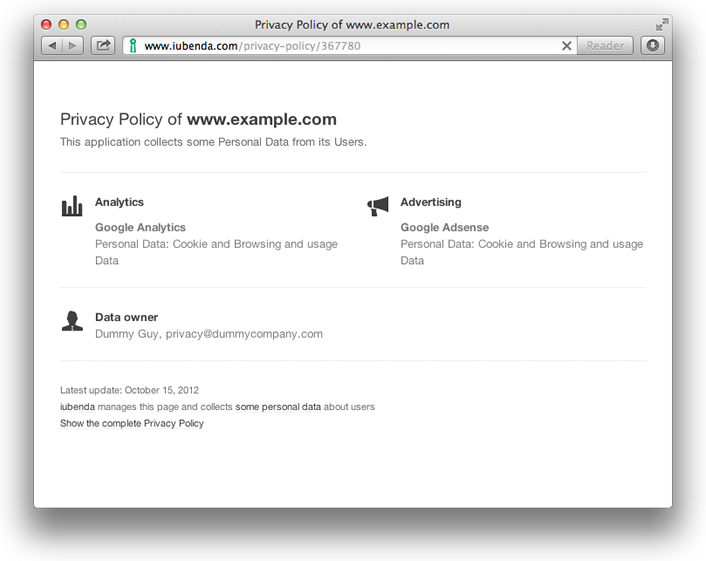 The full legal policy
Is the extension free?
The extension is completely free. Generating a privacy policy is also free until you'd like to add some of our premium features, which are automatically covered with our $27/year subscription.
Why a subscription price?
Your privacy policy is hosted on our servers. It means we keep it up to date in case of legal changes and you can always edit your policy remotely (for example if you add a new service to your website such as Google Adsense).
The subscription price, moreover, allows us to keep the entry price of our service very low.
So, how does it work exactly?
When you purchase iubenda for your website, a minimal privacy policy is generated and added to your website (attached to one of the window borders). An email is then sent to your email address with all the information required to further configure your privacy policy and customize it completely tailored to your needs. The privacy policy generated is then hosted on our servers.
Integrating the privacy policy with your website is easy and we offer a few options. By default, this extension inserts a code that shows a privacy policy link attached to one of the window borders. You can also override this option by integrating the embedding code provided at the end of the configuration process. This lets you place the link to the privacy policy wherever you wish and even embed the privacy policy text right into one of your pages.
How exactly do I integrate the privacy policy with my website?
There are several ways to do it:
Default way: the integration automatically embeds a code on your website (that you can also choose to disable) that shows a privacy policy badge attached to one of the window borders. If clicked, the badge shows the privacy policy.
Custom code from our website: the default option is not so flexible, but if you follow the configuration steps (sent via email right after purchasing the service) you can grab an embedding code that you can place wherever you want or even use the direct policy URL for linking the policy.
Direct text embedding: in case you don't like integrating the privacy policy as an external link, we offer an option to embed the privacy policy text right into a page of your choosing. You just need to grab the direct text embedding code from the last configuration step (see the instructions sent via email after activating the service) and paste it into the html of one your pages.
Where do I locate the extension after installation?
You can find the extension under System > Configuration. Look for the "Privacy Policy" label on the left sidebar.
Support
In case you have questions of any sort, we'd be glad to help you on our support forum or via email, at info@iubenda.com.
More information
For more information, please visit our website.