One Step Checkout by Amasty
Find full description, live demo and user guide at Magento One Step Checkout module page
Take this little step to get huge enhancements
---
Whole checkout process on a single page
All 6 standard Magento checkout steps now on 1 page! Also you can choose layout for the checkout page – 1, 2 or 3-column one. Make magento one page checkout correspond to its name.
NEW!High checkout page performance
With the significant performance improvement customers can see the checkout page faster. Now particular checkout sections are instantly reloaded while other sections can be loaded later by request with AJAX. Therefore, there is no more need to wait for the full page reload each time customers insert data in a particular section.
Responsive design
Get a step closer to customers and amaze them with a new catchy responsible design available for any screen types and mobile devices. Let visitors easily complete their purchases while on the go.
Decrease cart abandonment rate
At the end of shopping clients get tired of seeing endless "continue" buttons not knowing when they will be over. This is a frequent cause of cart abandonment and purchase refusal. Reduce such cases to the minimum with fast and easy checkout.
Don't give customers time to change their mind
The faster and easier the checkout process is, the more orders you get. Customers think a lot when they are choosing products to buy, let them rest during checkout :)
Increase trust level to your store
In order to engender confidence to your store you need to make checkout process clear and understandable. Often people are scared by uncertainty of when money will be deducted from their account.  With Magento One Page checkout extension customers will see all checkout steps on 1 page and they won't have any doubts.
Make your conversion rate higher
Number of customers, who complete purchases, will increase. Thanks to clear checkout process, customers will know what to expect. On the step of checkout there won't be any obstacles to increase conversion rate any more.
Intuitive checkout process for usability and user experience improvements
Following usability trends, stores adapt to users with immeasurable speed. User-friendly checkout process is the bare minimum for each store nowadays. Pave an easy way for your customers from 'Add to cart' to 'Place order'.
One Step Checkout is available for guests
Don't force people to register, if they want to make a purchase. This might scare them away and they'll never come back, as many users don't like to sign up or just are lazy to do so.
NEW!Configurable checkout page heading, text and title
Get better SEO rankings by editing one of the most important elements of on-page optimization. Include main keywords in the title, heading, and description of your checkout page. Furthermore, the description field allows you to provide your customers with an important information on various issues concerning taxes (e.g. VAT) or any other payment peculiarities specific for your state.
NEW!High checkout page performance
With the significant performance improvement customers can see the checkout page faster. Now particular checkout sections are instantly reloaded while other sections can be loaded later by request with AJAX. Therefore, there is no more need to wait for the full page reload each time customers insert data in a particular section.
Get a considerable competitive advantage by efficiently managing the mod
---

Ability to rename checkout blocks
Standard checkout block names are Billing, Shipping, Shipping method, Payment, Review. Our Magento checkout extension allows you rename any of these according to your preferences. It is possible to specify an individual label for each block per store view.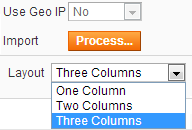 Use Geo IP location
This feature enables you to detect user's country based on their IP address and automatically fill it in at checkout. Customers will be happy to enter fewer fields :)
Checkout page concept based on your own preferences.
You can choose how to show checkout blocks on the page. The options are one, two or three-column view. Test which layout suits your store best: 2-column user-friendly or 3-column compact one.


Configure the checkout process.
The extension is very flexible. You can:
Move checkout to cart page
Merge shopping cart and order review steps. Order review step pretty much copies shopping cart except there's no possibility to edit the products. You can make the review block editable and thus save space by removing the shopping cart block.
This means customers will proceed to checkout right after adding products to cart and will be able to complete it within minimum time period.
Ability to login on checkout page for registered users
They will just need to click "Already registered? Click here to login" link to launch the ajax-powered popup window with login fields.
Ability to register right on checkout page
The only thing guests have to do to get an account is to tick a checkbox and enter a password.
NEW! Let customers and guest visitors subscribe to newsletter during checkout
When customers have already made the decision to purchase one of your products, they may be interested in other products, services or solutions your company offers. So, if you suggest the clients to subscribe to email newsletter during checkout they are more willingly accept your proposal than in other circumstances.
NEW!
Set default values for country, shipping method and payment method fields
You can set default selections for country, shipping method and payment method fields. E.g. this might be useful, if you want to show by default the most common shipping method or the one which you prefer.

Ability to apply settings on store view level
It is possible to specify different values for each store view. E.g. for English store view you can name checkout blocks in English and choose Royal Mail as default shipping method. For German store you can specify names of the blocks in German and set 'DHL' as default shipping method.
NEW!Advanced credit card detector
The module let's you display custom icons for all card types on the checkout page. Once a customer starts typing a credit card number, the corresponding card type will be automatically selected and highlighted. It's also possible to choose the necessary card type by clicking on the card icon. Therefore, with the card detector option you will make the whole checkout process even faster.
Extension's flexibility will amaze you
---
Manage fields in checkout blocks
Every checkout block has an alterable number of fields. In addition you can:
- Place fields in any order in a block.
The only thing not to forget is conversion ratio, so we recommend to 'test-drive' the changes.
- Make fields required or optional.
Choose for your store, which field is required and which isn't. There should be a good balance between required and optional fields, so that customers don't get irritated and have to fill in only the info which is really necessary.
- Rename fields
You can have a separate field name for each store view, which is very convenient for multi-language websites. Also you can play with field names, make them unusual and eye-catchy.
- Add or delete fields.
E.g. you can disable unwanted fields like fax, company and more.
- Adjust field size.
It's up to you to decide which size each field will have.

AJAX-powered features.
The extension auto-updates:
- Prices and totals when choosing shipping/payment method.
- Shipping rates when user chooses country, zip code or region.
- Payment methods when user chooses shipping method.
Don't limit sales possibilities of your checkout, use additional addons!
---
NEW! Expand the functionality of checkout page.
Reducing of checkout steps is one of many methods to increase sales. Improve checkout page and see actual results of these efforts.
- Want to collect and use order-related info? Apply
Order Attributes
at your store.
- Make the registration fun for customers and useful for you with
Customer Attributes
.
Tools to simplify your life after getting orders
Order processing is not the thing you dream about :) However don't despair, we've developed a few tools to ease this process:
- View all necessary order info on the order grid page with
Extended Order Grid
.
-
Mass Order Actions
is your best friend when bulk order processing takes place, e.g. sending invoices or submitting shipments.
- Organize the chaos on your order grid - give priorities to orders using
Order Flags
.
- Want to add important data to orders after they get created?
Order Memos and Attachments
module is here to fulfill your need.
Need to manage display of shipping and payment methods? No problem!
- Set access to shipping methods based on country, product attributes, order attributes with
Shipping Restrictions
.
-
Payment Restrictions
will let you do the same thing with payment methods.
One Step Checkout user guide
Live Demo:
Frontend and Backend
Other Features:
---
100% Open Source — Easy To Customize
Follows Magento Code Architecture
Follows Magento Code Architecture
Separated HTML/CSS/JS
W3C Validated Code
Related products:
---
Please visit the official Magento One Step Checkout module page to see the complete Chage Log list
Extension Updates Log:
Version 2.9.1 - Jul 10, 2015
– Magento 1.9.2.0 security fix.
Version 2.9.0 - Jul 08, 2015
– Significant performance improvement. Now customer can see the checkout page faster, while some sections can be loaded later by request.
Version 2.8.13 - May 22, 2015
– Minor improvement for shipping address validation.
Version 2.8.12 - May 20, 2015
– GeoIP import user interface improvement.
– Compatibility with Multiple Coupons extension.