Mass Product Actions by Amasty
Please find full description, live demo and user guide at Magento Mass Product Actions module page
Increase and decrease prices in bulk.
---

'Update price' action.

Using Magento bulk price update option, you can decrease and increase price in bulk. The price can be changed both by a flat amount or by percentage. For example you would like to decrease price of 200 products by 10 dollars/euros/etc. Select the products, choose 'Update price' action, type -10 in the text field and click 'Submit'. That's it.

'Update Special Price' action.

It works the same way as 'Update price', only for special price.

new!

'Modify Special Price Based on Price' action.

This one lets you create special prices based on regular prices. For example you can make special prices 20% less or 15 dollars/euros/etc less than regular prices.
'Update price based on cost' and 'Update special price based on cost' actions.
Extremely useful for drop shippers and other store owners, who get product feeds from suppliers and just add a certain margin to the product cost. Now it will take you just a few clicks to correct prices instead of 'just' a few hours or days.
new! 'Update all Price types' action
With the new action its possible to quickly update all 'price' type attributes as well as a tier price and a group price.
Price rounding.
Very often prices can look not very nice after updates, e.g. you can get prices like 3.87, 8.74, etc. The module allows to automatically round the prices to .50, .99 or .00. So after the update prices will look properly - 5.99, 9.00, 4.50.
Mass category assignments.
---

'Assign Categories' action.

Enables you to mass assign products to categories - select any number of products, then choose the category and press 'Submit'.

'Remove Categories' action.

This action lets you remove multiple products from any category.

new!

'Replace Categories' action.

It is possible to change category assignments for products. So you can remove products from their current categories and add them to new categories with one action.
Relate products fast.
---
'Relate', 'Up-sell' and 'Cross-sell' actions.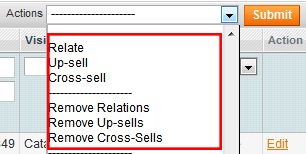 With the help of these actions you can populate Magento cross-sell or up-sell blocks as well as related products very fast. The extension creates backward and cross links between products while they are being assigned as related or up-sell or cross-sell. The extension provides 2 linking algorithms: 2 Way and Multi Way. You can choose which algorithm to use. If you change algorithm down the road, previously interrelated products will not be affected.

2 way linking.

This algorithm will create only backward links. For example you have lighter, wood and cigarettes. If you indicate wood and cigarettes as up-sells for lighter, the lighter would become an up-sell for both wood and cigarettes, but wood and cigarettes would not become up-sells for each other. Works the same way for cross-sells and related products.

Multi way linking.

This mass product relator tool will create cross links between products. Let's say you have products A, B, C and D and want all these products to be cross-sells for each other. For this you activate multi-way relating algorithm. Then select products B, C and D on the product grid, choose 'Cross-sell' action, indicate id of product A in the special text field and click 'Submit'. After that all these products will become cross-sells for each other (e.g. C will have A, B and D as cross sells). This algorithm works on analogy for related products and up-sells.

new!

Removal of relations.

In addition to creation of relations our module also allows to very quickly remove all existing relations of products.
Copy product information easily.
---

'Copy Attributes' action.
Allows to copy attribute values from one product to multiple products. You can use it instead of 'Update Attributes', as it is more user-friendly.
'Copy Custom Options' action.
It enables you to copy custom options from any product to any number of other products. So if you need to add some custom option to a large number of products, you won't need to edit each of them now - just edit one and then copy the custom options to all others in a few clicks. Save your lifetime, you can't buy it :).
'Copy Images' action.
Enables you to quickly copy image from one product to as many products as you need. Current product images are not deleted while copying. The action allows to copy all image info, including base image, thumbnail, etc.
Additional module capabilities.
---

New ability for Magento - 'Change Attribute Set' action.
With this one you can replace any Magento attribute set of your simple products (both for individual and for multiple products) at the grid. So if you've used a wrong attribute set for a product by mistake - no need to spend time on recreating the product, just change the attribute set to the right one.
'Remove Images' action.
Enables you to remove images for any number of products in just a few clicks. Select the products on the grid, choose the action and click 'Submit' button.
new! 'Fast Delete' action.

When you need to delete just 5 products, that's fast using the default delete function, however with 300-500 items it is a completely different story. 'Fast Delete' makes such tasks really easy. So you can very quickly delete demo items, products that were imported by mistake, etc.
new! Replace text in attributes
It is rather hard sometimes to replace some text in a large amount of products or to changed the word in all places of the long description. With 'Replace Text' action you can easily change text in different product attributes such as name, product description etc.
Display only the actions you need on the product grid.
The module offers a lot of actions for product management, which may be confusing at times. So you can enable only the actions which you are using.
Saves huge amount of time.
You will spend hours or, in case of very large catalogs, even days of your time to update prices and categories for a large number of products. Make it minutes with Mass Product Actions.
Fully compatible with our Extended Product Grid with Editor extension.
Among other features Extended Product Grid with Editor extension allows to display categories on the product grid and filter products by categories. So if, for example, you plan to add some products to one more category (or transfer the products from one category to the other), you will easily find the necessary products using the category filter provided by Extended Product Grid and then assign them to another category with the help of Mass Product Actions.
Advanced tool to enhance your productivity
To start editing your data even faster try our Mass Order Actions extension as well. It will help you to dramatically enhance the quality of your services by enabling to process orders, submit shipments and create invoices for multiple orders just in a couple of clicks.
Also the extension:
---
Is easy to use
Comes with the user guide
Meets all Magento development practices
100% Open Source
Is easy to install (takes just a couple minutes)
Live Demo:> Backend
Also included
---
Professional 120-day free e-mail support, help and guidance
Risk free purchase, 2-week money back guarantee
Paid extension customization
Related products:
--- Please to see the complete Change Log list visit the official Magento Mass Product Actions page.
Extension Updates Log:
Version 1.5.0 - Mar 26, 2015
- New action - replace text in attributes
Version 1.4.3 - Jan 27, 2015
- New action to update all types of price. Can update all "price" type attributes as well as tier price and group price.
Version 1.4.2 - Aug 04, 2014
– Minor compatibility fix.
Version 1.4.1 - June 23, 2014
– Tested with latest Magento CE 1.9 release.
Tags:
cross sell, cross-sell, attribute set, attribute sets, custom options, bulk price update, copy custom options, mass update, mass product relater, mass price update, bulk price change, bulk update, cross sell up sell, delete products