Special Promotions Pro by Amasty
Please find full description, live demo and user guide at Magento Special Promotions Pro module page
Effective promotions will greatly contribute to your business.
---
Stimulate repeat purchases.
Use customers' account information to find out what customers want. Create Magento special offers based on order history to make customers fall in love with your store and regularly come back.
Create individual promotions in Magento to benefit regular customers.
Using personal info you can make customers think that you know their needs and wishes. Provide exclusive deals to customers to show you care about them in a more special way. Nowadays it's essential to bring up devoted customers. Competition is high, stores must stick to customers and do everything possible to retain them.
Sell expensive products more efficiently.
You have an ability to sell the most expensive products giving a discount to an additional cross sell product. People like to buy a lot of stuff for less money.
Save money giving discounts.
Now you can also exclude products with special price from your discount programs. Such items are already discounted to the minimum, so make discount rules skip such items not to lose money.
Practice-driven solution.
The extension is the outcome of real-life requests we received from our customers.
Use pro features for earnings growth.
---
Give discounts based on customers' order history.
Now you can specify total sales amount or number of orders among conditions. So you can have deals like '15% discount for customers who had placed 5 or more orders' or '$50 discount for clients who bought more than $500 worth of products before this order'. This will motivate customers to regularly get back to your store and place more orders.

Create rules based on customer attributes.
The extension adds a number of new conditions which you can choose at the 'Conditions' tab, when creating shopping cart Magento price rules. Now you can set email, first name, last name, date of birth and and any other customer attribute as one of conditions. For example, you can create a promotion, which will work for all people called Valentine on St. Valentine's Day. Or give 10% discount to people with 'goodsite' text in their email. What's more, attributes created with the help of our Customer Attributes extension, also can be used for creating discount conditions!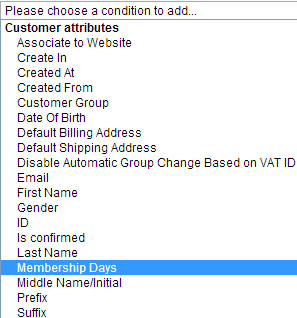 Conditions based on order subselection
With 'Orders Subselection' you can adjust conditions based on order value and amount more accurately. You can define:
Average order value
Total sales amount
Number of placed orders
For each of these conditions you can define subconditions:
Order status (cancelled, complete, etc.)
Period after order was placed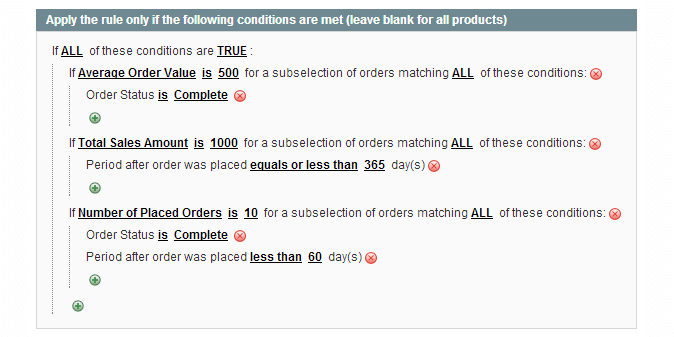 How it works? Let's say the customer created a number of orders which were later cancelled. With this functionality it's easy to count only complete orders to give a discount for a customer.
Use custom options in the conditions
If you have the products with custom options, you can create conditions based on custom options. For example, you sell the cups in your store and there is a custom option to have an engraving for it. Now you can make the promotion rule apply only for the cups with engraving.

Set up any possible discount at your Magento store.
---
Create ANY discount with cheapest and most expensive products.
For example, you can create rules like 'Buy One Get One Cheapest (or Most Expensive) Free', 'Buy 4 products, get the most expensive for 50% off' and so on.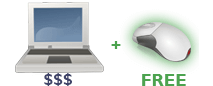 Give tempting discounts for cross-sell products to sell them better.
Create attractive promotions like 'Buy three shirts and get a tie for 50% off' and 'Buy 2 pairs of jeans and get a belt for just $5!'. This is possible with actions:
'Buy X get Y with Discount' - enables you to provide a percent discount
'Buy X get Y for Fixed Price' - lets you discount products to a fixed amount
These actions work with simple and configurable products. You can select products which are discounted (by whole categories or just individual items) and the products which trigger the discounts.
Discount price of any product to a fixed value.
Discount product prices to a fixed amount and have promotions like 'Buy a shirt and get another one for only $10' or 'All socks for just $5!'. With the extension you get a new 'Each N-th for Fixed Price' action. The action lets you discount price of any item to a fixed value (considering that the product meets the conditions of the price rule). For example, you can create promotion 'all contact lens for $20', 'buy a pair of shoes, get another one for $30' or similar ones using this action.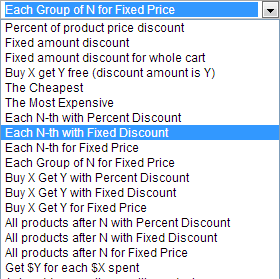 Create promotions like 'each second (third, fourth, etc) camera, phone, etc for 30% or 40% off or for free'.
The extension adds 'Each Nth with Discount' rule, which you can utilize to offer deals like 'Get each 5th product for free (or with discount)', 'Buy 3 products from a certain a category and get one of them with 40%/50% discount (or for free)' - offer a kind of tier pricing based on category or some other attributes (e.g. attribute set, manufacturer, etc).
Create promotions like 'Buy 3 or 4 or 5, etc items for full price and get each additional one for $50 ($100) or with 20% (30%, etc) discount'.
Such promotions are possible with 'All product after N for Fixed Price' and 'All product after N with Discount' actions. The extension always selects the most expensive items for 'full-price' ones, the cheaper products get discounted. You can limit the number of items to be discounted. With these actions you can create rules like 'Buy 2 books for full price and get 2 more with 50% discount' or 'Buy 3 bags for full price and get each additional one for $100'.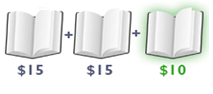 Set up attractive promotions like:
Buy a coat and get a hat with the 30% discount
Add a pair of jeans to the cart and choose any belt you like just for the fixed price of 25$
Get $100 off if bought more than $1000 worth of products before
Buy 2 shirts and get any tie for just $10
Category tier pricing: buy one for 100, two for 90 each!
10% discount for customers who place more than 3 orders before
Get each 3-rd cheapest (or most expensive) item with 20% discount
Get 10% off two most expensive products
Get $100 off if bought more than $1000 worth of products before
Buy 3 and get 1 cheapest (or most expensive) free, get 6 and get 2 cheapest (or most expensive) free
All contact lens (bags, shirts, etc) for $10
Buy 2 books and get the 3rd one for free (or for 40%, 50% etc. off)
5% discount for customers, whose email contains text 'gmail'
NEW!Create promotions for product sets
With two new actions added now you can set promotions for particular product sets. Use the following promotion types:
Fixed price for a product set ("By a mobile phone, a memory card and a case for 99$! in total")
Percent discount for a product set ("If you buy the jacket and shoes together. each item gets 10% off discount")
NEW! Special promotions for bundle products
Now you can create promotions for bundle products. Easily set shopping cart price rules to offer bundle items with various discount types.
Important! Category based rules for configurable products
If you create the rule for configurable products where you want to specify particular categories in conditions (e.g. category is... or category is one of... etc.), make sure to add associated simple products to the same category with parent products.
NEW! Full support of virtual products
The module goes all out in support of virtual items. So if you're the owner of virtual products store you can use all the benefits which Special Promotions Pro offers.
NEW! Enhanced functionality of shopping cart rules grid
---
Now Special Promotions involves the functionality of Promotions Manager extension. As a result, you can look through all rule details (the type of discount action and discount amount) right on the shopping cart rules grid. Furthermore, this allows you to manage promotions on the grid:
- duplicate the rule if you want to create something of the kind;
- activate and deactivate the rule just in one click;
- easily delete out of date demo/test rules and coupons;
- set the rule priority.

To learn more information about these features, please visit Promotions Manager page.
Fully integrated with Magento functions.
---
Possibility not to apply discounts to products with special price.
Specially priced items are already cheap. Applying discounts to them in most cases means that you would lose money on such products - now you can prevent this.The extension enables you to skip products with special prices created with Catalog price rules as well.
Take full advantage of Magento price rules functionality.
The extension is fully compatible with native Magento conditions. So it is possible to impose limitations like category or sku and so on to create rules like 'Buy more than 1000 worth of products and get the most expensive item from "gifts" category for free'.
Show discount breakdown.
The savings people make are a powerful factor when considering whether to buy or not (and also whether to keep coming back or not:-). So let's present the facts in front of them in an easy to understand way, as very often customers want to make sure they get all the discounts they are promised. Now you can display the list of discounts with products that are being discounted. For example, they will see: 'Get each 2nd phone with 50% discount: HTC Diamond -$375'. The feature works starting from the CE 1.4.2 version.
The extension is completely integrated with Magento.
It supports multi-store and multi-currency environment, also works correctly with Magento tax functionality.
Сlearly display promotions to customers.
We are forever being asked by our customers something like 'Well, now we've got our promotions, how do we shout about them?' The answer is our Product Labels module. It enables you to add colorful badges to images of products, which make the promotions easy to spot. Of course you can use both custom texts and images for the badges.

Clearly inform customers about discounts
Great solution for promoting deals is Promo Banners module, which allows to show banners on shopping cart, category and product pages. This smart solution enables you to show banners in appropriate situations and not irritate customers. E.g. you can tell customers that if he will add one more item he will get 20% off.
Also included
---
Professional 120-day free e-mail support, help and guidance
Risk free purchase, 2-week money back guarantee
Paid extension customization
Extension home page: https://amasty.com/special-promotions-pro.html
You might be also interested in:
Generate and Import Coupons extension - allows to generate and import coupon codes; apply coupons via urls and more.
Multiple Coupons extension - enables your customers to use multiple coupons for one order (e.g. one coupon for printer and another one for camera).
Duplicate Promotions extension - lets you duplicate shopping cart rules; apply actions to them in bulk right on the grid: activate/disable; update priority; delete.
Auto Add Promo Items extension - with it you can create promotions, which will automatically add free items to shopping cart.
Live Demo:
Bundle products - add the product to cart to get a discount
To see the complete Change Log list please visit the Magento Special Promotions Pro official page.
Extension Updates Log:
Version 1.6.1 - Jan 22, 2015
– Functionality from Promotions Manager extension included.
– Improvements for "Buy X get Y" special promotion.
– Discounts on bundle items are now more flexible.
– Product set rules are now easier to configure.
Version 1.5.3
-
Dec 20, 2014
– 'Get $y for each $x spent' now takes into account the max allowed qty.
Version 1.5.2
-
Nov 05, 2014
– Now you can exclude products with catalog price rules discount from promotions
– Bundle and virtual product support for Magento CE 1.9 and EE 1.14
– New drop-down structure for actions settings
Version 1.5.1 - June 22, 2014
– Tested with latest Magento CE 1.9 version.
Tags:
loyalty program, discount rules, rewards program, special offers, promotions, loyalty points, reward points system, set special price