Auto Add Promo Items by Amasty
Please find full description, live demo and user guide at Magento Auto Add Promo Items module page
Make customers feel loved by giving them little presents.
---

The magic of 'FREE' is very powerful.
What can be more attractive for a customer than getting a free gift with purchase? Nothing! Studies show that free gifts are a lot more effective than even big discounts, in other words a free five-dollar product attracts more customers than ten-dollar discount.
Organize and manage promotional campaigns.
You can start with basic ones and then create most sophisticated specials. 'Buy 1, get 1 free', also known as BOGOF, is a type of special recognized by all vendors and loved by all customers. Are you using it at your store?
Upgrade your promotional toolbox.
Promotions must be updated time to time, because customers get used to them. For example, you can start with specials like 'Get a free photo frame when purchasing 2 photo albums and a pack of photo paper' and then invent something new.
Clear stock.
Very often store owners have products that are either oversupplied or not popular. Why wait till they get outdated or spoilt? Make them work for your business with Magento free gift product extension!
Observe the solution in action.
---

Automatically add free promo items to cart.
When customers meet conditions of such promotions, the free items will be automatically added to cart. Zero price will be displayed for the items. Our Magento free gift extension also enables you specify a text label for the free items, so that customers have a clear indication that they are receiving a gift.
Offer customers a configurable product as a free gift
If you choose a configurable product as a free gift, customers will be able to select product attributes or required custom options which are displayed on a handy pop-up window in the cart. Besides, the extension supports bundle products.
NEW! Customers can choose any simple product with a certain configuration option
If a free item added to cart is configurable, customers have the ability to choose product attributes and the required configuration options which displayed on handy pop-up window. Besides this, your clients are able to select the whole product bundle if it's tied to the configurable product.
Create classic 'Buy 1, get 1 Free' promotion.
In addition to promotions like 'Get a free pen for every 10 purchased' you can have specials like 'Buy 2 shorts and 2 t-shirts, get slippers for free', 'Order a camera, SD card and a tripod, get a camera case for free', etc.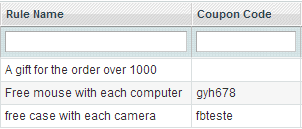 Unlimited number of rules per shopping cart.
If you run several promotions with free items at your store, customers will be able to use any number of these promotions in one order. For example, if you have two discount rules like 'Buy 5 shirts, get 2 ties free' and 'Buy a phone, get a free wristlet', due to the Magento auto add to cart tool customers will be able to take advantage of both promotions in one order. The number of rules, that can be applied simultaneously, is unlimited.
Automatically add gifts for every $X amount spent
With a new action type it's possible to automatically add free promo products to cart each time customers spend a particular sum of money. For instance, you can set a rule so that a customer will get a free T-shirt for each $500 spent. It means that if the cart subtotal equals to $1000 – the customer will get 2 T-shirts (one for each $500 spent).
Virtual products support
Now all online merchants selling virtual products have a great chance to create tempting promotions with the Auto Add Promo Items extension. The module fully supports virtual products enabling you offer them as free gifts.
Ability to create not product-based promotions.
The promotions do not have to be product-based. You can have offers based on subtotal, product quantity, other attributes. For example 'Free installation for orders over $300', 'Free bag for orders of 4 or more products'.
Expand promotion functionality.
The extension adds three new discount rules, which let you provide free items either on per shopping cart or on per product/product group level. Also you can specify SKUs of the items which are provided as gifts to customers.
NEW!Choose whether to use free or paid shipping for promo items
You can configure which shipping to use for promo items - free or paid. This is crucial when delivering heavy-weight or dimensional products.
NEW!Specify whether to add multiple promo items to cart or only one product
In case you use these actions:
- Auto add promo products for the whole cart;
- Auto add promo items with products;
you can choose whether to automatically add all specified free items to cart or let customers select only one item.
NEW! Downloadable products support
Software, e-books, images, music or video – any type of content that can be packaged into files and downloaded now can be offered to the customers as a free gift.
Developed as a native part of Magento.
---
NEW! Compatibility with responsive Magento themes
The extension is designed to be fully compatible with responsive Magento themes. It meets the requirements of widescreen, tablet and mobile view.
Get support of all native Magento promotion features.
You can use all standard Magento conditions to define the cases, in which the rule should be applied. You can specify the number of free items provided with each rule application, also you can limit the maximum of free items per order, etc.
Fully supports Magento stock functionality.
The module will add free products to cart only if they are in stock. Out-of-stock items will be added only when admin allows orders of out-of-stock products.
Works both with and without coupon code.
If you would like free items to be added to the cart immediately once the rule conditions are met - please leave the coupon field blank. If you would like customers to get the free items only after they enter a coupon code - please specify the coupon code for the discount rule.
How customers will know about the free gifts.
---
Clear indication of free items in the cart.
You will be able to display a notification in the cart, when a special takes action (e.g. 'Congratulations! Your order qualifies for a free photo frame!'). You can show a label for the free items right in the cart. Also you will be able to label the free products on order view page in admin panel.
Clearly inform customers about the free gifts.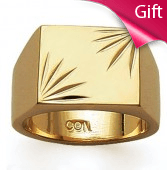 We are often asked by our customers something like 'Being able to automatically add free gifts to cart is great. How do we let customers know about them?' Well, we've got a solution for this problem :). Product Labels module enables you to add colorful badges to images of products, which make the free gift promotions easy to spot. You can use both custom texts and images for the badges.
Another great solution for promoting deals is Promo Banners module, which allows to show banners on shopping cart, category and product pages. This smart solution enables you to show banners in appropriate situations and not irritate customers. E.g. you can tell customers that there's a free case for each smartphone when they are browsing products of 'Phones' category.
Promotions of the 'Free' type for configurable products.
This is where Promo Banners extension can help you again. Let's say you offer a free tie for each two shirts and would like to let customers select the tie color, etc., in other words offer a configurable product for free. You can create appropriate shopping cart price rule and then show a banner saying that there's a free tie for each 2 shirts. It is possible to show the list of available ties right under the banner. In addition, you can set the banner to display when customers have at least one shirt in the cart, to increase banner relevance and conversion rate.

Additional information about the module.
---
The extension fully integrates into Magento.
The module doesn't interfere with the tax calculation and currency conversions. The rules created with it work both for orders placed by customers and by admin. Auto Add Promo Items is compatible with majority of other discount-related extensions.
Currently the module allows to use only simple products as promotional items.
The extension works fine with Magento one page checkout. Multiple-address checkout version coming in the next releases.
Try more solutions to enhance customers' loyalty
---
Activate spontaneous purchases
Double the effect of Auto Add Promo Items and stimulate your customers to purchase more by installing the Promo Banners extension. Clearly inform your visitors about all the bargains and deals placing eye-catchy banners on relevant pages.
Please customers with great deals
Discover our advanced module for multiple discounts creation, called Special Promotions Pro. It provides you with a great selection of promotional tools created to leave your customers no chance to ignore your tempting offers.
Live Demo:
→ Promo Items general settings
you'll be logged in automatically
→ Cameras product page
see the way rule 'Free case with each camera' works
→ Computer peripherals page
see the way rule 'Same Logitech keyboard' works
Also the extension:
---
is easy to use
meets all Magento development practices
is 100% Open Source
is easy to install (takes just a couple minutes)
Additional services:
---
Professional 120-day free e-mail support, help and guidance
Risk free purchase, 2-week money back guarantee
Paid extension customization
Please visit Magento Auto Add Promo Items module page to see the complete Change Log list.
Extension Updates Log:
Version 2.0.8 - May 12, 2015
– New action: Auto add gifts for every $X amount spent
Version 2.2.4 - October 20, 2015
– Downloadable products support
Version 2.2.2 - Oct 07, 2015
– Show "Banners tab" for 'Auto add with products' and 'Auto Add the same product' actions only
– Minor improvements
Version 2.2.0 - Sep 22, 2015
– Option to automatically add free items as well as items with discount
– Ability to show gifts on product page
– Ability to show labels and banners to highlight products with gifts
Tags:
auto add to cart, free product with purchase, auto add item to cart, add product to cart free gift with purchase, free product with purchase, free gift, free gift extension, free product, free gift product extension, magento add product to cart, auto add to cart, gift extension, magento auto add item to cart, magento auto add to cart, free gift to shopping cart, auto add items, promotions