Magic Slideshow
Download your FREE trial today! (no credit card required)
Want to promote particular products to customers? Grab their attention with Magic Slideshow! This easy to use Magento extension allows you to add gorgeous slideshows anywhere on your website.
Try the demo     |     Download the Magento extension (zip)     |     Watch installation video
Why Magic Slideshow?
* Responsive design – Every device, large or small, enjoys the perfect width slideshow. Magic Slideshow responds to its environment, automatically scaling down to fit the user's screen.
* Use your finger – Swipe left and right to swap slides. Works on all handheld devices.
* Full-screen option – Show an impressive full-screen version of your slideshow.
* Full compatibility – Works on all major browsers: Firefox, Internet Explorer, Chrome, Safari and Opera + iPad/iPhone.
* Works with all versions of Magento including Magento 2.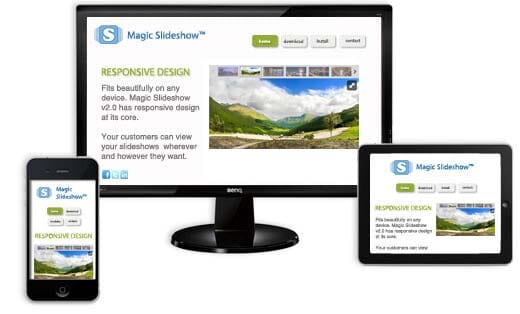 Top features
Pan & zoom slides using Ken Burns effect on the page & in full screen.
Autoplay image slider. Shuffle order of slides to keep slideshow fresh.
Transition between slides using arrows, thumbnail images, bullets & keyboard navigation.
Support mobile devices. Swipe images left/right to instantly browse images on touchscreens.
Images automatically scale up/down to fit users screen thanks to responsive design.
Enable full-screen version of slideshow option & a full-screen icon appears top right of slider.
Use Magic Slideshow throughout your website
This JavaScript slideshow can be added to your Homepage in 3 easy clicks, but that's not all. You can also use it in other areas of your website:
Home page
Product page
Recently viewed products
Manually install on CMS pages
Simply go to the Magic Slideshow Settings page via Magic Toolbox > Magic Slideshow settings > Default settings menu to enable/disable where you want Magic Slideshow to appear.

How to add a slideshow to your homepage
Adding a slideshow to your Magento homepage has never been easier:
Go to: Admin panel > Magic Toolbox > Magic Slideshow.
Click Edit Magic Slideshow Default Settings.
Select Homepage or custom block section.
Enable Magic Slideshow > Select Yes.
Click Browse Files and choose your slideshow images.
Click Upload Files.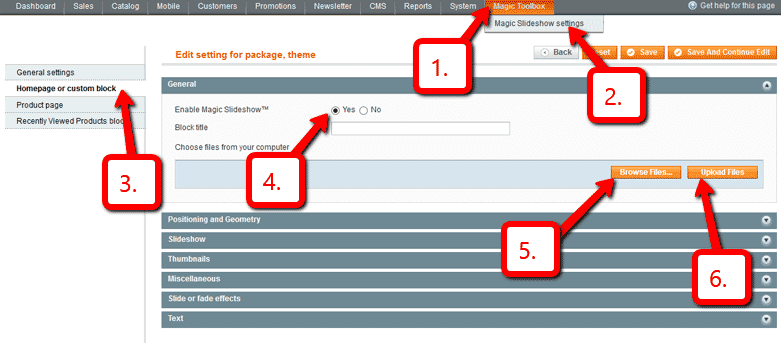 That's not all. You can also:
Add a Title to each slide.
Add a Description to each slide.
Link each slide to a specific URL.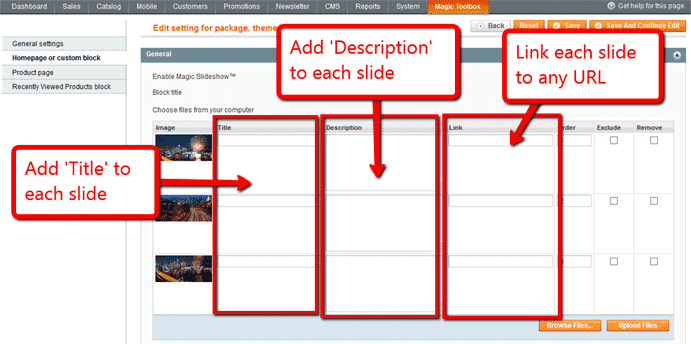 Choose the size of your slideshow:
Go to: Positioning and Geometry
Maximum width of slideshow images (in pixels): enter width of slideshow
Maximum height of slideshow images (in pixels): enter height of slideshow

Installation instructions (video)
Watch how easy it is to add a JavaScript slideshow to your Magento homepage. This 4-minute video explains how to download, install and customize Magic Slideshow on your site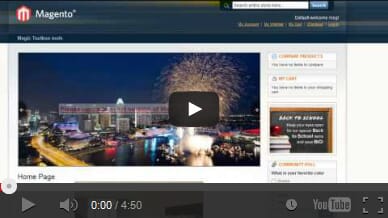 Installation instructions (text version)
Download Magic Slideshow for Magento (demo version).
Unzip the file on your computer and FTP the magicslideshow folder to your Magento directory (on your server), keeping the file and folder structure intact.
If you use Magento Compiler, disable it System > Tools > Compilation > Disable (see screenshot 'Admin: Disable Magento Compiler').
Go to http://www.yoursite.url/magicslideshow/ in your browser > click 'Install' (replace yoursite.url with your domain name).
If you use Magento Compiler, click 'Run Compilation Process' (see screenshot 'Admin: Run Compilation Process').
Go to System > Cache Management > Select All and refresh the cache (see screenshot 'Admin: Refresh Cache').
The demo version is now installed!
Customizing
Customize the Magic Slideshow extension through the Magic Toolbox > Magic Slideshow settings > Default settings menu in your Magento admin panel. Choose from 30 options:
Show thumbnails
Add arrows
Ken Burns effect
Choose selectors
Speed
Effect (slide, fade, dissolve)
Duration of effect
Add caption
Full-screen + more
Upgrading is easy
To upgrade your version of Magic Slideshow (which removes the "Please upgrade" text), buy Magic Slideshow (£15 or $25) and overwrite the old /skin/frontend/[your_interface]/[your_theme]/js/magicslideshow.js file with the new file in your licensed version.

Examples
For inspiration on how to display your slideshows, try these 11 examples and see what would best suit your e-commerce website.
Supported versions
All versions of Magento are supported:
* Magento Enterprise: 2.x, 1.11.x - 1.14.x
* Magento Community: 2.x, 1.4.x - 1.9.x
Futureproof: we update the Magic Slideshow extension whenever a new Magento version is released.
Support
Have any questions about Magic Slideshow? We're here to help. Contact us for free technical support.
Another amazing image extension, from the craftsmen at Magic Toolbox. For extension releases, updates & promotions — follow us on Twitter and Facebook!
Please send us a review or post it here on Magento Connect!