Landing Pages by Amasty
Please find full description, live demo and user guide at Magento Landing Pages module page
Higher rankings in search engines
---
More pages with unique content
The module enables you to create landing pages based on different parameters, so that the page content does not get duplicated. This way you get more unique pages indexed by Google.
Meta tags for each Magento landing page
You can specify individual meta keywords as well as meta title and description for pages, so that they are optimized for the content of each particular page.
Magento SEO-friendly urls

With this Magento seo extension you can specify short urls for the pages, like yoursite.com/page1, yoursite.com/page2, etc.
Landing page urls in the sitemap
All links to landing pages are added to the sitemap, after the links to CMS pages.
Support of canonical URLs
The extension includes canonical URLs functionality to prevent content from duplication in search engines.
Moreover, it supports category URL suffixes. For example, when you define URL suffix .html for your store product and category pages (System -> Configuration -> Catalog -> Search Engine Optimizations), the extension will include .html suffix in the canonical URL too.
Better sales conversion
---
Landing pages for new products and products with special price
Very many customers look for new and discounted products. Knowing this, it is a good thing to create special pages for such customers, so that they can quickly find such products without having to endlessly browse through the whole catalog.
Create pages based on attributes and categories
You can create landing pages based on a category and any combination of attributes. E.g. you can show products from phones category of HTC brand and block color.
NEW! Improved sorting option for product list management
Now you can manage product list on landing pages more extensively with the help of improved default sorting option. This feature enables you to choose products on such criteria as "New", "Best Value", "Most Viewed" and others. Such landing pages arouse a keen customers' interest and can notably scale up your sells.

Advanced filter for landing page creation
Advanced filter enables you to specify up to 30 flexible product attribute conditions and combine them according to your needs.
NEW! Get 3 more advanced filters
Now you can manage products display on landing pages even more effectively. Filter products by:
- Maximal, minimal, and final price;
- Attribute sets;
- Product SKU;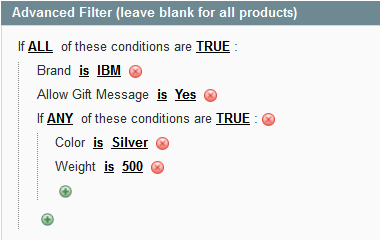 Create landing pages for products on promotion
When offering deals for some type of products (e.g. canon cameras with price less than 200), it is very convenient to create a separate page for such items. Customers will be a lot more likely to find such products and follow your offers. So you get more orders and loyal customers.
Fully automated product display
Let's say you have a landing page for new products. The page will automatically update its content and will show new products once you add them to your catalog. This works for all attributes combinations.
Additional features
---
NEW! Easily create landing pages based on search results
Now the creation of landing pages based on search results has become as easy as it can be. Simply specify the word to filter out the products containing this word in any part of the text. There is no more need to specify any other additional symbols.
NEW! It is possible to import and export landing pages trough a csv file.
You can display only the products which are in stock on landing pages.
You can choose 1, 2 or 3-column layout for landing pages and customize it.
It is possible to include CMS-blocks above and under the product list on landing pages.
Support of Magento multi-website structure.
Full compatibility with Improved Navigation and Improved Sorting extensions - products on landing pages and be filtered and sorted by these two modules.
Landing Pages user guide
Live Demo:
To see the complete change log list please visit the official Landing Pages extension page.
Change log
---
Version 1.7.7 - Jun 09, 2015
– Optimization for multiselect-type attributes
Version 1.7.6 - May 19, 2015

– Added filter for maximal, minimal, and final price

<b>Version 1.7.3 - Apr 30, 2015
– New filter condition by Attribute Set
Version 1.7.1 - Apr 22, 2015</b>
– New conditions for SKU attribute
Version 1.7.0 - Apr 02, 2015
– New flexible conditions - ability to select several attributes and combine them similar to shopping cart rules.
Tags
landing page templates, landing page, seo landing page, better landing page, landing page design, landing pages magento, landing page extension, landing pages, category landing page, product landing page, optimized landing page, optimize landing page, seo for landing pages, landing pages seo