Gold Price Live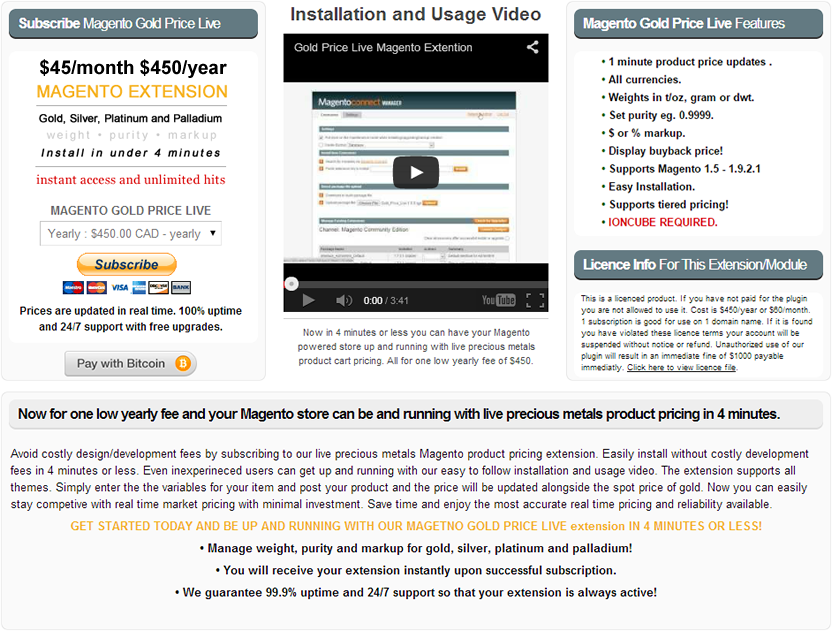 Watch a video of how the Gold Price Live Magento Extension works
This extension is a subscription based extension. What this means is that a yearly or monthly fee is involved.
GOLD PRICE LIVE MAGENTO EXTENSION COST
Yearly: $450 per year (includes access to our raw data API)
By taking advantage of the most trusted gold price provider (www.gold-feed.com) this extension will allow you to have dynamic pricing in your precious metals eCommerce store.
Prices of your precious metals items are calculated using the real time spot price of gold, silver, platinum and palladium in conjuction with the variables you enter.
The extension accepts the following variables:
Base Sell Price
Select Precious Material
Purity of Product (0.9999)
Product Material Weight (ounces or dwt)
Markup (%)
*Fixed price items are also supported.*
Now your store can be up and running with real time pricing in less than 5 minutes without significant investment.
Website: www.gold-feed.com | Telephone: (780) 478-0870 | Email: info@gold-feed.com