Follow Up Email

Overview
Follow Up Email Pro Extension by MageWorld
is a great tool for you to recapture abandoned carts and increase customer relationship management efficiency.
Follow Up Email Pro
enables store owners to send follow up emails minutes after abandoned cart, send automatic event-based emails, integrate coupons into emails and track email's efficiency by detail reporting.
This module is easy to install and easy to upgrade. Beside friendly and flexible configuration,
Follow Up Email Pro
supports multiple languages. Store owner can have flexible choices to make different email templates and send to their customers.
Resources
Follow Up Email - Product Page
Follow Up Email Pro - Live Demo
Follow Up Email Pro - User Guide
How Follow Up Email Pro Extension Helps Your Store
1. Decrease Abandoned Cart Rates
Email is a unique cost-effective channel to keep contact with your customers, especially who have abandoned carts at your store. If you miss follow-up opportunities, it means you also miss your customers easily.
Follow Up Email Pro extension can help reduce 30%
Abandoned Carts
by sending multiple
follow up emails
within minutes and days of abandoned or pending cart.
2. Strengthen Relationship With Current Customers
Follow Up Email Pro
can build customer loyalty by permitting store owners to send automatic event-based emails to customers.
This module supports sending emails for new customer signed up, customer birthday, customer updated account, new placed order, pending order, completed order, updated order, closed order or cancelled order.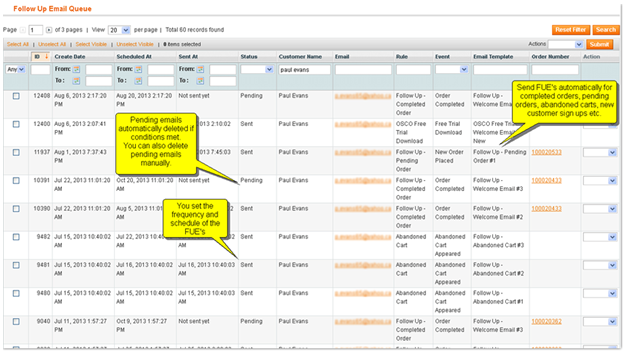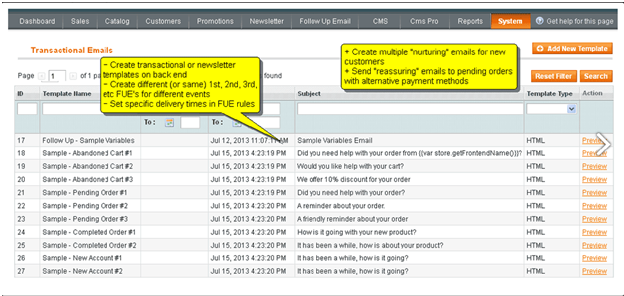 3. Increase Emails Conversion Rate By Coupon Integration
Customers tend to use coupons much more in some recent years (increase by 13% in the last 3 years). Integrating coupons into your follow up email helps to convert email receivers into your customers.

4. Analyze Efficiency Of Follow Up Email Campaign
Follow Up Email Pro permits store owners to track email's efficiency by detail visual reports – Line Chart and Pie Chart. Line chart and statistics box show the number of sent and read emails in a chosen time range.
Whereas, pie chart displays the percentage of each follow up email rule based on the number of emails sent. Besides, each template used in follow up email is reported in a statistics table according to the total sent emails and read emails.
Importantly, with this magento extension, store owner can track follow up email campaign performance effectively by integrated Google Analytics.
Full Features of Follow Up Email Pro Extension
This module allows to:
+ Send follow up emails per customer event
+ Supported Events: Abandoned Cart Appeared, New Order Placed, Order Processing, Order Completed, Order Updated, Order Closed, Order Cancelled, New Customer Signed Up, Customer Account Updated
+ Manage flexible rules
+ Schedule multiple emails per even
+ Cancel pending emails if other events happened
+ Set conditions to send email
+ Send emails to subscribers only
+ Send emails to moderators only
+ Set detail sender per rule
+ Send test emails easily
+ Manage email queue
+ Supports both newsletter templates and transaction emails template
+ Auto-login for customers come back via direct link to view shopping cart or order details
+ Define when abandoned cart appeared (Time set by admin)
+ Avoid sending the same email within defined time
+ Allow customers to unsubscribe easily by a link automatically generated in follow up email
Magento Compatibility
+ Community 1.5.x - 1.9.x
+ Enterprise 1.9.x - 1.14.x