Events Manager
Produce the best coverage by posting and promoting events in your Magento website and allow customers to buy tickets online. Post events with text, links, images, videos and Googlemap to show the venue location.
- Sell tickets online to increase participants for the events
- Event Calendar page shows all events on one page in calendar view.
- Promote products by showing related product in event pages
- Configure SEO settings of each events to maximize
- Create Static block and display it any where on the website to promote event
Few Customer Websites Using Our Event Manager Extension
- http://www.sololabs.com/upcoming-events/
- http://sarilapis.com/sarilapis/index.php/events
- http://mushop.com.au/upstairs
Ecommerce Development Services
FmeExtensions also provides
Magento Ecommerce Development
services for both community & enterprise users.
Area of Function
Inform customers about your upcoming events on you Magento website and give them the means to find the venue using Google Maps, buy tickets online, view images and watch preparation videos of the event by using this Events Management module. This Events Manager extension for Magento comes with advance features like events Calendar View, Google Maps integration, Videos, event image gallery, social sharing, selling tickets & products with events.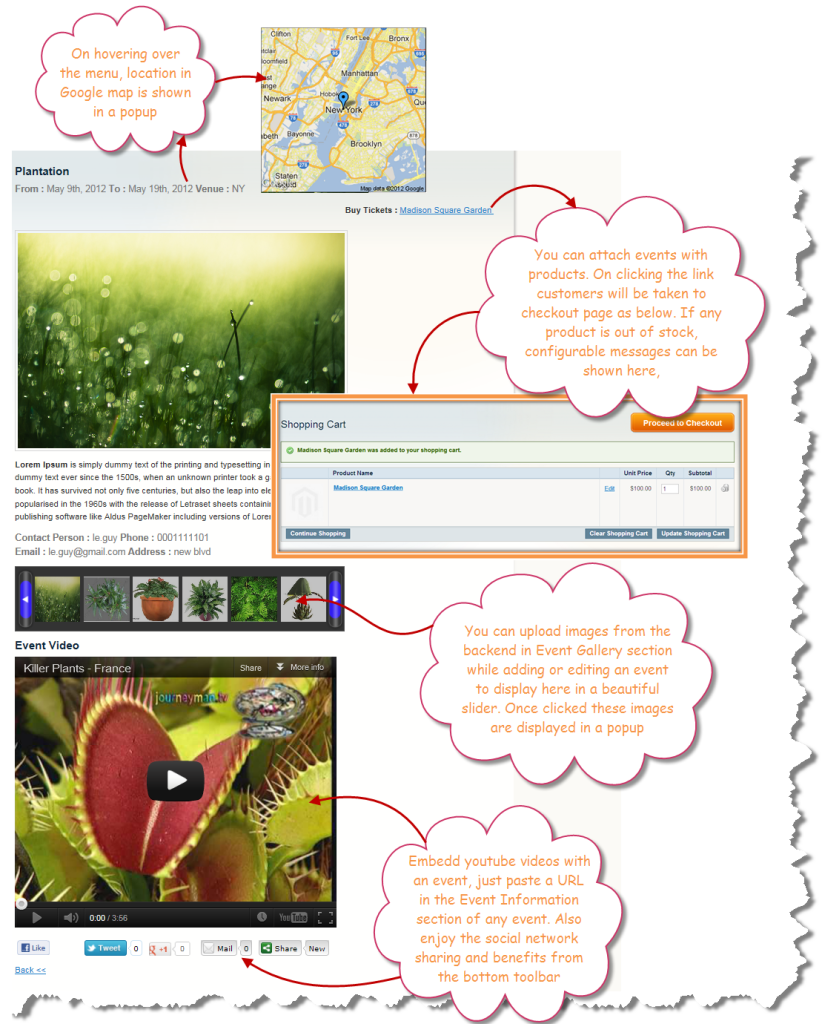 Merchant Benefits
FME's Event extension for Magento helps you achieve all the goals of managing and posting successful events without compromising any aspect of your website.
Sell Tickets
You can create tickets and attach them with the events to sell them online. Customers can purchase tickets by using the existing checkout process.
Create Events With Video & Photo Galleries
You can create events and choose their venues, select dates from the calendar, display the contact information management team, attach photos and images as well as videos to make the event attractive and eye catching for the customer.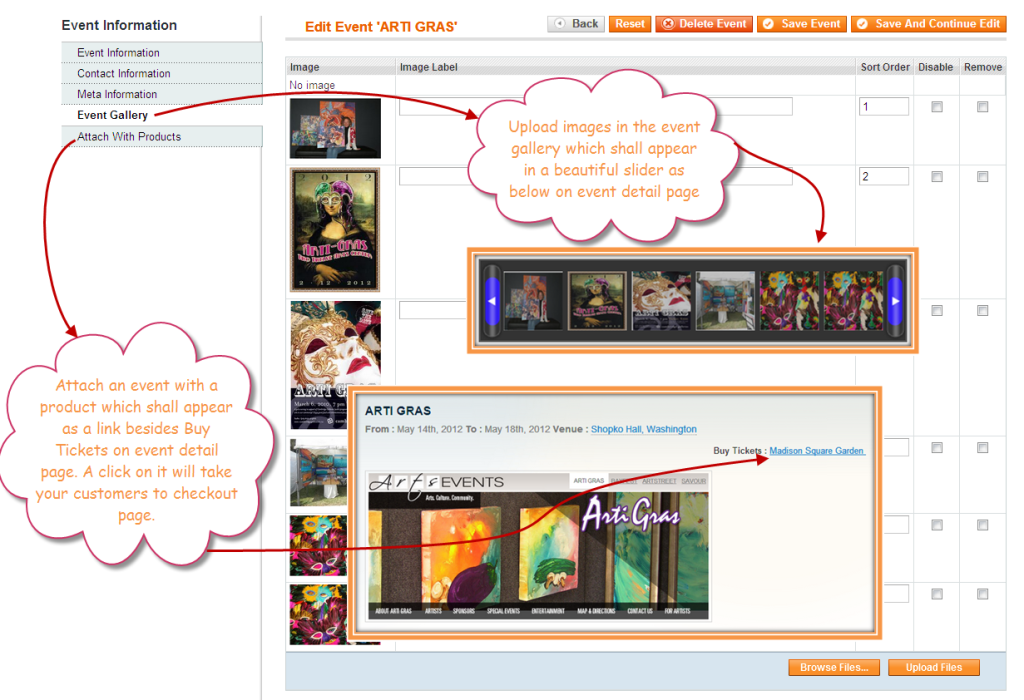 SEO Setting For Search Engines Rankings
This events extension allows you to define Meta title and description of each event to optimize it for search engine and drive maximum traffic to the events page.
Social Sharing Buttons
Social media platforms can be utilized for these events to produce gathering and event requests to receive maximum attention. Events Manager provide social sharing buttons for all popular Social Media platforms such as Facebook, Twitter, Google Plus, Instagram and many more.
Customer Benefits
Customer can discover and learn about events by accessing the website with multimedia support and map details of the venue. This creates a friendly atmosphere as the customer tends to pay more attention to rich media events pages.
Events Detail Page
The main events page shows basic information of the events like Title and description. A read more button is added with the description which allows the customers to open the complete details of the event such as date, time, venue, ticket price, etc. This gives the customers a complete plan of the organized event so that any annoying follow-ups can be avoided.
Calendar View
Customers can see the event dates from the calendar view feature which also shows how many events are set up on which dates with popup. Customers can also directly access any event using the links on calendar view page.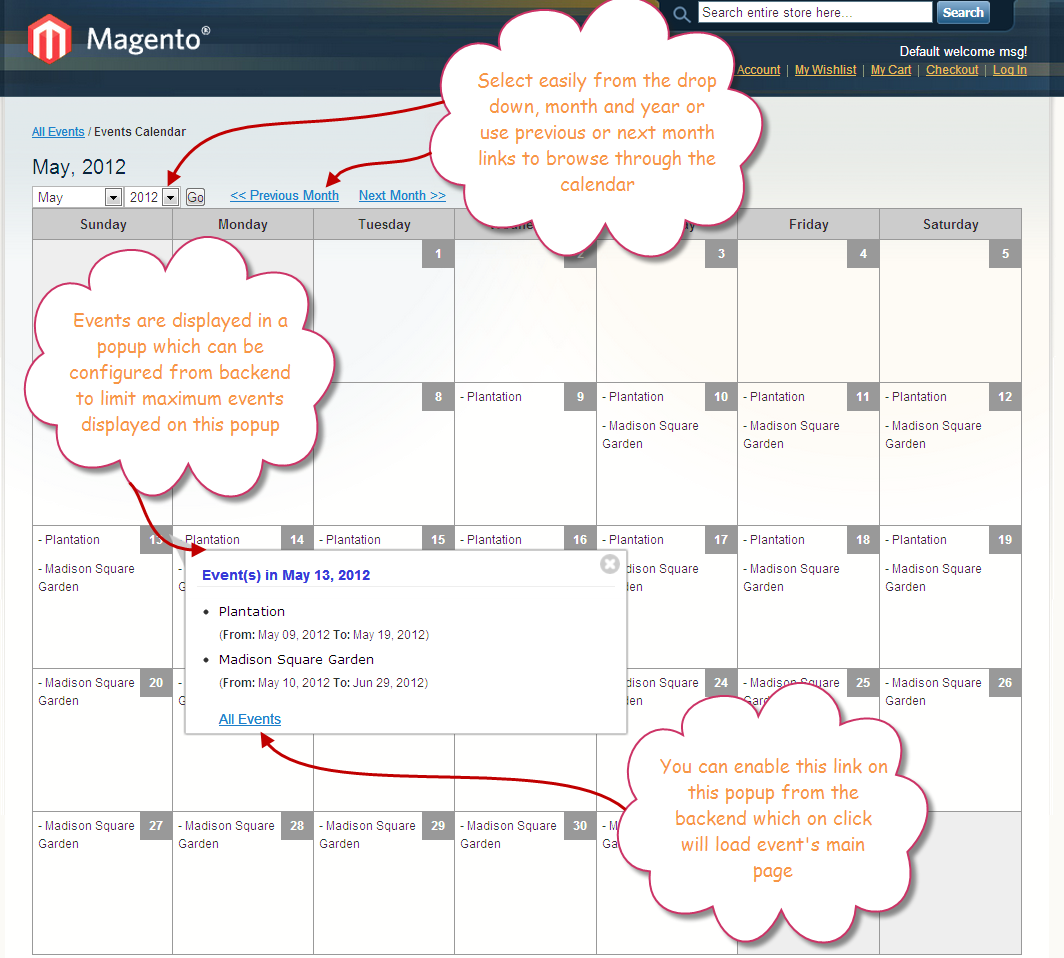 Key Features of Events Manager
- For creating, managing, and configuring the events, there are separate sections.
- You can have calendar view of the events, which is configurable.
- You can set status messages of the events, which are configurable.
- Set the page URL of the events as you want. Make it sure that the URL is SEO-friendly.
- You can also sell tickets online by using this extension.
- The events can have products attached for the customers to place an order.
- You can add images along with the events.
- There is event gallery on the event detail page.
- You can embed YouTube video URL at the event page.
- You can add variables and insert widgets in the events.
- You can place a static block for the event schedule anywhere on your ecommerce store.
- Google Maps is available alongside to show events venue.
If you have any questions feel free to contact us anytime!
FME Support Help Desk
.