Duplicate Categories by Amasty
Please find full description, live demo and user guide at Magento Duplicate Categories module page
Simplify duplication operations.
---
Automate time-consuming routine operations.
You may need to copy a lot of categories to, let's say, a new website you've created within Magento. With all subcategories and products, category duplication becomes a very time-consuming and tedious task. Let the extension automate this process.
Save a great amount of time.
Spend just a few minutes on extension installation. Magento duplicate categories tool allows you to free up a lot of time, which you can invest in your store development rather than routine tasks.
Accurate duplication tool.
---

Choose parent category for the category being duplicated.
You can choose which category will be a parent one for the category you duplicate. For example, you would like to copy category 'Chairs' to a different website within your Magento. You can choose which category will be parent for the duplicate in the new website.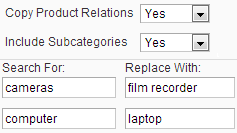 Duplicate all subcategories and keep all product assignments (optional).
You can use the module to copy categories and if needed to copy all subcategories of the duplicated category while duplication. You can keep all product assignments in the same way.
NEW!Automatically modify category name, description, etc.
It is possible to find and replace content for duplicate categories in name, description, meta keywords and meta description fields during duplication. Words from 'Search For' fields will be replaced with content from 'Replace With' field, you can fill in both fields.
Enhance your product management possibilities with new solutions
---
Perform more product actions at a time
To optimize your work with routine product management issues use also the Mass Product Actions module. It allows to fulfill this and much more other time consuming manager's tasks just in a few clicks.
Live Demo:
→ Backend
you'll be logged in automatically
Also the extension:
---
meets all Magento development practices
is easy to install (takes just a minute)
is 100% open source
Additional services:
---
Professional 120-day free e-mail support, help and guidance
Risk free purchase, 2-week money back guarantee
Paid extension customization
Please visit the official Magento Duplicate Categories module page to see the complete Change Log list
Extension Updates Log:
Version 1.1.5 - Aug 07, 2014
– Force re-index required after duplicating.
Version 1.1.4 - June 27, 2014
– Tested with the latest Magento CE 1.9 release.
Version 1.1.4 - Feb 24, 2014
– Fix for store attributes duplication.
Tags:
duplicate categories, copy categories, copy category structure, copy category tree, copy product, duplicate category, duplicate content, duplicate product