Magic Zoom Plus™
Download your FREE trial today! (no credit card required)
The ultimate zoom
Magic Zoom Plus™ is two hugely popular effects in one:
Zoom on hover
Enlarge on click
Give your users the power to choose their preferred effect - zoom or full-screen enlarge.
Simple. Easy. Gorgeous.
Try the demo       Download FREE Magento extension (zip)     Watch installation video
Best Magento extension?
Web designers tell us this is the best Magento extension for product images.
It's true that 1000's of designers around the world use Magic Zoom Plus™. This is what they say.
Is it the best Magento extension? You decide!
Advantages
* Zoom with magnifying glass.
* Swipe gestures to swap images.
* Mousewheel variable zoom level.
* Preview mode for quick enlarged views.
* Expanded image with thumbnails.
* Beautiful fullscreen mode.
* Even better responsiveness.
* Works with all versions of Magento including Magento 2.
* 60+ refinements for enhanced user experience.
* Plus much more!
Use Magic Zoom Plus™ throughout your website
Magic Zoom Plus™ automatically enables on your product page when installed. That's not all. You can also enable other areas of your website:
Product page
Category page
New products
Recently viewed products
Manually install on CMS pages
If you want zoom and enlarge effects to appear on the Product page, and only the zoom effect to appear on the Category page - you can!
Go to the Magic Zoom Plus™ Settings page via Magic Toolbox > Magic Zoom Plus settings > Default settings menu to enable/disable where you want Magic Zoom Plus™ to appear.

Installation instructions (video)
Watch how easy it is to install Magic Zoom Plus™ on your Magento website. This 5-minute video explains how to download, install and customize Magic Zoom Plus™ on your site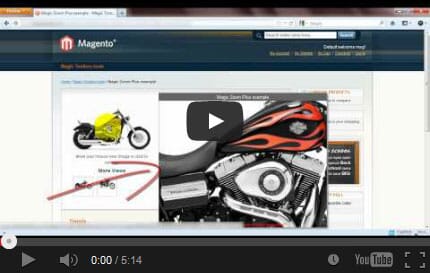 Installation instructions (text version)
Download Magic Zoom Plus™ for Magento (demo version).
Unzip the file on your computer and FTP the magiczoomplus folder to your Magento directory (on your server), keeping the file and folder structure intact.
If you use Magento Compiler, disable it System > Tools > Compilation > Disable (see screenshot 'Admin: Disable Magento Compiler').
Go to http://www.yoursite.url/magiczoomplus/ in your browser > click 'Install' (replace yoursite.url with your domain name) (see screenshot 'Admin: Install Magic Zoom Plus').
If you use Magento Compiler, click 'Run Compilation Process' (see screenshot 'Admin: Run Compilation Process').
Go to System > Cache Management > Select All and refresh the cache (see screenshot 'Admin: Refresh Cache').
The demo version is now installed!
Customizing
Customize the Magic Zoom Plus™ extension through the Magic Toolbox > Magic Zoom Plus settings > Default settings menu in your Magento admin panel (see screenshot 'Admin: Access Settings page').
Upgrading is easy
To upgrade your version of Magic Zoom Plus™ (which removes the "Please upgrade" text), buy Magic Zoom Plus™ and overwrite the old /skin/frontend/[your_interface]/[your_theme]/js/magiczoomplus.js file with the new file in your licensed version.

Check out the features Magic Zoom Plus™ supports
Built-in configurable swatches (released as part of Magento 1.9.1)
Multiple images (uploaded with the default Magento image manager)
Friendly URLs
Multi-language (different locales)
Product options (use different images for each option value, by "Drop-down" and "Radio Buttons")
Different configs for different themes
Show additional selectors on category page
Magento image clipped can be ignored
Native Magento watermarks
Supported versions
All versions of Magento are supported:
* Magento Enterprise: 2.x, 1.11.x - 1.14.x
* Magento Community: 2.x, 1.4.x - 1.9.x
Futureproof: we update the Magic Zoom Plus extension whenever a new Magento version is released.
If you have any questions, get in touch for free technical support. We're here to help.
Another amazing image extension, from the craftsmen at Magic Toolbox. For extension releases, updates & promotions — follow us on Twitter and Facebook!
Please send us a review or post it here on Magento Connect!