Special Promotions by Amasty
Please find full description, live demo and user guide at Magento Special Promotions module page
A powerful promotion tool.
---
Create promotions which work.
Nowadays customers are literally flooded with discounts and it's difficult to impress them with regular deals. This Magento discount extension adds 10 new discount actions, with the help of which you can provide very effective promotions, which can interest customers. Here are just some examples of discount rules you can create with the module:
Buy 2 T-shirts and get 3rd with $30 off
Buy pants and get a belt $15 off
Buy a coat and get a hat with the 30% discount
Add a pair of jeans to the cart and choose any belt you like just for the fixed price of 25$
Buy 2 shirts and get any tie for just $10
Category tier pricing: buy one for 100, two for 90 each!
Get each 3-rd cheapest (or most expensive) item with 20% discount
Get 10% off two most expensive products
Buy 3 and get 1 cheapest (or most expensive) free, get 6 and get 2 cheapest (or most expensive) free
All contact lens (bags, shirts, etc) for $10
Buy 2 books and get the 3rd one for free (or for 40%, 50% etc. off)
Get $5 discount from each $500 spent'
Get any 4 items from category "Accessory" for 50$
Shows discount breakdown.
The savings people make are a powerful factor when considering whether to buy or not (and also whether to keep coming back or not:-) So lets present the facts in front of them in an easy to understand way, as very often customers want to make sure they get all the discounts they are promised. Now you can display the list of discounts with products that are being discounted. For example, they will see: 'Get each 2nd phone with 50% discount: HTC Diamond -$375'. The feature works staring form the CE 1.4.2 version.
Attract customers with great promotion combinations.
---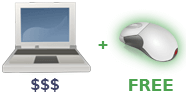 Configure any possible discount combination with cheapest and most expensive products.
Due to our Magento promotion extension you can create rules like 'Buy One Get One Cheapest (or Most Expensive) Free', 'Buy 4 products, get the most expensive for 50% off' and so on.
Create promotions like 'Buy three shirts and get a tie for 50% off' and 'Buy 2 pairs of jeans and get a belt for just $5!'.
This is possible with actions 'Buy X get Y with Discount' and 'Buy X get Y for Fixed Price', which work with simple and configurable products. You can select products which are discounted (by whole categories or just individual items) and the products which trigger the discounts. The actions work in a similar way, the only difference is 'Buy X get Y with Discount' enables you to provide a percent discount and and 'Buy X get Y for Fixed Price' lets you discount products to a fixed amount.
You can discount product prices to a fixed amount and have Magento promotions like 'Buy a shirt and get another one for only $10' or 'All socks for just $5!'.
With the extension you get a new 'Each N-th for Fixed Price' action. The action lets you discount price of any item to a fixed value (considering that the product meets the conditions of the price rule). For example, you can create promotion 'all contact lens for $20', 'buy a pair of shoes, get another one for $30' or similar ones using this action.
Create promotions like 'each second (third, fourth, etc) camera, phone, etc for 30% or 40% off or for free'.
The extension adds 'Each Nth with Discount' rule, which you can utilize to offer deals like 'Get each 5th product for free (or with discount)', 'Buy 3 products from a certain a category and get one of them with 40%/50% discount (or for free)' - offer a kind of tier pricing based on category or some other attributes (e.g. attribute set, manufacturer, etc).
Create promotions like 'Buy 3 or 4 or 5, etc items for full price and get each additional one for $50 ($100) or with 20% (30%, etc) discount'.

Such promotions are possible with 'All product after N for Fixed Price' and 'All product after N with Discount' actions. The extension always selects the most expensive items for 'full-price' ones, the cheaper products get discounted. You can limit the number of items to be discounted. With these actions you can create rules like 'Buy 2 books for full price and get 2 more with 50% discount' or 'Buy 3 bags for full price and get each additional one for $100'.
Offer deals of the kind 'Get $10 discount from each $100 spent'.
The extension adds 'get $y discount from each $x spent' rule, which will stimulate customers to spend more money in your shop. Customers will know they will be rewarded with a discount, when they spend a certain amount of money, which will motivate them to buy more.
Create promotions like 'Get group of special items for 100$'.
The extension adds 'get group of N for fixed price' action. You can specify the number of items, which customers will be able to buy for a fixed price. Of course, it is possible to select the products to which the discount should be applied. For example, you can let customers get any 3 products from categories 'Shirts' and 'Ties' for $100.
Create promotions offering fixed discount amount, e.g. 'Get each 3rd t-shirt with 40$ discount', 'Buy Levi's pants and get Burberry belt $50 off', 'Buy 5 pens for full price and get each additional one with $3 off'.
Such promotions are possible with ''Each N-th with Fixed Discount', 'Buy X Get Y with Fixed Discount' and 'All products after N with Fixed Discount' actions. You can use any fixed sum of money as a discount for a certain product.
NEW! Use custom options in the conditions
You can create conditions based on custom options. For example, you sell cups in your store and there is a custom option to add an engraving to a cup. Now it is possisble to make the promotion rule apply only for the cups with engraving.
NEW! Create promotions for product sets
With two new actions added now you can set promotions for particular product sets. Use the following promotion types:
Fixed price for a product set ("By a mobile phone, a memory card and a case for 99$! in total")
Percent discount for a product set ("If you buy the jacket and shoes together. each item gets 10% off discount")
NEW! Special promotions for bundle products
Now you can create promotions for bundle products. Easily set shopping cart price rules to offer bundle items with various discount types.
Important! Category based rules for configurable products
If you create the rule for configurable products where you want to specify particular categories in conditions (e.g. category is... or category is one of... etc.), make sure to add associated simple products to the same category with parent products.
NEW! Virtual products support
The extension goes all out in support of virtual products. This is the way you can without hesitations apply all the described promotions to virtual items and get a lot of benefits.
NEW! Enhanced functionality of shopping cart rules grid
---
Now Special Promotions includes the functionality of Promotions Manager extension. Thus, you can overview the detailed rule data (the type of discount action and discount amount) right on the shopping cart rules grid. Moreover, this makes possible to manage promotions on the grid:
- duplicate the rule if you want to create a kind of it;
- quickly activate and deactivate the rule;
- easily delete demo (or test) rules, invalid coupons which are no longer needed;
- change the rule priority.

If you want to learn more about these features, please check Promotions Manager page.
Full compatibility with Magento standard features.
---

Now it is possible not to apply discounts to products with Magento special price.
Specially priced items are already cheap. Applying discounts to them in most cases means that you would lose money on such products - now you can prevent this. The extension enables you to skip products with special prices created with Catalog price rules as well.
Take full advantage of Magento price rules functionality
.
Now it is possible to impose limitations like category or sku and so on to create rules like 'Buy more than 1000 worth of products and get the most expensive item from "gifts" category for free'.
Completely integrated with Magento.
It supports multi-store and multi-currency environment, also works correctly with Magento tax functionality.
Live Demo:
→ Create rules
you'll be logged in automatically
→ Frontend live examples
add items to cart and get discounts
→ Bundle product
add the product to cart and apply the BUNDLEDISCOUNT coupon get a discount
Also the extension:
---
Is easy to use
comes with the detailed user guide
Meets all Magento development practices
100% Open Source
Is easy to install (takes just a couple minutes)
Also included
---
Professional 120-day free e-mail support, help and guidance
Risk free purchase, 2-week money back guarantee
Paid extension customization
Please visit the Magento Special Promotions module page to see the complete Change Log list
Extension Updates Log:
Version 1.6.1 - Jan 22, 2015
– Functionality from Promotions Manager extension included.
– Improvements for "Buy X get Y" special promotion.
– Discounts on bundle items are now more flexible.
– Product set rules are now easier to configure.
Version 1.5.3
-
Dec 20, 2014
– 'Get $y for each $x spent' now takes into account the max allowed qty.
Version 1.5.2
-
Nov 05, 2014
– Now you can exclude products with catalog price rules discount from promotions
– Bundle and virtual product support for Magento CE 1.9 and EE 1.14
– New drop-down structure for actions settings
Version 1.5.1 - June 24, 2014
– Tested with the latest Magento CE 1.9 release.
Tags:
buy x get y free, price rules, discount , buy one get one free, BOGOF, buy 1 get 1 free, tier price, special offer, special offers, special price, second product at a discount, special price promotion, special promotions