Custom Order Number by Amasty
Please find full description, live demo and user guide at Magento Custom Order Number module page
Change order number in Magento and Stop Revealing Important Information
---
Customize your store numbers
Unfortunately, native Magento numbering model can't boast of rich functionality. It may cause a lot of problems to your store like revealing important business info about your shop turnover or confusing customers with long order numbers. The Custom Order Number extension provides an easy solution to all these issues and enables you to customize invoices, shipments, orders and credit memos according to your needs.
Draw new customers with attractive custom invoice numbers
It's a well-known fact that the more orders you have the more attractive you look in your customers' eyes. And of course low numbers speak about your e-store louder than words, preventing potential clients from making purchases. In order to make a good impression on your users and hide your weak points from competitors edit the accounting information according to your needs. For example, you can show them a random order number or custom invoice number to keep your real data a secret. Customers are more likely to return to your shop if they see thousands of orders from people who trust your services. With the Customer Order Number extension you can edit starting Magento order numbers, set relevant prefixes and increment steps.
Meet your local record keeping standards
Stop wasting time on adjusting document numbers according to the requirements of your local jurisdiction. Due to the ability to fine tune the format of invoice and order numbers you can make appropriate settings at once and forget about all kinds of discrepancies.
Save your data for a new Magento store
In case you are operating a new Magento store and want to preserve the orders and invoices count of your old online shop, there is nothing easier. Just set the starting numbers according to your needs and implement them for your new site. Let's say you have 900 orders in your old store, with the help of Magento custom order number option you can run the counting from 901 in a new one with appropriate indexes and prefixes without losing any important data.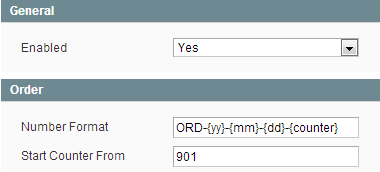 Easy Steps to win customers' appreciation and mask important order and invoice number
---
Set starting order number to protect your private information
As long as you're not going to demonstrate the real numbers to your customers and competitors, it's better keep this info only for your internal use. Especially, if you've just started your business and have processed not so many orders. The module enables you to override the default Magento numbers displaying the data you need. Simply set order number according to your needs and no one, except for your store managers, will find out your private business info. If your orders, invoices, shipments etc. include dates, you can reset them when you need and start your accounting from the scratch each new month or year. In case you don't want to wait till the new month or year start you can reset the counter at any time just checking the Reset Counter box.
Configure your order number increment steps

In order to protect your priceless business info from your competitors use the option of Counter Step. It allows to hide the real numbers of consecutive orders. For example, you set an increment of 5; it means that if the first order has id 1, the second one will have id 6. If you operate more than one website in your Magento, you can select whether to increment intervals for all your websites or per particular site. You can also implement sequential numeration for all your stores for more convenient counting. Now your customers will see one and the same numeration format for all your store views.
Make your website more user-friendly by customizing order id
---

Specify Magento order number prefix
You can choose the type of document, for which to modify the numbering model, whether it is order, invoice, shipment etc. The extension allows to specify separate prefixes and date postfixes for each type. Setting the dates in your orders and invoices you can easily group them. Moreover, if your orders or invoices include dates they can be easily found any time you need to look through a particular one.
Customize Magento order number padding
To make the numbers more readable you can implement a certain length for them. For example, you need the starting number to be 2 and want all numbers to have 4 symbols, then you need to set a 4 padding. In this case your numbers will start from 0002. Customize your numbers according to your local record keeping standards and easily export them for your CRM system.
Produce custom invoices to take all your store numbers under control
---
Advanced order number settings
This option allows you set the same numbers for invoices and orders to meet any record keeping standards in the jurisdiction of your country.
Monitor internal Magento order numbers
The extension changes only the numbers displayed to your customers. All orders or invoices have two types of numbers – for customers and for your internal use. The latter preserves its sequence, so that you always see the real picture of your e-store.
See other effective ways of store protection and order management
---
Track everything that happens in your online store
To enrich your list of inner management tools try also our Admin Actions Log. This module enables you to easily track all log actions in your store and prevent it from malicious login attempts.
Benefit from effective order management
Easily export invoice, shipment, product & credit memo data as well as order-related output of third-party extensions with the help of Efficient Order Export module.
Custom Order Number user guide
Live Demo:
Backend
and
Frontend
Other Features:
---
100% Open Source — Easy To Customize
Follows Magento Code Architecture
Separated HTML/CSS/JS
W3C Validated Code
Please visit the official Magento Custom Order Number module page to see the complete Change Log list
Extension Updates Log:
Version 1.1.1 - Aug 04, 2014
– Compatibility fix for RMA functionality.
Version 1.0.4 - June 30, 2014
– Tested with the latest Magento CE 1.9 version.
Version 1.0.4 - Apr 07, 2014
– Bugfix for counter starting number.
Tags:
change order number, custom order number, custom invoice number, invoice number, order number prefix, random order number, set order number, custom order number extension, order number increment, change product order