Order Attributes by Amasty
Please find full description, live demo and user guide at Magento Order Attributes module page
Get enough information – complete orders without delays:
---
Add fields for business information, delivery date, marketing questions, etc. to checkout page.
Stop calling or emailing your customers to get additional data - add more fields to checkout page and receive all the necessary information at once. For example, you can add to Magento sort of checkout comment field to let customers leave their feedback.
Increase customer satisfaction.
You get a unique chance to make your customers more happier. First, order process at your store becomes much faster. Secondly, you gather required order information and use it effectively, e.g. improve your customer service or offer the products customers wish to buy at your store.
Improve usability of your store for both customers and admins:
Add attributes to the order grid for more convenient order data management.
Show the attributes on the order grid for convenient access to the data. Sort and filter orders by the custom attributes for easy reporting.
Completely integrated with admin order creation and editing.
You can fill in custom Magento order attributes when creating orders from admin panel. Edit order attributes' values after the order was placed, right from the order view page in admin panel. When an order is edited, the attributes are copied into the new order.
Attribute values can be saved for future checkouts.
Why is it useful? - Registered customers will not need to enter the same information with each order.
new!Protect created attribute values
Order attribute values are now restored if something went wrong when you create orders in the backend.
Ability to use default values.
Feel free to automatically apply default value for cases, when the attribute field was not filled in or if the attribute is set to be not visible on front end.
new!Possibility to use calendar for date type order attributes
With the help of calendar option admin users can quickly specify all date type attributes when creating orders in the backend.
Attribute configuration options:
---
Add any number of fields of many types.
You can add unlimited number of Magento custom checkout fields. Available field types: text field, dropdown, checkboxes, dependable dropdowns, date with time, radio buttons and many others.
new! Now the file upload input type is available. It enables customers to upload/attach files during the checkout process on any checkout step.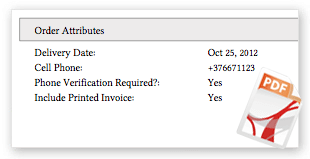 Flexible conditions for attribute display.
Choose at which store views to display the fields. You can also display the attributes on order view pages both to admins and customers.
Display attributes based on selected shipping method.
You can show additional attributes only when a specific shipping method is selected.  E.g. Display a field for Magento order comments when a customer chooses self-delivery option.
Use the attributes in e-mails and PDF docs.
The fields can be added to the order-related emails and PDF documents (shipment emails,invoices and packing slips).
new!Add custom attributes to HTML print-outs
Add any order attributes you need to HTML print-out documents on the customer order confirmation page.
Advanced extension features:
---
Support of Paypal Express checkout.
Order attributes can be used in any email template which has order object (for example order confirmation email), with possibility to process them by functions.
Values of custom order attributes are available via Magento API with "sales_order.info" method. Works both via SOAP and XML-RPC.
Live Demo:
→ Backend
manage order attributes
→ Frontend
add the product and proceed to checkout
Also the extension:
is easy to use;
comes with the detailed user guide;
meets all Magento development practices;
is 100% Open Source;
is easy to install (takes just a couple minutes).
Additional services:
---
Professional 120-day free e-mail support, help and guidance
Risk free purchase, 2-week money back guarantee
Paid extension customization
Please visit the official Magento Order Attributes module page to see the complete Change Log list
Extension Updates Log:
Version 3.1.11 - May 14, 2015
– Compatibility improvements
Version 3.1.10 - May 07, 2015
– Compatibility improvements
Version 3.1.9 - Apr 07, 2015
– New element type implemented: radio buttons
Version 3.1.8 - Feb 11, 2015
– Better compatibility with One Step Checkout
Version 3.1.7 - Feb 05, 2015
– Possibility to add order attributes into HTML print-out of order confirmation email
– Possibility to add order attributes into shipment emails
– Possibility to use calendar for order attributes of date type on the order create page in the backend
– Order attribute values are now restored if something went wrong when creating order in the backend
– Fix for preview email template in the backend (transactional emails)
Version 3.1.5 - June 26, 2014
– Tested with the latest Magento CE 1.9 release
Tags:
order comment, order comments, order attributes, custom checkout, order states, checkout fields, checkout comment, custom order attribute, custom checkout fields, add field to order, checkout fields manager, customize checkout page