Facebook like button extension for Magento
*** If you have any problem or question about this extension please use our Helpdesk. We do not provide support using Magento connect Q&A form. ***
Free Facebook Like Button extension is absolutely linked with Facebook social network. The module enables the button integration with Magento core functions. By using the extension, you can place the Like button either on the product page or on the category page. It will encourage customers to interact with your web-store via Facebook. Also the Facebook Like button module enables the Share button on the product page. It will help users to share your store's products with their friends. Visitors can add the description or their own review about the product which they share and send a link as text message to their friends too. Our extension is based on Open Graph protocol, that provides the accurate display of the information that customers share.
Demo & Manuals
Installation instructions  |  Extension demo
Main features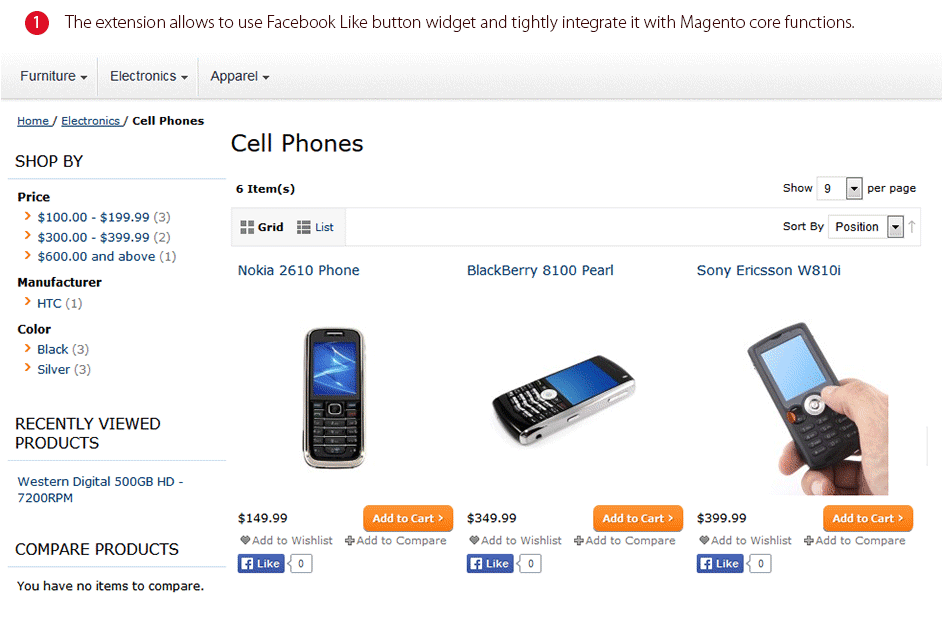 * You are allowed to control the applying of Like and Share buttons in extension configuration area. The color and the language values are fully variable. Make them nice looking to draw users' attention.
* Use of Open Graph protocol Meta tags on your web-store provides the show of the information you share in more beneficial way. Your online store will have the same functional features as a Facebook page. Using the Facebook Like Button extension with Open Graph protocol you can completely control the content in Facebook network.
Full features list
* Adding Like and Share Facebook buttons to your website
* Absolutely customizable buttons
* Applying the Open Graph protocol Meta tags
* Sharing product links in customers' friends' news feed
* Adding the description to users review about the product
* Sending a link to your web-store as text message
All our extensions and templates
* 100% Open source
* 1 year of free support since purchase date
* 1 year of free upgrades
* 14 day money back guaranteed
* Don't affect Magento core files
* Improve your store usability and performance
* Help your store always be afloat by implementation the new features and ideas
* Developed using Magento programming guidelines
* Free installation services for all commercial extensions and templates
Try our extensions and choose one to be fully suited to your store's target customers.
Check our most popular extensions and templates for Magento
You can find more extensions and themes at Magento Connect and http://www.templates-master.com.
Support and Discussion
Join discussion and find recent deals at Facebook or follow us on Twitter. Please contact us at Templates Master Helpdesk in case you have any problem with our products.