Customer Attributes by Amasty
Please find full description, live demo and user guide at Magento Customer Attributes module page
Collect all the necessary info about customers to provide better service and get more profit.
---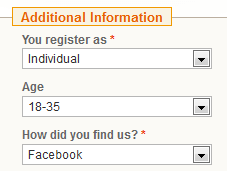 Get all business-related and personal information needed.
Our Magento customer attributes extension enables you to create unlimited number of additional fields for registration and collect as much information as you need. You can let customers upload documents, images, let them select from available options, type their own text, leave comments, etc.
Make a big step to customer loyalty.
Collect info about your customers to fulfill more of their needs. Find out the key reasons for choosing your store as well as the things your customers are not satisfied with. Know your customers' personal information such as date of birth, hobbies and make specials according to this info.Let customers feel they are taken care of and they will pay you back.
Show additional fields to your customers In your Magento Registration Form.
Gather information from as many customers as you can by displaying attributes both at the registration page and billing info page (for the customers who register during checkout).
Collect different types of information.
Get graphic or text information by creating customer service attributes attributes of different types. Let the customer answer open or closed questions, upload any file, e.g. photo, document or a passport scan or choose from the list of options.
See all the attribute information on the grid.
With 'Manage customer attributes' grid you can see all the details of created attributes at a glimpse. The grid contains information on the attribute type, sorting order and where the attribute is shown.
Choose the order in which attributes are displayed.
Optimize the list of attributes in the way your customer won't get tired while filling in the Magento registration fields. Specify the order of attributes display for better information perception.
Hide the custom registration fields on Account Information page and Billing page if they had been filled in before.
Sometimes it's really not necessary to bother customers during the checkout. Now you can remove the custom attributes from Account Information and Billing Information pages if they had been filled in before (e.g. during registration).
NEW! Build handy usage reports with visual graphs for selectable attributes
With the reports tool you can easily keep track of customer attributes usage. See detailed statistics based on various selectable attributes such as checkboxes, multiple selects, drop-downs and radio buttons. Use customer data for your marketing goals.
Make your Magento store user-friendly.
---
Use dependent attributes.
Have a long list of attributes? Need to ask for additional information only when a customer selects a particular option? Make attributes display only when a particular value of other attribute was selected. E.g. show the list of European divisions to choose from only when 'Europe' region is selected. Or ask for detailed description of the issue if the customer's answer for 'Are you satisfied with our service?' is 'No'.You can ask what customers like about your products the same way.
Upload images for checkbox and radio button field types.
Uploading images in addition to text descriptions will make your registration page both more visually attractive and more user-friendly. Some options may be difficult to understand, so the images will help customers to make the right choices.
Talk to the customers in their native languages.
The module allows selecting store views on which to display the attributes. Setting unique field title and default values for each store view give much convenience, if you have a multi-language store. Make your customers pleased by creating the custom attributes in their native languages. You can also remove or add fields to registration form for certain store views in cases, when some fields are country-specific.
Use any custom attribute for login.
Let customers use any custom attribute for login either instead of or together with email. If used together, customers will be able login either with email or with the custom attribute. So you can allow customers to login with their usernames instead of emails for example.
Place static information on registration page.
Use static text Magento custom fields to display the info, which customers should learn during registration process (e.g. terms and conditions).
Advanced attribute management.
---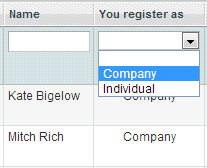 Convenient tool to segment your customers efficiently.
Add attributes to 'Manage customers' grid, sort and filter customers by the attributes. Find common features to define customer segments and adjust your marketing accordingly.
Both admin and customers can manage the attribute values.
Admin can fill in the attribute fields when creating a customer account from admin panel. Both customers and admin can edit attribute data. Admin can fill in attribute fields, when creating a customer account from admin panel. Of course, admin can restrict editing of some fields for customers.
Show the attributes on the order grid to improve order processing.
You can display attributes on the order grid to see important customer data, e.g. billing company, right away. This makes order processing faster and more convenient. The attributes can also be seen on order view pages.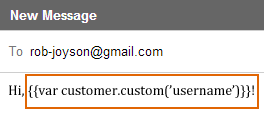 new! Customer attributes in email templates for guests and clients
You can include custom attributes in customer-related emails (e.g registration confirmation, password recovery, etc.) as well as in emails for store guests such as special offers, sales events, reminders, etc.
Analyze customers' behavior.
Displaying attributes on the order grid, you can analyze the connection between customers' personal info, let's say hobbies, and the products they buy. This will help you to create more targeted and thus effective marketing campaigns.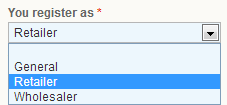 Customer group during registration.
You can let customers select customer group during registration.
Import and export of the custom attributes.
It is possible to export and import customer attributes using standard magento import/export functionality.
NEW!Specify customer attributes for orders placed on the backend
Now admin users can manually specify additional customer attributes when they create customers for orders placed from the admin panel. Customer attributes can be also added to already existing order pages.
Attribute capabilities.
---
Variety of attribute types: text field, text area, dropdown, checkboxes and radio buttons, multiple select and date fields, static text, yes/no, file upload, customer group selection.
Ability to include attributes in customer-related emails (e.g.registration confirmation, password recovery)
Now in your Magento - Dependent attributes functionality
Multiple options for attribute display: registration page, billing info page, customer account, 'Manage Customers' grid, order grid, order view pages. You can enable and disable display of fields for each of the above locations.
Ability to upload images for checkbox and radio button field types
Optional verification of unique values for attributes
Ability to display customer attributes on the list of customers, which is displayed while creation of order from admin panel.
RUT validation (specific field validation for Chilean market)
Know all new registered customers.
---
NEW! Activate new customer accounts manually.
By default all new registered customers of Magento store are activated automatically. Customer Attributes extension gives you a possibility to manually approve customers after their registration. This measure ensures that the account is associated with an actual person, rather than with a computer that is setting up fake accounts.
NEW! Get notifications of every new customer registration on several emails.
With the help of Customer Attributes you can set up the notifications of new registered customers. This useful option allows you to timely activate new customer accounts and keep a track of every new registration. If it's required you can sent these notifications to several admin emails.
NEW! Forbid 'Log in' and 'Check out' actions for non-activated users.
In case admin hasn't activated a customer, the user can't proceed to checkout or log in. Instead of these operations he receives the note of non-activated account.
Notify customers of their account activation.
Send welcome nurturing emails for new subscribers and gain more customers' loyalty.
Customer Attributes user guide
:
Live Demo:
→ New Customer
register a new customer as individual to see dependent attributes
→ Add Product To Cart
and register during the checkout process
→ Admin panel
create an attribute and see how it displays on Customers and Orders grid
To see the complete Change Log list please visit the official Magento Customer Attributes page.
Extension Updates Log:
Version 5.5.2 - May 27, 2015
– Minor notification improvements for reports
Version 5.5.1 - May 14, 2015
– Customer attributes can now be specified when creating customer during placing order in the backend; and on the create/edit order page
Version 5.5.0 - May 14, 2015
– Possibility to build usage reports with visual graphs for selectable attributes (checkboxes, multiple selects, drop-downs, radio buttons)
Version 5.4.1 - Apr 27, 2015
– Customer attributes for guests can now be used in e-mail templates.
Version 5.4.0 - Mar 19, 2015
– Customer attributes are now saved for guest orders.
Tags:
customer attribute, registration form, customer attributes, custom fields, custom registration form, custom attribute, registration fields, customer registration, customer fields, add field to customer, add fields to registration form, add attribute to customer, custom registration fields, customer group registration