Improved Layered Navigation by Amasty
Please find full description, live demo and user guide at Magento Improved Navigation module page
Navigation - the heart of any website
---
Customers should clearly see the path from your website entrance to the product they are looking for. If this path is not simple and obvious, customers will get lost and your store's bounce rate will increase. It's enough to use clear and modern Magento navigation to increase revenue, because user-friendly websites become favorite and are used more often.
Functionality of 7 modules in 1Magento advanced navigation extension
---
The extension has so many features, that we had to combine them in the following groups:
Seo layered navigation
Shop by brands
Ajax Layered Navigation
Layered navigation filters
Advanced categories menu
Layered Navigation pro
Price Slider
Seo layered navigation
---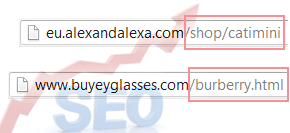 Apply SEO to your Magento store and benefit from it. Create SEO-friendly understandable and appealing URLs, build nice manufacturer landing pages with SEO-optimized descriptions and meta tags, set 'noindex', 'nofollow' parameters for navigation pages, etc.
Shop by brands
---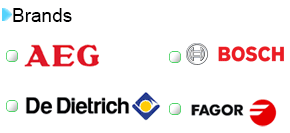 Let the customers easily find the products of the brands they are addicted to. Show brand logos in navigation, create lists of brands, use short URLs for unique brand pages, etc.
Ajax Layered Navigation
---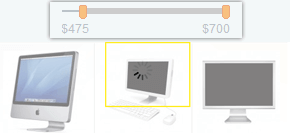 Enhance user experience with Ajax mode. Ajax-based navigation lets the category page content change without page reload. All the previously selected filter options stay saved when 'back' button is clicked.


Magento layered navigation filters
---
Let the customer filter products by color, price, manufacture, in fact any product attribute. Place attribute filters on any store page, display filters in vertical or horizontal navigation, together with images or labels only, use sliders, etc.
Advanced categories menu
---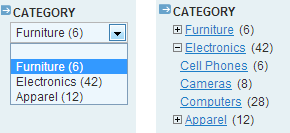 This Magento navigation menu extension enables you clearly display a category tree by choosing from various modes for category display. You can show categories in dropdown, together with subcategories or static 2-level category tree with plus/minus controls, etc, hide or move category filters, exclude any categories from layered navigation, etc.
Price sliders and other numeric filters
---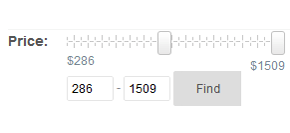 Let the visitors specify their own custom ranges with price slider, which actually can be used for any numerical attributes e.g. weight, hight, memory size, etc.
Layered Navigation PRO
---
If you think, that something is missed above, then take a look at pro-features. Tool tips for the filters, images for configurables which changes according to customer's selection, 'featured blocks', dependent attributes, etc.
Improved Layered Navigation user guide
Live Demo:
> RWD Theme Improved Navigation with RWD Magento theme
> Main Settings
you'll be logged in automatically
> Brand Page
See the certain brand page including brand description and its products
> All Brands
See featured brands block and All brands alphabetic list
> Shop by Brands
See brand logos in navigation, multiple select and images on hover
> Layered Navigation Filters
See advanced filters, thumbnails on subcategories and navigation blocks
> Price Slider
See price sliders and other numeric attributes and the way to set them up
> SEO layered navigation
See generated meta information for pages with selected attributes
> SEO layered navigation
See short URLs functionality
> Layered Navigation Pro
See configurable products images based on customer selections
> Layered Navigation Pro
See Dependent Attributes functionality
> Advanced Categories Menu
See Advanced Categories Menu functionality
> Attribute icons on Category
See attribute icons on category pages
> Attribute icons on Product page
See attribute images on product view pages
> AJAX Filtering
See how AJAX mode works
> Home page
See the main features
Also the extension:
---
meets all Magento development practices
Has built-in installation check
comes with the user guide
is easy to install (takes just a couple minutes)
is 100% open source
Additional services:
---
Professional 120-day free e-mail support, help and guidance
Risk free purchase, 2-week money back guarantee
Paid extension customization
Please visit the official Magento Improved Navigation module page to see the complete Change Log list
Extension Updates
Version 2.8.1 - May 14, 2015
– Possibility to use multiple select for categories filter in "default" view mode
– Advanced Categories view mode now works on search results page
Version 2.8.0 - Apr 29, 2015
– Better compatibility with responsive themes, especially the "above category" filters position
– New filter by rating stars
Version 2.7.1 - Mar 18, 2015
– Possibility to define step for price slider
Version 2.7.0 - Mar 17, 2015
– Multi store support for titles and descriptions at Improved Navigation -> Filters -> Values
– Configurable step value for the decimal attributes slider
– Built in popular Ultimo theme support
– Fixed XSS vulnerability in the price variable
Version 2.6.7 - Feb 25, 2015
– Compatibility with Magento configurable swatches (since 1.9.1.0 and 1.14.1.0).
– SOLR now works with the latest Magento EE 1.14.1.0.
– jQuery slider is now compatible with 3-rd party jQuery plugins.
– Possibility to hide price filter for specified categories.
– Other minor improvements.
Version 2.6.5 - Dec 01, 2014
– Price slider is compatible with more themes.
Tags:
improved navigation, layered navigation, advanced navigation, vertical navigation, navigation menu, custom navigation, top navigation, improved layered navigation, better navigation, improve navigation, horizontal navigation