Embedded ERP 2.9.5
Overview
The Ultimate ERP Solution For Magento
Make Magento your e-commerce management solution for stock, purchases and order preparation with Embedded ERP. Every function is built in to the control panel, and no external software installation is necessary. Created for the merchant to help efficiently manage data flow directly within Magento, Embedded ERP was developed from our e-commerce expertise and familiarity with the needs of professionals in the field. Since 2010, it has provided more than 2,000 websites with high-performing support software that is entirely integrated with Magento. 
Embedded ERP performs 5 functions :
*Stock Management: stock tracking, multiple warehouse support, inventory, stock transfer, low-stock alerts, barcodes

*Purchases: supplier management, purchase price, stock needs (just-in-time distribution and low-stock levels,) purchase order forms, merchandise reception, outstanding orders…

*Order Preparation: order distribution in function with stock levels, mass order preparation, picking lists, mass printing, packing by barcode, transport labels

*Order Tracking: product availability, order schedule, advanced availability options, delivery schedule for the customer

*Dashboards: Embedded ERP automatically generates over fifty different tables, charts, and graphs analyzing your sales, products, customers, and suppliers, to give you a thorough overview of your business activity.
Stock Management
Featuring all of the same functions as warehouse management software, Embedded ERP handles your stock with care.
These features include: stock movement tracking, product assigning, use of barcode scanners to reduce risk of product loss, and an inventory application to verify stock levels.

Multiple Warehouses, router
Embedded ERP supports multiple warehouses. This feature exists to cover several scenarios:
• For physical warehouses that are separated geographically
• To separate your physical store's stock from your website sales stock
• To import your supplier's stock levels.
• For defective products (after-sale service)
• For borrowed products
With this feature, you can create an unlimited number of warehouses and it is possible to assign any number of warehouses to any website you manage.
With this feature, you can create as many warehouses as you wish. Each warehouse can be associated with one or more tasks, depending on if the products are held for sale, delivery, etc.
Embedded ERP uses a router that allows you to define your preferences (preferred warehouse, warehouse with stock, etc.) in order to automate your sales distribution from more than one warehouse.
Each of your products can have a different stock level, depending on the warehouse in which it is stored. With the router, you can ensure that the amount of products available for sale on your website matches the available stock levels in each warehouse.
Stock levels
To give you an accurate view of your inventory, several different stock levels can be specified:
• Physical stock: The stock level that is physically present in your warehouse
• Available stock: The physical stock level withholding all orders in progress. In other words, the stock that is available for sale.
• Alert stock level: When stock levels reach your pre-defined alert quantity, for which you will need to create a purchase order
• Ideal stock level: The stock level that maintains a sufficient quantity to fulfill your orders and ensures that your products will not reach alert level within a specified delay.

Stock Movement
Accurate and efficient stock management is not easy to come by. To assist you, Embedded ERP records every physical stock transfer that is performed: reception of merchandise, order shipment, and refund. Each stock movement is labeled with a username, type, and an obligatory description so it can be traced back to its source. You can also manually create stock movements.

Product reservation
Embedded ERP automatically reserves the products for each order in function with the available stock. With this feature, you are instantly informed which products can be shipped immediately and which are on-hold. Once a product on-hold comes back into stock, it is immediately reserved for the orders in process.
Mass stock edit
Embedded ERP allows you to quickly and easily modify stock levels, alert levels, location, or any other information concerning multiple products at once with its mass stock edit feature.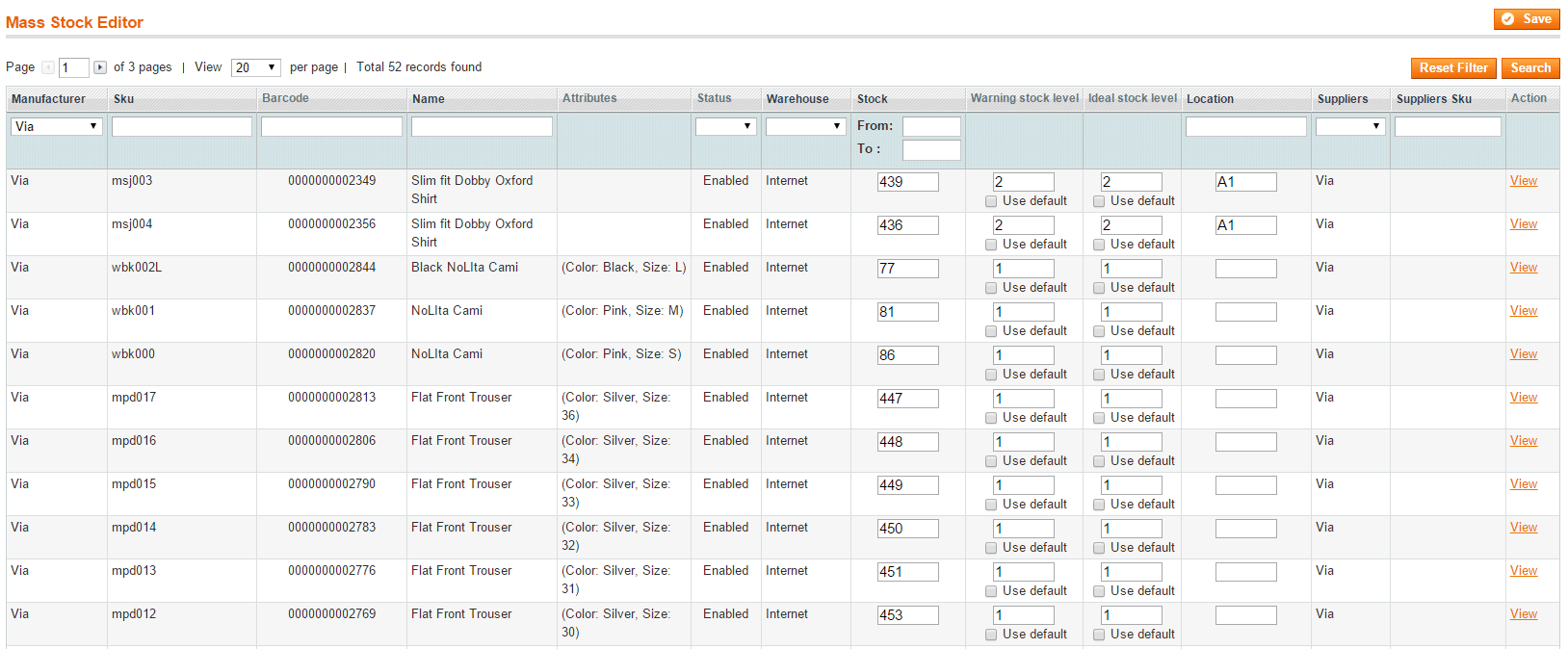 Sales history
Embedded ERP maintains updated statistics in 3 customizable timeframes. This information is made available on each page. The sales history feature contains an algorithm that allows you to define your ideal and alert stock levels. Once your stock reaches the alert level, a purchase order is created.
Barcodes
The use of barcodes improves accuracy in product selection and delivery. With Embedded ERP's barcode feature, you can:
• Manage several barcodes for one SKU
• Print labels on a thermal laser printer
• Print barcodes on a packing list
• Confirm reception of merchandise
• Records stock movements
• Perform inventory
• Ship orders with efficiency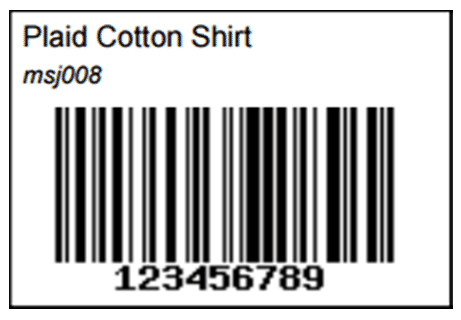 Tracking- Serial numbers
Trace your stock's arrival and departure by recording the product's serial number. With this step, you can efficiently and effectively track your products.
Inventory
Stock errors occur even when a rigorous management system is in place. A periodic partial or total inventory is essential for maintaining accurate stock levels. Embedded ERP allows you to perform inventory with or without a barcode scanner, so that you can compare your stock levels in the system with those physically present in your warehouse(s). Once complete, you can address any discrepancies and adjust your new stock levels with just a few clicks.


Stock Transfer
When you maintain several stock warehouses (internet sales, physical store sales, supplier stock, etc.) Embedded ERP helps you to transfer products between them smoothly and accurately.
• Select the product(s) you wish to transfer
• Print the transfer form to justify the transfer
• Once the merchandise reaches its destination, confirm the transfer by creating a stock movement to update your stock levels

Data Import/Export
Embedded ERP allows you to import and export your stock details in order to consolidate your inventory or determine its total value.

Purchases
Embedded ERP includes a tool for managing your relationship with your suppliers. It assists with purchase orders, just-in-time inventory pull (for which you do not maintain stock,) and resupplying of low stock with the stock-level alert feature.
Supplier Management
For each supplier, you can assign a name, a street address, an email address (to send orders and request quotes,) a default delivery delay, a default currency, the tax rate, and the shipping rate.
In order to optimize your purchases, you can also customize the order minimum and the postage amount for each supplier.

Product association/ supplier
Product association can be performed after you have entered your supplier information. This is an essential feature for when you wish to make a purchase order. With it, you can filter your stock needs by supplier. Embedded ERP accepts multiple suppliers per product, and each supplier is given its own product ID number(s), purchase price(s), shipping rate(s), etc.
The Product-Supplier database can be filled out using a CSV import, manually, or automatically. Each time you place a new purchase order, Embedded ERP updates the database for the next use.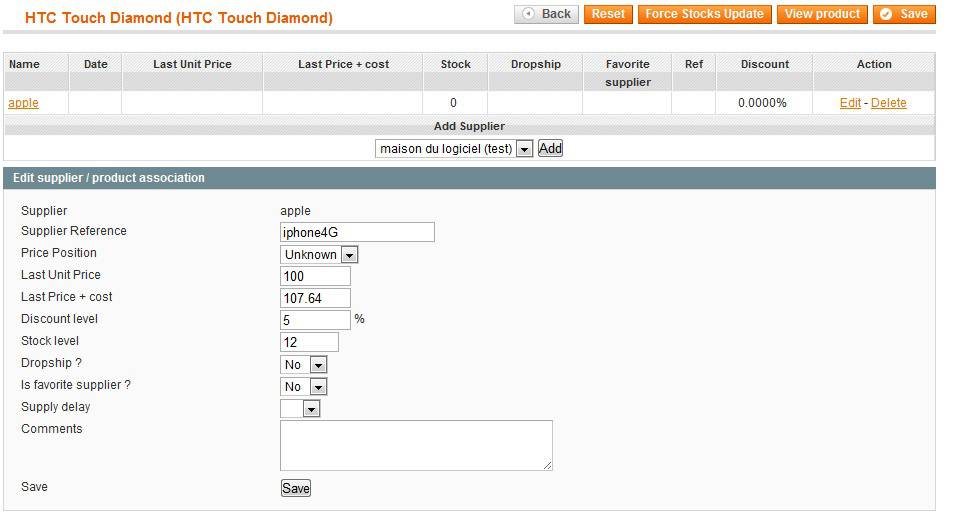 Supply Needs
One of the key features of Embedded ERP is the supply needs management tool, which helps you make purchasing decisions. It provides a list with all of the products in need of resupply, with two main criteria:
• You have sold a product that is out-of-stock
• A product's stock has fallen below the alert level
In both of these scenarios, you will receive an alert indicating the reason for the supply need. You can filter the supply needs list by supplier or manufacturer to view all of the products needed from any given source. Then, with a few clicks, you can create a purchase order for the supplier by selecting the products in need.

Supply orders
In the supply orders feature, you can specify the payment currency, tax rate, shipping cost, product unit price, quantity, packaging, and expected delivery date. It allows you to add products to your order manually or from the automated supply needs list (purchase recommendations), or by importing a product file.
For each product, you can also specify the quantity (per unit or in bulk), total purchase price, shipping cost, supplier product ID (if different from your own) and the expected delivery date by product. Embedded ERP automatically generates the sales price for each product including shipping costs as well as the corresponding profit margin, which helps you to avoid making purchases that would lead to profit loss.
Once your supply order has been created, you can send it directly to the supplier via email. A series of status labels (awaiting validation, awaiting payment, awaiting reception, etc.) can then be used to update the progress of your order
When your order is complete, you can print it or send it as an email attachment in PDF or Excel format to your supplier

When the products have been delivered to your warehouse, go back to the supply orders page and update the delivery status.
With Embedded ERP, you can update the delivery status manually or with a barcode scanner. You can also create a qualitative delivery status by redirecting defective products to a specific warehouse. Once your newly delivered products are confirmed 'in-stock,' they will automatically be made available for sale on your website.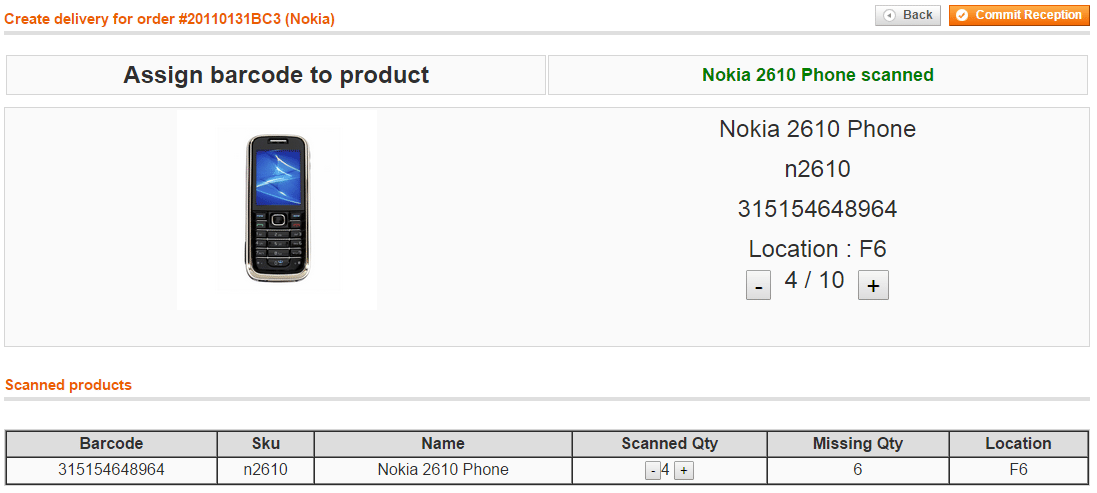 The system allows you to confirm partial, complete and even surplus merchandise reception. With this function, your order is updated with the number of products received, and a separate page will publish the outstanding merchandise by product/ order/ supplier.
Drop-shipping option
The drop-shipping option allows you to transfer your customer's order details directly to your supplier for shipment. Embedded ERP is compatible with our Drop Shipping extension, which includes the following features:
• Imports supplier stock to a specific warehouse (interfacing)
• Displays orders that are eligible for direct delivery
• Sends order, billing, and shipping information directly to your supplier
For more information on Magento Drop Shipping, : click here

Order Preparation
From picking, to packing, to shipping, Embedded ERP is there every step of the way to help you process your orders quickly and accurately. It can support input from several barcode scanners at once, so picking lists can be delegated among several employees. As each company is unique, with its own system of organization, the order preparation module is fully customizable to meet your needs.
Create a method that works for you
We are aware that there is no 'one-size-fits-all' approach to processing products, warehouses, and orders. Therefore, we have developed an order preparation tool that is fully customizable and includes every feature you need to create your own method:
• Mass order selection
• Mass or individual order fulfillment
• Mass printing of packing lists, invoices, and picking lists
• Printing of global or individual packing lists
• Mass invoice and shipping label creation
• Packing verification by barcode scanning
• Shipping label creation in mass or by order
• Bulk email notification with tracking numbers for customers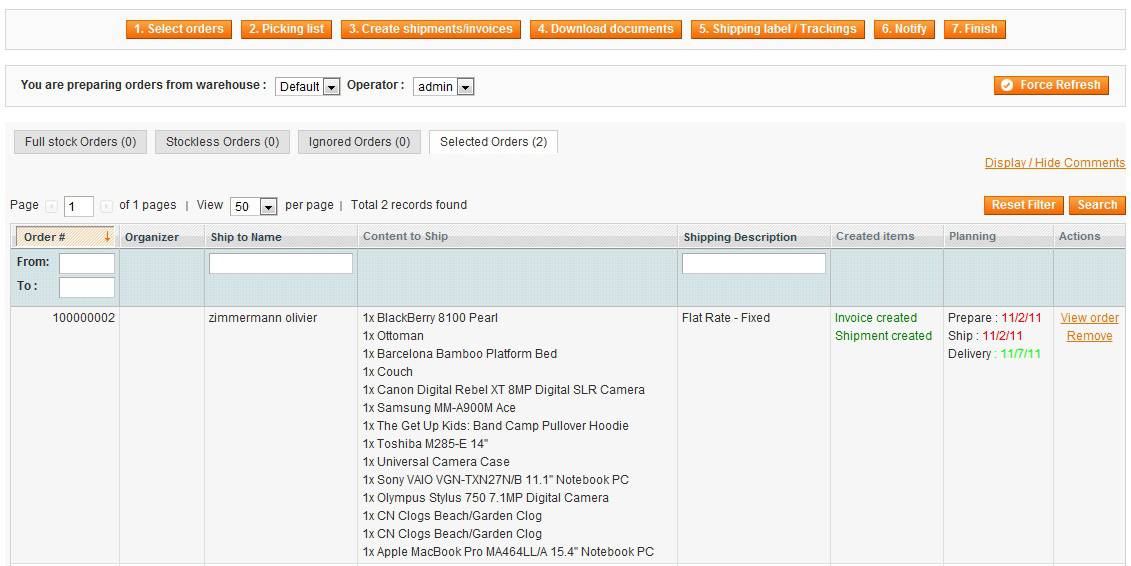 Which orders are ready for shipment?
Embedded ERP manages your stock by automatically assigning in-stock products to orders in progress, and marking them ready for shipment
The order preparation screen displays two different order lists: complete orders (for which all products are in-stock), and incomplete orders (for which one or more products are out-of-stock). A third list comprises orders that are on-hold for a reason that can be manually selected: awaiting payment, blocked order, specific customer group, etc. Using these lists, the order preparer can select the orders that they wish to process through a clearly defined system.

Picking list
Once the order selection has been made, the preparer can print a picking list that includes all of the products involved. This list can include a photo of the product, the quantity ordered, and its location in the warehouse, i.e. Section A, Aisle B, Shelf C.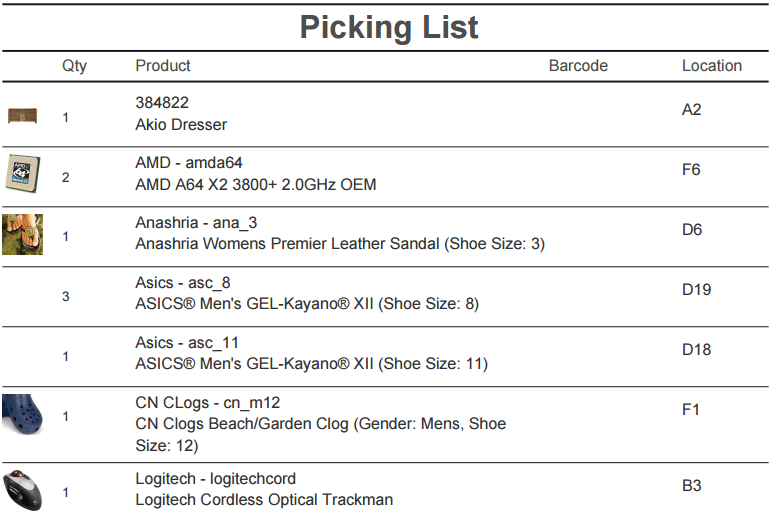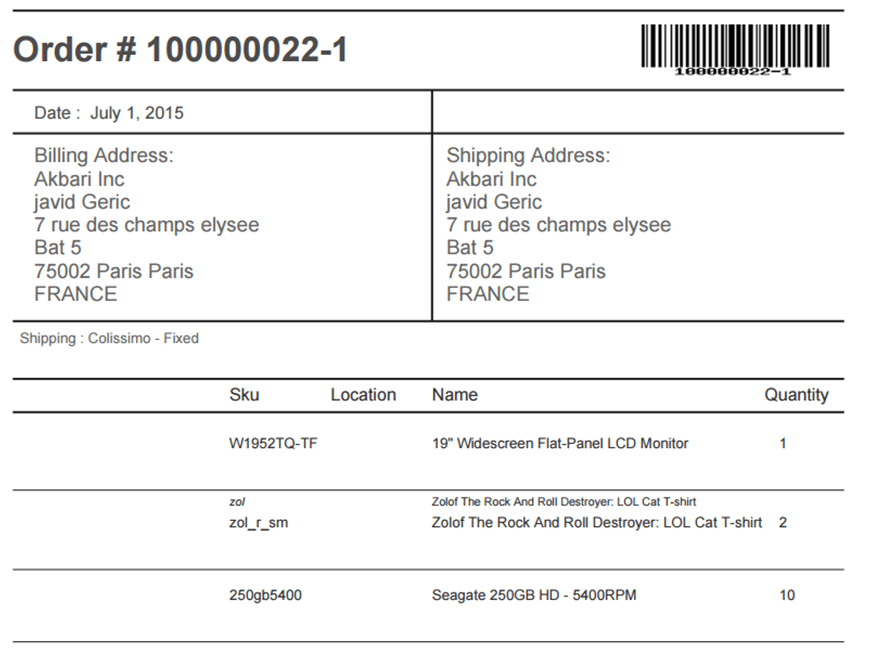 Packing and Shipping
The following step ensures that you ship the correct products for each order. When you scan the order barcode, the system will display the products required. Then, once the products have been picked, you can scan their barcodes to verify. If the wrong product has been scanned, an error message will appear.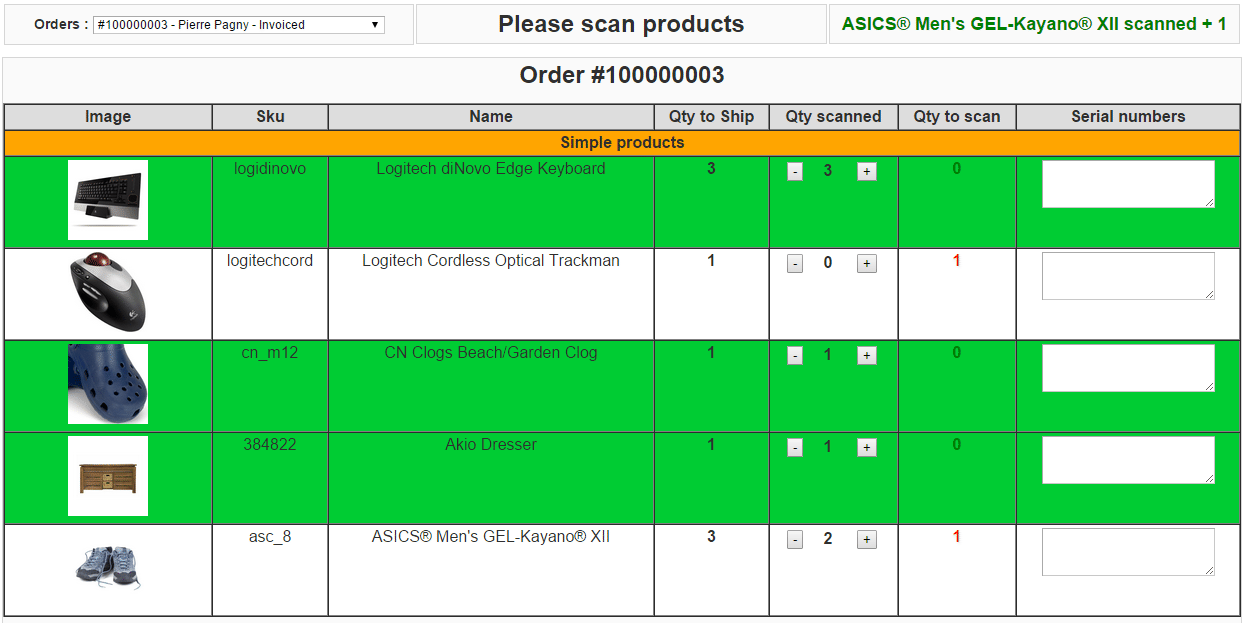 When all products for an order have been verified, you can validate the order for shipment!
Shipping Labels
The final step in processing orders is to generate a shipping label with the tracking number
Embedded ERP proposes 2 solutions to automate shipping label creation:
• Export order details to your transporter's software. If you enter your order information into your transporter's software program, Embedded ERP can export the order details for you in xml, csv, or text format. No need to waste time manually entering order details!
• Print shipping labels directly from Embedded ERP. BoostMyShop provides modules for UPS, Royal Mail UK, and Colissimo that communicate directly with the transporter API to generate shipping labels and assign tracking numbers within Magento.

Dashboard (new additions)
Embedded ERP automatically generates over fifty performance reports to give you an integrated view of your products, sales, customers, stock, and purchases.
Simple and dynamic reports
The performance reports were conceived with the help of experienced e-merchants to give you a complete overview of your business activity. Appearing in the form of tables, charts, and graphs, all of the data can be exported into an Excel file for further analysis.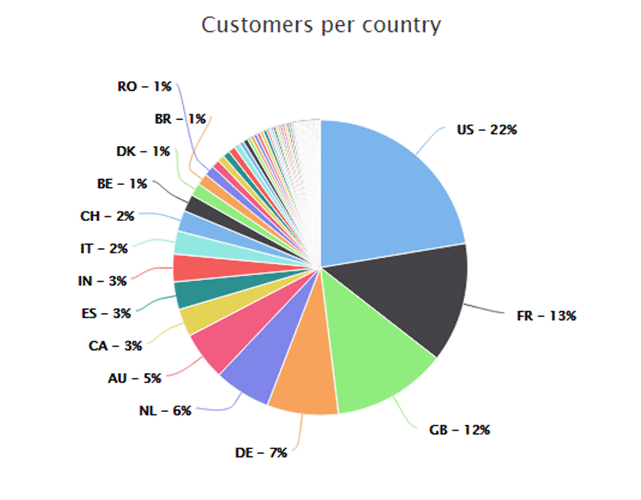 You can filter the data according to a specific timeframe (by day/ week/ month) and over a designated period of time (this week, this month, last 3 months, this year, etc.)
You can also navigate easily from one report to another to deepen your analysis. Do you have a top-selling product? Click on the product to display more details. Can a certain brand be associated with multiple refunds? Click on the brand name for more information.
Customizable dashboard
Customize your dashboard to display only the information that is most relevant to you.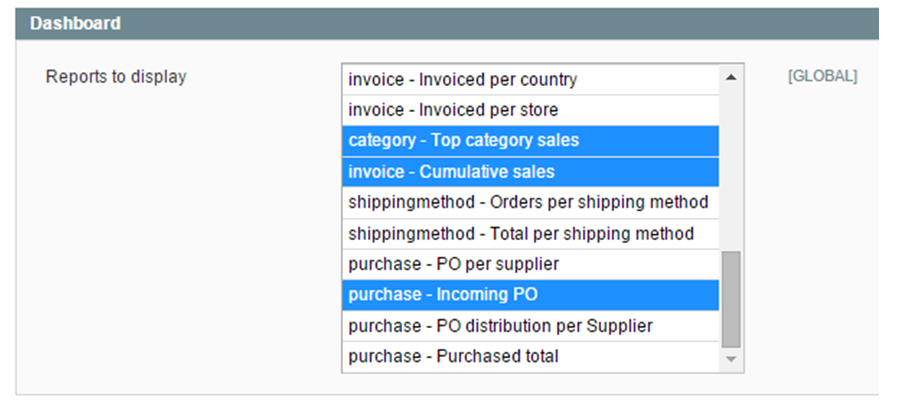 Over 50 performance reports available
Embedded ERP automatically generates over 50 performance reports including:
Product catalog
• Top sales (quantity and volume)
• Analysis by product category
• Analysis by manufacturer
• Highest and lowest-rated products
• Product analysis (from the Magento product page): sales history, cross-sales, average purchase price, profit)
Sales
• Turnover
• Refunds
• Distribution by country/ store
• Distribution by payment method/ shipping method
• Sales profits
Customers
• Top customers
• Specific customer analysis (from the Magento customer page)
• Customer distribution by country/ store/ group
• New customers
Purchases
• Purchase volume
• Distribution by supplier
• Expected merchandise reception
• Supplier analysis (history, average delay of merchandise reception)
Stock
• Export your stock value
• Consult the stock evolution by product (and by warehouse!)
• Consult the old stock report
Miscellaneous : Analysis by country (top sales, top customers) o Customizable dashboard
Product add-on!
Organize
This helpful tool improves communication among the different departments of your company. With it, anyone can insert a message to provide more details on:
• Products
• Customer orders
• Suppliers
• Supply orders

Messages can be assigned to a specific person and email notifications can be sent out when a new message is posted
A summary of all orders in process can be generated during order preparation.
____________________________________
Price Tracker for Embedded ERP
Monitor your competitor from the magento admin panel

Introduction
Price Tracker for Embedded ERP shows you the direct competitors are for the products that you sell. Designed for online merchants, Price Tracker is an integral tool that gives you the information you need to adjust your offers and improve your procurement.

   Demo video
Don't waste time with manual read-outs for each product : Price Tracker provides comprehensive information at regular intervals.
Price Tracker is available for the following countries: France, United States, United Kingdom, Italy, Spain, Germany, Netherland and Australia
How does it works ?
Price Tracker's functions are based on the EAN / UPC code associated with your product. This information is mandatory to use Price Tracker.
Products are automatically associated with the selected geographical area on Google Shopping. Boost My Shop's algorithms check and update information on a regular basis and export them instantly to your Magento Embedded ERP Extension
Price Tracker is available from the Magento Admin panel (Catalog> Product or ERP> Product page)
The Price Tracker column displays the following details for selected products:
Competitor : Competitor's name and rank
You can choose to view the results using the Google Shopping default display, or sort them by Total Price, from lowest to highest.
The number of competitors displayed is configurable (up to 5)
• Price : Selling price
• Shipping : Shipping Cost
• Select the sorting modes
• Total : Total cost incl. Shipping Cost

Price Tracker shows you how many offers are listed for the selected product and a link takes you directly to the relevant product page.
Set Up / Product Configuration Price Tracker is included in Embedded ERP from the 2.9.6 version, onward. Download the latest version of Embedded ERP from your account.
Click on System> Setup> ERP> Price Tracker
Enter your login (email contact) and your secret key (found in your Boostmyshop account under "My Credits" tab)
• Select Enable Yes/No to activate the service
• Choose your Google Shopping Website
• Select the sorting modes
• Distribution by payment method/ shipping method
• Select the number of competitors to display
Additionally, you can opt to follow products by selecting them manually, or use the automatic mode to watch all products at once.

Updating Information
Three updating frequencies are currently available: Daily, Weekly or Monthly
Price Tracker updates on-screen Data only. Whether you display 20, 30, 50, 100 or 200 products per page, you will only be able to view the results for those products.
If you display the same product several times for the same period of time, Price Tracker will display the data previously recorded.
No Barcode Available: When no EAN / UPC code is available, Price Tracker cannot identify the product and is unable to produce any competitor information.
No Result : No competitor can be found by Price Tracker