Order Manager Toolkit by Amasty
Please find full description, live demo and user guide at Magento Order Manager Toolkit module page.
Tired of time-consuming operations with orders? Cheer up, Order Manager Toolkit extension provides you with the convenient tools for quick and efficient order processing. See all the necessary order info with extended order grid, perform order actions in bulk and add order related files to the orders.
Add any order attributes to the order grid
Invoice and ship orders right from the order grid
Set up the priority of orders with color flags
No more loss of important order data
Greatly optimize order management process
Visibly improve your order management process and benefit from it.
---
Clear and efficient order operations in your store.
What is the main source of income in your store? The more orders – the more profit from your e-commerce. That's why it's so important to pay much attention to order process in your store and make it as clear as possible. How to do that? It's easy. Get a set of tools with Order Manager Toolkit extension – and they will do everything for you.
Save huge amount of time and efforts.
Have you ever estimated how much time order editing, capturing payments or applying actions take? We checked it out – and were surprised by the results. Save your store manager from these routine and time-consuming tasks replacing them with automatic actions. The efficiency of work will dramatically increase and your staff will be happy. Kill two birds with one stone.
Make your order management operations more accurate.
Missed delivery dates, loss of important order information, chaos in order processing – and this is not the complete list of problems which may occur in the store because of inaccurate order processing. As a result you have unsatisfied customers, who are eager to make orders anywhere, but not in your store. Avoid order mistakes – prioritize orders easily with different types of flags on the order grid and keep all the order-related files and attachments right in your Magento.
Make management process more efficient with powerful order grid.
---
Enhanced order and product information display on the grid.
Now you can add any additional columns to the grid, both order related information such as shipping code, payment method, coupon code as well as detailed information about the products included into the order - name, price, sku or any other product attribute. There is no need to open each order view page to find out which products are included into the order. Moreover, thumbnails give you the full picture for visual presentation.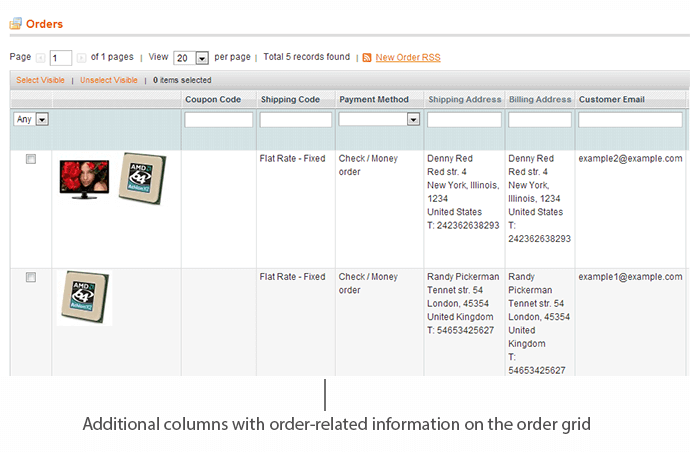 Process orders in bulk right on the order grid.
Editing each order to send invoice makes you frustrated? The solution is at hand. With the extension you can send invoices, create shipments with tracking numbers and capture payments right from the order grid. These actions are available one by one or altogether, for example you can add invoice and shipment at once.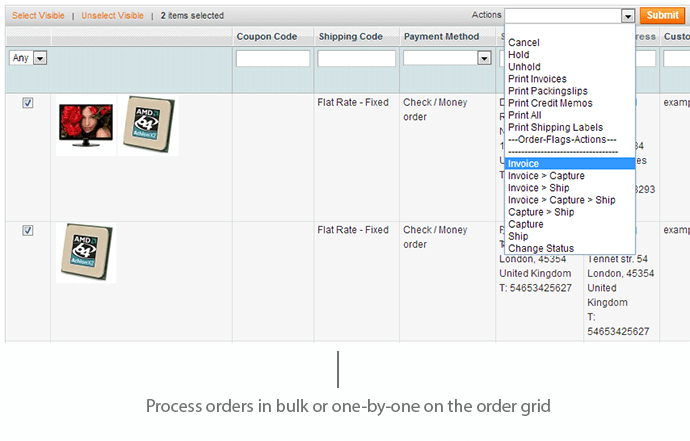 Organize and prioritize the orders.
It's easy to mark the orders with flags of different colors to easily recognize the priority with the quick glance at the order grid. You can also sort orders by flag priority to see the most urgent ones at the top of the list.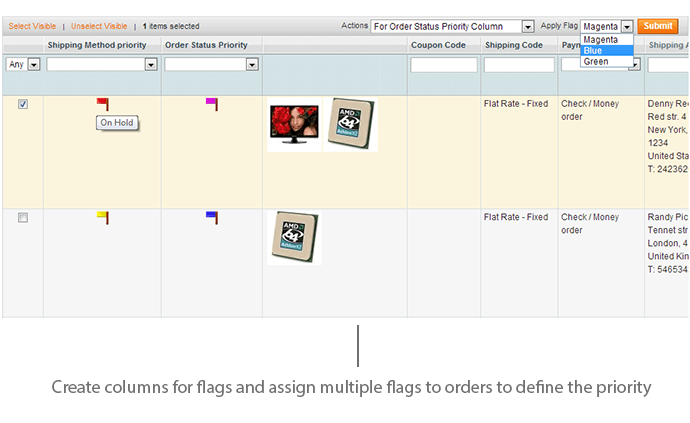 See all the order-related files on the order grid.
Usually there are a lot of documents and files associated with the order. Now you can attach all of them to the order and then see them on the order view. Nothing will be lost.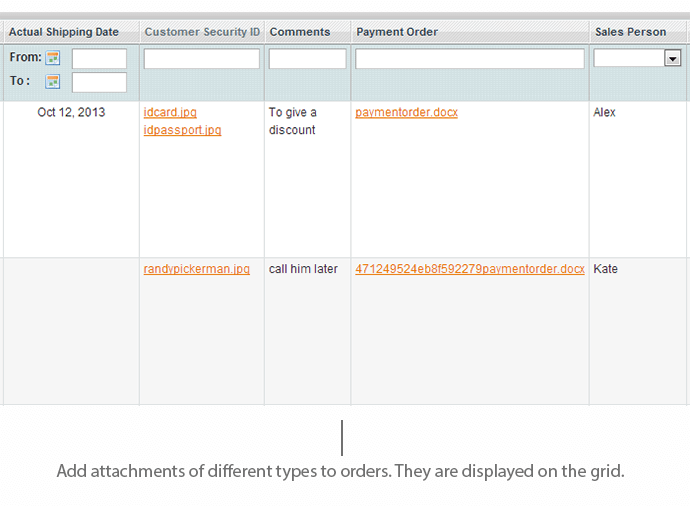 Search and sort orders by attributes, priority, etc.
Now the possibilities for sorting orders by certain characteristics have greatly increased. Search and sort products by any attributes, order priority, attached info, etc.
Feel free to adjust order grid for your specific needs:
- Show the product quantity on the grid.
- Choose the number of products to be displayed at the grid.
- Disable thumbnails on the grid if needed.
- Exclude the orders with 'cancelled', 'closed', 'complete' statuses from the grid.
- NEW! Display shipping and billing address parts such as as country, state, zip, city, in separate columns.
- NEW! Easily adjust columns order and width.
- NEW! Remove default columns according to your needs.
Order actions: fast, convenient, one by one or in bulk.
---
'Invoice', 'ship', 'capture' or 'invoice+ship+capture' orders from the grid.
Apply one or several actions right from the grid. Just invoice a number of orders or invoice, ship and capture in one go.
Process 100 orders with a few clicks.
With bulk order processing you just select the orders you need and apply 'Invoice', 'Invoice and Capture', 'Invoice and Ship', etc. actions at once.
More actions for your needs:
Change order status, capture payment and add tracking numbers on the grid
Display shipping carrier if you need
Choose which actions to be available on the grid
Organized order management with order flags.
---
Use flag orders and add comments to the flags.
Assign flags to orders for better priority recognition. Add a comment for each order, e.g. a note for managers like 'Call the client for details on shipping date', 'Ship today', etc.
Flag columns.
The extension provides the possibility to have multiple columns with flags and apply several flags to one order. Let's say some order is urgent and a certain shipping method was used - you can apply two flags to such order.
Create your own flags in addition to default ones.
You can use the flags supplied with the extension and edit their priorities and images. Moreover, you can add a number of your own flags as well.
Automatically assign flags based on order status, shipping and payment method.
How it works? You can set a blue flag with 'high' priority to be assigned automatically to orders, which get 'Suspected Fraud' status as well as to orders with certain shipping or payment method.
Files and notes.
---
Let customers upload files to orders on order view page
The customers can add files (images, payment documents or other paperwork) to the order. The files are visible on order page in admin panel. Admins and customers can upload and see the files.
The types of information you can add to order and then display it on the grid.
Types of additional fields:
Text field
Text area
Single file upload
Multiple files upload
Date
Dropdown
Each field can be disabled. You can indicate default values.
Display fields for orders with certain order statuses.
Let's say you have additional field 'ID' and select 'On Hold' status for front end and 'Complete' and 'Pending' statuses for back end. The 'ID' field will be displayed on front end only for 'On Hold' orders, while in admin panel it will be displayed for 'Pending' and 'Complete' orders.
Order Manager Toolkit user guide
Live Demo:
Backend
Tags
order management, magento order management, order management extension, order management system, order management for magento, better order management, mass order actions, manage order, order grid, change order status on grid, add comment to order, additional fields on order grid, extended order grid, better order grid, edit order