Delivery Date by Amasty
Please find full description, live demo and user guide at Magento Delivery Date module page
Due to the survey, conducted by Econsultancy, 50% of respondents had abandoned a purchase because of inconvenient delivery options. Among the required options mentioned by respondents are a fixed delivery date, next day delivery, 2-hour delivery slots, etc. The conclusion is obvious – customers are not satisfied with standard delivery and demand flexible and individual delivery options to plan their time. If they don't get the options, they leave your store.

This is a truth of the modern e-commerce world: The product is no longer the king but the service is.

With the extension you will avoid misunderstanding in communication with customers by providing clear and simple delivery process. Specify the dates and time available for delivery and let customers choose the suitable variants.
- Flexible delivery schedule configuration
- Manage date and time exceptions
- Create flexible time ranges for delivery
- No more additional calls, customers leave all the necessary info during the checkout
- Reduce abandonment score
- Improve usability
- Delivery process has never been so clear
- Customers will love you :)

Let customers set preferable delivery dates and time during checkout
---
The module provides customers with the option of delivery time selection. Now they can set particular days and time periods when they'd like to receive the order. For example, one can choose the day – November 22, and the time interval from 10.00 a.m. to 11.00 a.m. if it's available in your schedule. This easy, but very important option significantly enhances customers' experience allowing visitors adjust delivery time to their personal needs.
Along with the opportunity to set the preferable delivery date customers get the chance to write delivery comments. Now they can inform you beforehand about their specific preferences which will definitely improve your delivery service.
Let the customer see the delivery data in the checkout progress column.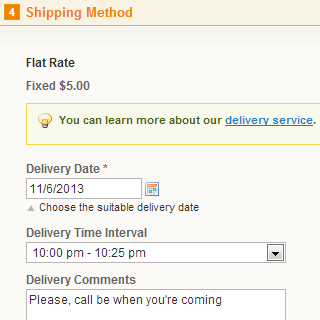 Next-day or the same day delivery is a great bonus for your customers
---
Use maximal and minimal delivery intervals to customize the most convenient time intervals between the order and the day of delivery. You can also indicate by which time customers should make a purchase in your store in case they want to receive their order the same day or the next day after the order is made.
In the general settings section you can specify:
Days not available for the delivery
Delivery comments
Date format
Delivery quota per day (new!)
Send email reminders before delivery
With the reminder option you can inform customers about the upcoming delivery. Specify particular time (in hours) before the delivery to send the reminder. The extension also enables you to send reminders not only to customers, but to their sales representatives as well (available to Sales Reps and Dealers extension owners only
new! Possibility to specify time offset relative to current delivery time
Now you can set an interval offset for the same day of delivery that will be equal the time between current time and the first delivery time that can be selected by a customer.
Notify customers when the delivery date value is changed
Let customers know if admin an user changes specified delivery date. This small option will significantly improve customer shopping experience and help to avoid delivery date confusion.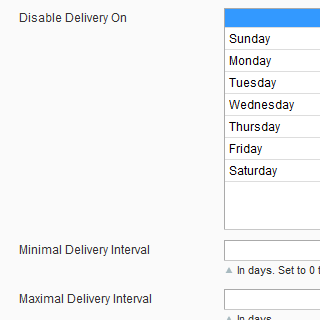 Customers see only the dates available for delivery – you exclude the others
---
The extension provides you with nearly unlimited opportunities for time-table configuration. Specify not only particular days and time intervals to be excluded from the delivery plan, but even date intervals as well.
You can exclude from your timetable:
- Specific days of the week
- Any dates, e.g. national holidays
- Date intervals like December 24 – January 7
- Time intervals like 10 a.m. -11 a.m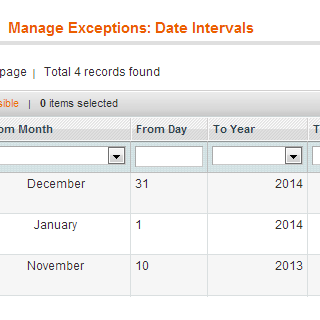 1-2-3-hour delivery slots will make your customers pleased
---
Remember the situation when you don't know the exact time of delivery and spend the whole day waiting? Save your customers from time waist by offering time intervals. You can create intervals both manually and automatically for each particular store view.
To start generation you just need to:
- Set starting and ending time
- Specify starting value for position
- Specify the step for position to correctly sort time intervals on the frontend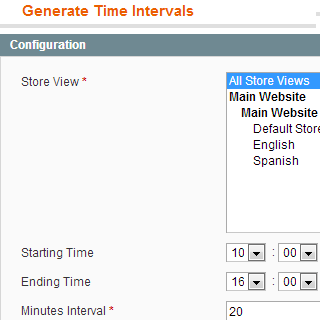 Choose where delivery information will be displayed
---
Easily adjust the display of delivery data like date, intervals or comments according to your needs.
You can display the data at:
- Order grid
- Invoice grid
- Shipment grid
- Order view page
- Shipment view page
- Invoice view page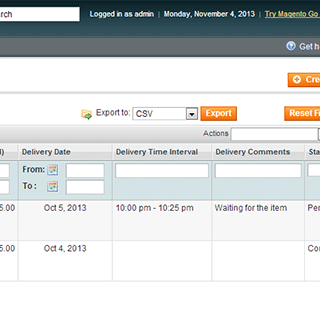 Include delivery data in e-mails and PDF-documents
---
It's up to you whether to include delivery information in order confirmation e-mail or invoice e-mail, as well as in PDF documents like Invoice PDF or Shipment PDF. All the delivery data will be displayed to customers on the checkout page in the Checkout progress column.
new! Place delivery date on the Print Copy of Order Confirmation
Now you can display delivery date values in the print copy of order confirmation which customers will easily find on their account page in the My Orders tab.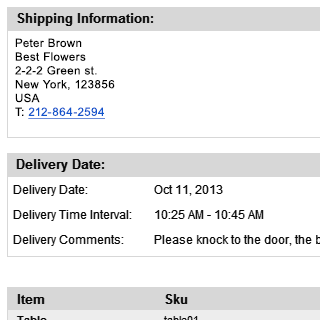 Enable admins to edit delivery data
---
You can enable your managers to edit any delivery data after the order is placed.
To do this you just need to:
- Open the 'Add new role' tab
- Choose custom resource access
- Tick the 'Edit delivery date role' in the folder tree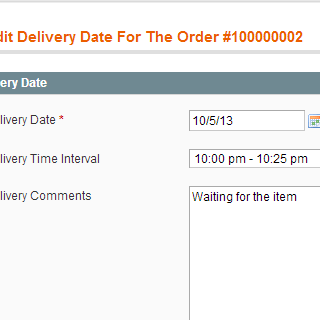 Delivery Date user guide
Live Demo:
Frontend
and
Backend
Other Features
---
100% Open Source — Easy To Customize.
Follows Magento Code Architecture.
Separated HTML/CSS/JS.
W3C Validated Code.
Extension Updates Log:
Please visit the official Magento Delivery Date module page to see the complete Change Log list
Version 1.2.7 - October 14, 2015
– Minor workflow improvements.
Version 1.2.6 - Sep 24, 2015
– Possibility to specify time offset relative to current time for the same day delivery.
Version 1.2.5 - Sep 02, 2015
– New setting to ignore delivery date exceptions for admin: admin can select any delivery date.
Tags:
delivery date, delivery time, delivery date and time, delivery schedule, delivery timetable, set minimal delivery interval, set maximal delivery interval, delivery comments, choose delivery date, scheduled delivery, delivery date and notice, delivery due date calculator, delivery due date calendar, delivery date calendar, delivery date interval