Jewelry Theme
Introduction
We've created a new style of Magento Jewelry Theme, called as style 2, besides the style 1. Our Demo has two styles. Here are new features available with the style 2
New horizontal focused layout
Support multi-languages on stores
Broadened menu top
Integrated with new slideshow extension
New way showing products
Choose colors to show products
Added Sizing Info on details pages
A more functional layout
Included News and video clips
Included Quick login function
Jewelry theme is inspired by the beauty of stylish gemstone. It is the most advanced Magento themes for Jewelry ecommerce Magento sites. The design layout supports multiple positions of module which are used flexibly for business purposes. Jewelry theme is modern, clean and multipurpose and suitable for various products like jewelry, fashion, fitness.
The main features of Jewelry Theme include a built-in mega menu, cloud zoom, Ajax "add to cart", custom grid mode, etc. Admin panel with easy navigation as well as dozens of configuration options that allow you to change themes easily. You can also disable admin panel if you don't use it. Mega menu with multi columns are structured to categorize information and ranges of product. It is super easy for you to navigate in a clean menu. Slideshow with nice visual effects provides more extensive information.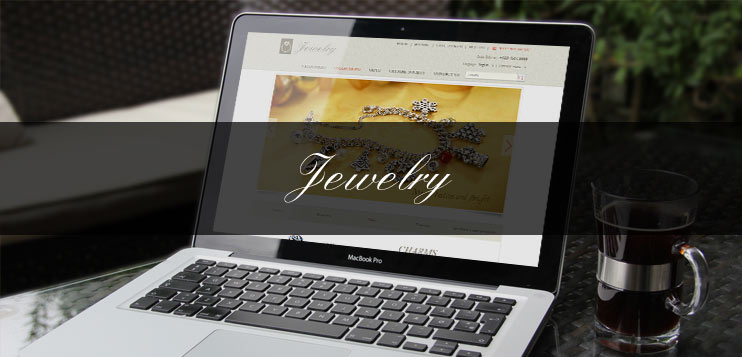 Featured
Featured products are highlighted under slideshow with its name, price and attractive labels. The footer of Jewelry Magento theme is redesigned so you can create more helpful content for your customers. News section is on homepage so that customers can read all news on your store..
Slideshow that has nice visual effects will provide more information blocks to make it more extensive.

Highlight Features

A responsive design which is compatible with many device interfaces like mobile, desktop, etc..
Product's Image Zoom: your visitors can zoom the product's image in/out to see details of the product
Drop-down shopping cart on the header: your customers can easily review all products they added to cart by hovering mouse on the shopping cart on the header.
Support advanced responsive slideshows and Carousel effects for mobile devices.
Show the badge "Featured" for featured products on your site
Custom tabs on the product page display contents in tab
Advanced CSS3 for animation and transition for theme's elements
Enhanced JQuery theme with advanced effects included in plugins
Multi-languages and multi-currencies: any customer will not be obstructed with any language in anywhere in the world
Custom HTML Module: you can create a custom module easily, just need the position
Facebook fanbox
ALL EXTENSIONS INCLUDED
*Style 1 - True shop:
Cmsmart CloudZoom
Cmsmart CustomAttribute
Cmsmart Testimonial
Cmsmart Truemart
Cmsmart UltraSlideshow
Cmsmart Video
Facebook Login
Shopby
*Style 2:
Cmsmart AjaxCart
Cmsmart Ajaxsearch
Cmsmart CloudZoom
Cmsmart ColorProduct
Cmsmart CustomAttribute
Cmsmart GiftPromo
Cmsmart Navigation
Cmsmart News
Cmsmart Qty
Cmsmart Quicklogin
*Note: You must buy Mobile theme SEPARATELY.