Product Feed
A product feed is a specially generated file with the information about all products in your online store. Upload this file to comparison shopping engines to improve your site search rankings and increase exposure of your products.
With the Product Feed extension it's possible to generate feeds either automatically or manually. The module offers a ready-made templates that can be easily configured in a couple of minutes, at the same time an admin user can create an unlimited number of feeds according to any specific requirements. Apart form that, due to the extension you can easily configure price formats and filter products by attribute sets.
Key Features
---
Ready-made templates for feeds creation:
- Shopping.com
- Getprice.com
- Google.com
- Myshopping.com
- Nextag.com
- Shopmania.com
- Bing.com
- Thefind.com
- Shopzilla.com
- Amazon Ads
- Sears.com
Easy configuration of price formats;
Ability to filter products by their attribute sets;
Different types of products are supported: simple, grouped, configurable and virtual products;
Use feature-rich tool to generate product feeds
---
With the Product Feed Extension you can create the feed just in a couple of minutes and get your store items displayed to millions of new customers.
- Unlimited number of shopping feeds;
- Flexible feed configuration;
- Possibility to generate feeds in XML, CSV and TXT formats;
- Mapping option: combine several fields to create one value depending on conditions;
-
new!
Advanced logic for custom fields' values;
- Possibility to include into the data feed:
- Product type;
- Product base image;
- Most product attributes;
- AND/OR logics for advanced product filtering;
- Ability to specify custom prices and attribute values for each feed;
- Ability to choose particular product types to include them into the shopping feed;
- Google Analytics Support: use campaign tracking code to tag the destination URL of each product and track the traffic from shopping engines in the "Traffic Sources > Campaigns" report;
- Ability to generate an url with predefined product parameters to lead customers to the certain store page;
-
new!
Possibility to add to the feed a product category including all sub categories with a single click;
- Advanced XML editor to easily change XML tags in the feed;
- Unlimited distributions for each feed: you can create one feed and distribute it to numerous different service providers;
- Custom defined interval of the feed generation and distribution;
- Ability to set time for feed generation (for example, to generate feeds at nights not to slow down site load speed);
EASILY CHANGE XML TAGS WITH ADVANCED XML EDITOR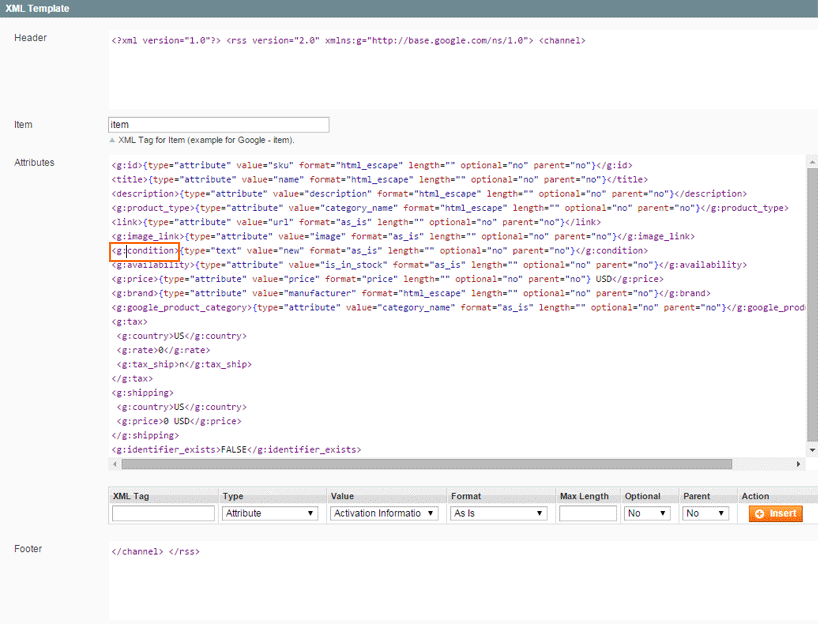 CREATE A NEW FEED CHOOSING APPROPRIATE PRODUCT FIELDS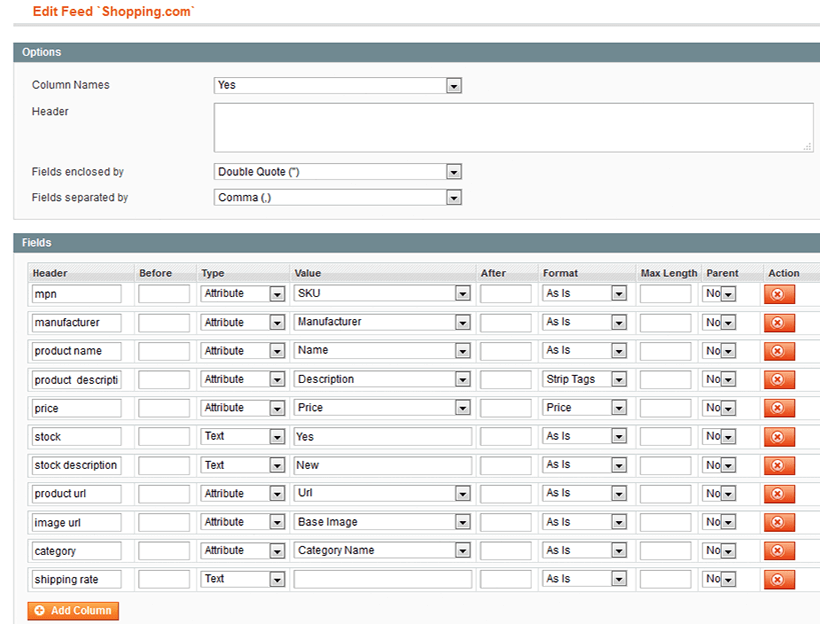 Advanced Features
---
Generate product feeds either manually or automatically;
Upload feeds to FTP/SFTP account or directly download them from an admin panel;
Easily manage feed columns;
new! Ability to duplicate and generate feeds in a bulk;
Specify whether to include out of stock and disabled products into the feed;
View feed generation progress bar when manually generate the feed;
This Feed Manager extension will help you use different merchant channels like Google shopping or Bing shopping to the full.
Also the extension:
---
is easy to use
is 100% Open Source
is easy to install (takes just a couple minutes)
Additional services:
---
Professional 120-day free e-mail support, help and guidance
Risk free purchase, 2-week money back guarantee
Paid extension customization