Extended Order Grid by Amasty
Please find full description, live demo and user guide at Magento Extended Order Grid module page
Product data on the grid makes order processing more efficient
---
View all product information on the order grid page
In Magento handy order management instruments are the key to success in handling orders. By default, no product information is shown on the order list page, which is very inconvenient. The module allows to display all order information on the grid - product thumbnails, names, SKUs, color, etc. So now you can quickly see which products were bought without opening the order view page.
Search orders by product attributes, such as SKU, name and etc
Flexible order search by chosen product attributes, which helps to find relevant orders right away. You can select which product attributes to show on the order grid - SKU, name, color, size and so on. You can filter and sort orders by each of the attributes.
Nice visual presentation

The module lets you see product thumbnails on the order grid. When there are more than 3 products in an order, the thumbnails are displayed in a slider to save space. For your convenience you can display only part of the products for big orders. So orders with 20-30 or more products will not occupy the whole screen. It is possible to specify the number of products you would like to see by default for each order. Complete list of products can be seen in an AJAX-based popup window right on the order grid.

Simplified order processing to save time

Quite often a Magento admin needs to look up which products were bought in an order and some product parameters (like SKU, cost, etc). It takes very much time to load the page of each order, especially when you have to view a lot of them. Extended Order Grid puts an end to this :)

See product quantity on the order grid

The number of ordered items for each product is shown together with product name in the additional column, when 'name' attribute is set to be displayed on the grid.

NEW!

Display total order weight on the order grid

Now you don't have to calculate total order weight. You just can add this parameter to the grid and it will be calculated automatically.
Enhanced order information display for more convenient processing
---
Hide orders with certain statuses

When you have a long list of orders, it can be time-consuming in your Magento get order items, which have to be processed and need your supervision. A good solution is to just hide completed or cancelled orders. You are free to exclude or include orders with any statuses - 'on hold', 'payment review', 'pending', etc. Optimize the list orders to process them conveniently.

Shipping and payment methods, coupon codes on the grid

Besides detailed information about each product included into the order, shipping and payment data is extremely important. You can add columns for display of coupon code, shipping and payment methods for each order on the grid. Of course, filtering and searching by these attributes is available.

NEW!

See subtotal order price in the grid

Add new column 'subtotal' to the order grid to see ordered products price before taxing.

Ability to display shipping and billing address parts

Now more useful columns are available for adding to the order grid. You're able to display shipping and billing address parts, such as country, state, zip, city, in separate columns.

NEW!

Add customer phone number to the order grid

Since now you can easily add the phone number to the order grid to have all customer shipping details in one place.
Flexible settings according to your business needs
---
Flexible attributes management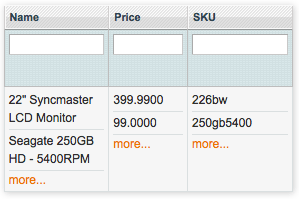 You can select which attributes to add to the order grid. This way you can choose product attributes, which are essential for your particular business, to show only the needed information on the order list page. For instance, if you pick product name, SKU and cost, you'll see only this product info on the order grid.
Informative order grid
The order information on the grid contains the chosen product attributes and thumbnails, so you won't need to go to the order view page to see which products were bought in an order.
Adjustable columns order and width
Now you have the opportunity to set the order of columns on your grid to manage information even more effectively. Select which attributes should go first and change the column places accordingly. To maximize the convenience of using the order grid you can change columns width.
Possibility to remove default columns
If you don't need some of default Magento columns you're able to delete them from the order grid.
Additional functionality:
Ability to choose max number of products per order to be displayed by default.
Possibility to enable and disable display of product thumbnails on the grid
Fully compatible with Magento order grid export feature.
Choose orders with 'cancelled', 'closed', 'complete', etc. statuses to exclude from the grid.
Extended Order Grid user guide
Live DEMO:
Order Grid

General Settings


Also the extension:
---
is absolutely intuitive and easy to use
meets all Magento development practices
is 100% Open Source
is easy to install (takes just a couple minutes)
Additional services:
Professional 120-day free e-mail support, help and guidance
Risk free purchase, 2-week money back guarantee
Paid extension customization
Extension home page: https://amasty.com/extended-order-grid.html
Please email your questions and suggestions via https://amasty.com or send us a PM at Magento site. Feedback is absolutely welcome.
Related products:
--- To see the complete Changelog list please visit the official Magento Extended Order Grid module page
Extension Updates Log:
Version 1.9.0 - Feb 05, 2015
- New columns added: subtotal, total order weight, phone number
Version 1.7.0 - Jun 16, 2014
- Now it's possible to display shipping and billing address parts (country, state, zip, city) in separate columns
Version 1.6.3 - Apr 02, 2014
- Minor compatibility improvement for Enterprise version