Out of Stock Notification by Amasty
Please find full description, live demo and user guide at Magento Out of Stock Notification module page
More profit through more efficient Magento inventory management and pricing.
---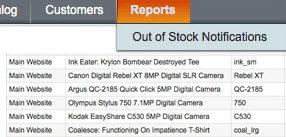 Know to what products customers subscribe not to waste money.
Magento inventory management functionality allows customers to subscribe to stock and price alerts for products. It also sends notifications to customers, which is nice. However there's no way for admin to see to which products customers subscribe. So it is difficult for you to make informed decisions about stock renewals and price updates. This leads to money wasted on unwanted products and unnecessary price modifications. With this Magento stock alert module you will know exactly for which products stock or price need to be updated.
Refill the products, which customers want to buy.
With the module you will see to which magento out-of-stock products customers subscribed. This way you will get in stock the products which you can sell right away.
Return your investment faster.
By keeping in stock the products which customers want to buy, you will sell products a lot quicker and save on inventory.
Optimize prices.
It is very difficult to set the 'right' prices for products – your business needs to be both profitable and competitive. Getting out-of-stock and price alerts, you can increase prices for popular products and decrease the ones which customers would like to buy, but don't due to high price. Very often even minor price changes will help you to get more revenue.
Build long-term relationships with your customers.
---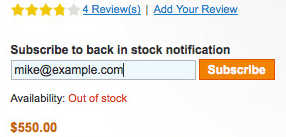 Interact with guest customers.
By default only registered clients can receive out of stock or back in stock notification or other alerts. Nowadays many customers prefer not to sign up, however this should not stop your interaction with such people. The module enables guest customers to subscribe to stock and price alerts, which will considerably increase the base of potential product buyers.
Make customers more loyal.
With timely price changes and stock renewals you will demonstrate to your customers that you respect their opinion and they will return to your store more often. Everybody wins in such situation – customers get the desired products and you get more orders.
Improve customer satisfaction.
The faster customers get the desired products – the more satisfied they are. With the module you will quickly see which out-of-stock products they are waiting for.
Get accurate subscription data to make right inventory decisions.
---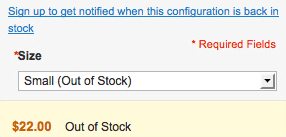 Let customers subscribe to Magento out of stock options of configurable products.
By default Magento does not allow to subscribe to out of stock options of configurable products. So if large size of red shirt is not available and a customer wants to buy it, you will never know this. This is a major flaw if you sell configurable products, as you may lose a lot of sales just because you don't know which products customers would like but can't get at your store.
Let customers manage their product subscriptions.
Customers can see to what products they are subscribed and change their subscriptions. So the subscription data you see in admin panel will be actual and you will update the right products.
Customers can subscibe to the grouped products.
With this functionality you can see the subscriptions to the grouped products, too.
Hide the 'subscribe to' functionality from certain product pages.
If you want to restrict customers from subscribing to certain products in your store, you can easily turn off the subscription window for specific products in your catalog.
Other solution to make your store even more user-friendly.
---
Custom Stock Status extension is great addition to Out of Stock Notification. Create unlimited number of product stock statuses and assign stock statuses to products automatically or manually.
Live Demo:
Also the extension:
---
is easy to use
meets all Magento development practices
is 100% Open Source
is easy to install (takes just a couple minutes)
Additional services:
---
Professional 120-day free e-mail support, help and guidance
Risk free purchase, 2-week money back guarantee
Paid extension customization
Please visit the official Magento Out of Stock Notification module page to see the complete Change Log list
Extension Updates Log:
Version 1.2.8 - Feb 13, 2015
– Out Of Stock Notifications: bug fix for ACL
Version 1.2.7 - Dec 19, 2014
– Minor improvements.
Version 1.2.5 - Dec 02, 2014
– Support for configurable price subscriptions.
Version 1.2.4 - Sep 11, 2014
– Possibility to send notifications as soon as product quantity changed by admin.
Version 1.2.1 - June 26, 2014
- Tested with the latest Magento CE 1.9 release.
Tags:
inventory management, display out of stock products, stock notification, back in stock notification, stock alert, inventory management, stock availability, inventory report, product alerts, availability in stock, price alert, stock report, stock alerts, update inventory