Product Labels by Amasty
Please find full description, live demo and user guide at Magento Product Labels module page
WHAT I GET WITH THE PRODUCT LABELS EXTENSION?
- A rich diverse collection of labels is at your disposal right out of the box;
- Ability to design elegant labels choosing different shapes and color;
- Automatic and manual rules for label display;
- Live label preview right from the backend;
- Display more than one sticker for the product at a time.
Design labels without uploading images [NEW]
Choose the label shape and pick the color that suits your store design. That's it. Labels are fully responsive that provides rapid page loads on all devices.

Upload your own custom images
You can upload any label image you like. With this module you will get a ready-made labels which you can use immediately. Best Seller, Most Popular, Free Shipping, etc. Download free product labels.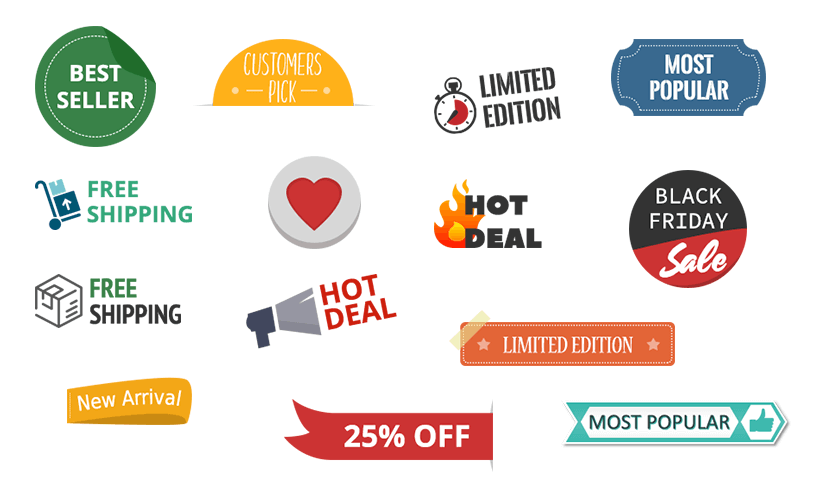 Preview labels from the backend [NEW]
No need to go to the front end each time you edit labels. Live label preview instantly demonstrates all the adjustments right in the backend.

Highlight special offers
Make sales, special offers and featured products stand out. Use stickers and 'call to action' slogans to attract customers' attention and boost your catalog's conversion rate.
Indicate New products in Magento
Add label and text like 'NEW! Arrived 2 days ago!' to make new arrivals noticeable. Define for how long an item should be considered new with a date range or a number of days after product creation.

Show labels for a certain time period
Define the dates and particular hours between which the labels should be displayed. Create a Black Friday Sale or schedule discounts from November 23 till December 25 and display stickers only for these intervals.
Outline important product information
You can create labels based on product attributes and emphasize the main advantages of your products. Add 'Nike' or 'Adidas' logos to all products by these manufacturers or show the "Linux" for all products that have this OS installed. Specific characteristics make products more desirable for shoppers. See full list of features.
ADJUST DISPLAY OF LABELS TO YOUR STORE NEEDS
Show labels based on product price
Display the labels only for products within a certain price range. You just need to indicate which price to use for this option, e.g. base price, special price, etc.
Display labels based on category
When setting up a label, you can choose to products of which category it should be applied. For example if you have a promotion for shirts, than assign label to 'Shirts' category to highlight all items from this category.
Hurry up! Only 3 items left!
Turn visitors' attention to products with low stock status. Use stickers like 'Almost gone!' or 'Only 3 left!' and stimulate purchases. Use a condition 'Display if stock is lower than' for the custom Low Stock status.
A variety of conditions for Labels display
For instance, show label for products which meet the following conditions: a) have special price, b) are not new, c) belong to 'Shoes' category, d) are of black color, e) are in stock, f) sku is not Gucci or Armani. It's up to you.
Unlimited number of labels
You can have any number of labels simultaneously. Add multiple labels for each product. For example show '5-year guarantee', '100% recyclable' and 'Save 30%' stickers at the same time for one product.

TAKE ADVANTAGE OF THE EXTENSION FLEXIBILITY
- Choose customer groups for which to show labels
- Use different images and text for category and product pages
- Show labels of associated products on pages of parent products
- Set priorities for label display, hide labels with lower priority
- Add or remove labels from individual products
- Configure label position and styles
- Duplicate, activate/inactivate labels quickly
Live Demo:
you'll be logged in automatically
See various labels on the catalog page
User Guide:
Configure the extension with a comprehensive tutorial
Extension Updates Log:
Version 4.0.0 - Oct 11, 2016
– New back-end interface and usability updates
– Live Preview of label in backend
– New labels type allowing admin to choose the shape and color
– Fresh label images set added
– Variables for the special price time left and for the product stock
– A condition 'Display if stock is lower than' for the Low Stock
– Duplicate label and Change Status mass action are available
– Allows add just text without image as label
Version 3.0.7 - Feb 05, 2015
– Improvement of label configuration UI.
– Minor improvements.
Version 3.0.0 - Nov 21, 2014
– Responsive design.
– No need to modify templates on module installation.
Version 2.0.9 - Sep 17, 2014
– Small admin UI improvement: for yes/no attributes now there is a drop down instead of 1/0 input box.
Version 2.0.8 - Aug 04, 2014
– Condition for attribute to have some value (with no need to define the value exactly).
Tags
labels, product label, product labels, magento stickers, product labels magento, image label, magento product labels, product tags, magento product price, product tags, product tags disable disable product tags, magento on sale, magento onsale, magento sale items, magento new products, magento product ribbon