Advanced PDF for Forms

Optimization of work saves time as well as provides more efficient processes and convenience for both your customers and you.
Combination of Magento form builder and the plugin is a good way to omit papers' signing process, all becomes available online and immediately.
You can create any types of form-based agreements, contracts; quote requests, etc. using SmartFormer Gold. And Advanced PDF plugin will create a good-looking PDF output using your template and the information submitted by your customers.
This plugin is dependent; it can be installed and will work only together with our
SmartFormer Gold form builder
.
This video shows how the Advanced PDF plugin works: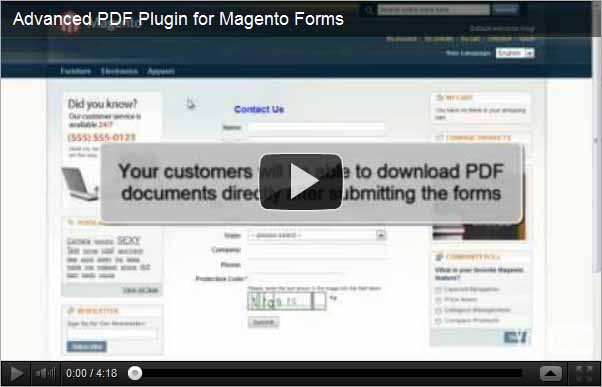 Features
» Simple PDF export of submissions
» Advanced PDF output
» PDF can be attached to emails as well as generated on the front-end
» Add texts, styles, images to PDF, pull data populated on the forms to it
» Ready functionality to omit paper work, provides any documents' populating, signing and saving online
» SFG and its plugins can be combined together, so that a form agreement can be filled out, signed online, and the resulting PDF with the signature image generated
Useful Links
Extension Page:
Advanced PDF for Magento Forms
Documentation:
Advanced PDF User Guide