Abandoned Cart Email by Amasty
Please find full description, live demo and user guide at Magento Abandoned Cart Email module page.
Cart Abandonment: Why do customers leave their carts?
---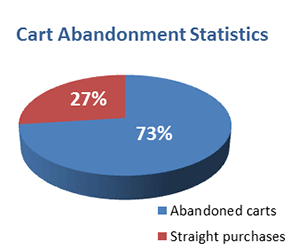 Abandonment statistics
According to the Sale Cycle the average abandonment rate in the sales sector is over 73% and the overwhelming majority of abandonments happen in the time period between 1pm and 2 pm.
Among the common reasons for leaving their carts shoppers specify the following:
High shipping costs (44%)
Hesitation, simply being not ready to purchase (41%)
Too high product prices (25%)
Noticeably Increase Your Revenue
---
Destroy customers' hesitation
Very often online shoppers add products to their carts, but don't complete purchases because of hesitation. Remove the hesitation with the Magento Abandoned Cart Emails extension by getting closer to customers and boost your sales, by motivating visitors to restore their abandoned shopping carts.
Boost your conversion rates
Do you know that according to the latest statistics every single cart reminder sent to customers brings about $5 back to online store? In a highly competitive e-commerce market you just can't afford ignoring potential profit which could be generated by abandoned carts. So a timely Magento abandoned cart reminder dramatically increases your chances to get another conversion.
Get more loyal clients
Show your customers you highly appreciate them by offering tempting discounts in your Magento abandoned cart email. You can easily personalize your reminders and therefore get more powerful feedback.
Enhance User Experience
---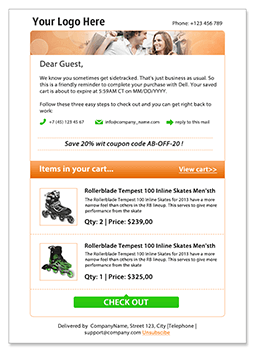 Let customers quickly restore their carts
Remove barriers on the customers' way to their shopping carts, provide them with the opportunity to restore their carts with one click.
Achieve great results with nice and catchy email templates
Choose one of the numerous ready-to-send email templates to easily draw customers' attention to their abandoned carts. Bright and clear templates will help you structure your data and highlight the most important information.
NEW!Use advanced template options
With the new flexible options you can easily customize templates according to your specific needs:
Display configuration options like size, color etc. in the email template.
Use format manager to display currency, dates, price and time in the necessary format.
Use URL manager to automatically create URLs corresponding to Magento requirements.
Incentivize customers with discounts
The module allows inserting discount coupons into any of the reminders so that customers will be highly motivated to come back to your store and purchase the items from their abandoned carts. E.g. you may send 3 reminders to a customer and add discount coupons to 2-nd and 3-rd emails to increase the chance of order.
Highly-configurable cart reminder emails for max efficiency
---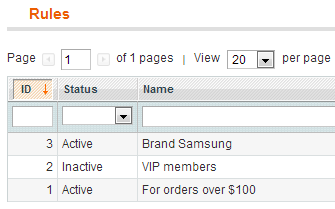 Individual rule for each type of products
Different products require different approaches to be sold. Clients who are going to purchase expensive products, for example cars or jewelry, require more attention. So, you can create a special rule for such types of products to send more emails and promo coupons to potential clients. While visitors who have abandoned their carts with just a few cheap items can receive only one or two reminders..
Create unlimited number of rules
You can create unlimited number of flexible rules to send as many reminders as you need with the Magento shopping cart abandonment extension. For each rule you can specify individual number of emails to be sent, e.g. for simple and cheap products it may be 2 reminders, for more expensive ones it may be 4 or 5 emails.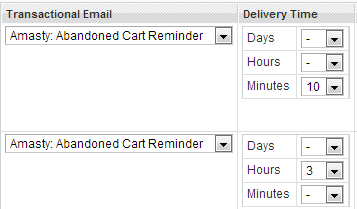 Use customizable sending schedule
If you are going to send more than one reminder email to particular customers you can specify time periods between reminders in a sequence to adjust their sending to your specific needs..
Automatically add coupons to emails
Motivate customers to return to your online store and complete their purchase with coupons. You can specify conditions when the coupons should be automatically sent to clients. E.g. you can send coupons only to the customers whose cart value is more than $200. Also it is possible to choose to which emails to add coupons, e.g. you can send the first reminder without coupon and add coupons starting from second or third email.
NEW!
Use AJAX to capture emails of guest visitors
Usually customers are not likely to register on shopping sites, so it's very important to have the ability to send follow up emails not only to authorized visitors, but to guests as well. The Abandoned Cart Emails module enables you capture guest emails when visitors fill in the checkout fields to send them reminders in case they interrupt the checkout process. The extension captures the customers' emails with AJAX, so the emails are saved right after they are entered.
Send targeted emails
While creating a rule you can specify customer groups, order amount, particular brand names etc. Such flexibility will help you to effectively set up mass email sending by accurately targeting it.
Options for admin and customers to stop email sending
You can set the emails to stop automatically after an order is placed or a customer clicks the 'restore cart' link. Also it is possible to remove emails from the sending queue. Of course, there's unsubscribe option for customers.
Track email sending and analyze results
---
Analyze your campaigns
History grid shows who of your customers just opened a recovery link, recovered the cart as well as whether they used the attached coupons or not. You can filter and sort the data by rule name, customers' names and emails, status, etc for effective analysis of your campaigns.
Moderate emails in the queue
Before an email is sent it gets into the sending queue where you can see all the sending details and edit emails. Modify the scheduled date and time as well as the customer's email address. You can also edit the email templates right from the queue grid.
Easily test your Campaigns
---
Send test emails
The module allows you create test emails and send them to the appropriate email address to check out if everything functions correctly.
With the extension you can also:
Disable auto sending option and manage reminders manually.
Stop sending emails once the recovery link is opened.
Send a reminder copy to alternate email address.
Send emails to registered customers only (not guests).
Use cart reminders wisely
---
New abandonment trends
The most common reasons for cart abandonment mentioned at the very beginning seem to be quite predictable, but there is one interesting tendency – high abandonment rates during the lunch time. Who are those people who browse through online shopping websites and then abandon their carts? Usually these are the office employees who try to grab a couple of free minutes during the lunch break to find the products they need. But when the break is over they have to close the website without making a purchase.
Hint:Show such customers an easy and clear way to come back to your store to complete the purchase process..
How cart abandonment reminders can improve the situation
Keeping mind the info about the latest cart abandonment trends you can easily elaborate more effective email sending policy.
First of all, by tracking the time of cart abandonments as well as the cart value of the purchases, you can better specify the segments of the target audience for your emails. This will help you create personalized email templates for each segment.
By setting the appropriate email sending frequency and including coupons depending on the customers' segment you have more chances to increase your conversions.
Enrich the list of your marketing tools
---
Compatibility with other modules
The extension fully supports the One Step Checkout module functionality allowing you easier capture customers' email addresses and launch effective email campaigns.
Abandoned Cart Email user guide
Live Demo:
Backend
Extension Updates Log:
Version 1.10.0 - Dec 16, 2014
– Possibility to use URL manager for the email templates to automatically create correct Magento URLs.
– Admin can use format manager for the email templates to display data like date or price in the necessary format.
Version 1.9.0 - Oct 30, 2014
– Coupons now are restricted to the same customer EMAIL as in the cart.
– Admin can show configuration options for products in the cart in the email template
Version 1.8.0 - Aug 29, 2014
– Ability to show configuration options (like color or size) for each product in the email.
Tags:
follow up email, abandoned cart email, abandoned cart reminder, cart abandonment, shopping cart abandonment, magento abandoned cart, magento cart abandonment, abandoned cart extension, cart reminder, follow up email magento extension, abandoned shopping cart email, abandoned cart follow up, magento cart alerts drive sales extension, increase sales extension, shopping cart abandonment, shopping cart reminder