Customer Credits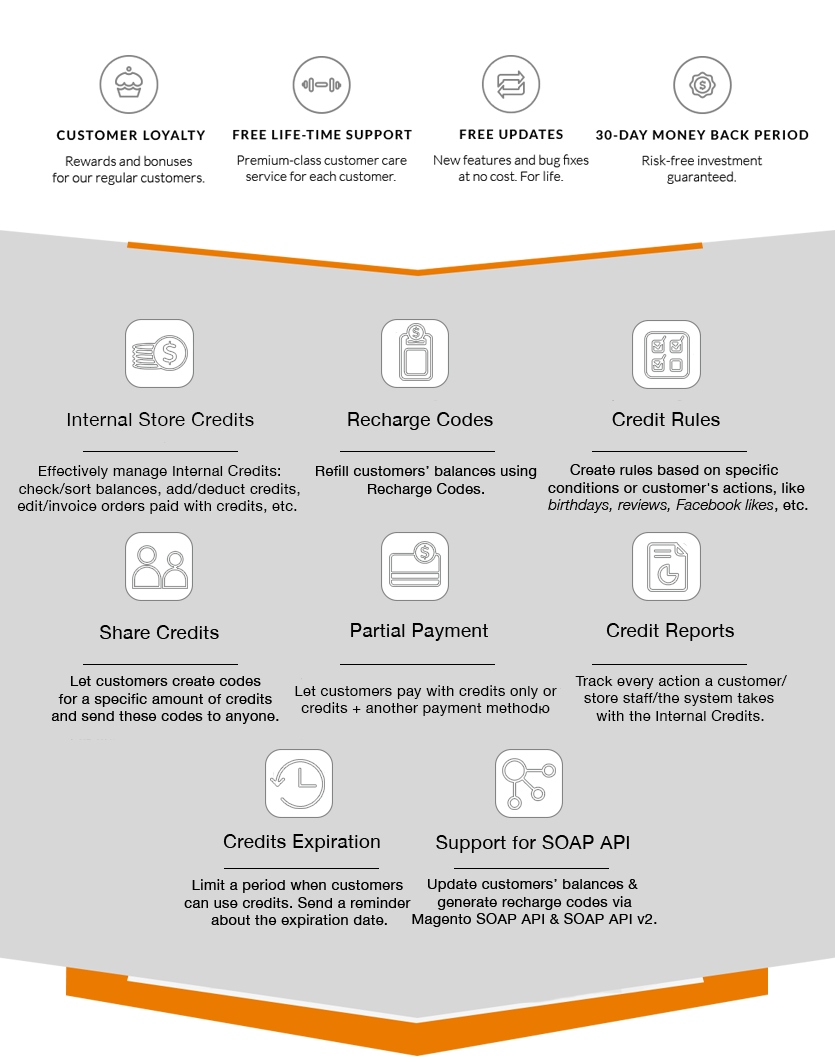 Magento reward points extension (Loyalty booster) raises Magento based stores to a higher level of e-commerce business giving customers a pleasurable possibility to make "free of charge" purchases using money available in the account. The extension can also help to attract additional customer audience with the help of prepaid debit cards which can be automatically generated by a store admin or a sales manager. All operations and payment activity using Internal Credit balance are being logged for a customer and a store manager convenience.
Magento Store Credit plugin operates as one of Magento payment methods, i.e. "Purchase Order" or "Check/Money order" etc. Customer Internal Credit balance is rechargeable. Money can be loaded either by admin or by store account owner using "Recharge Code". However, admin has extended functionality for managing customers. He can replenish or charge customer balance and every operation can be additionally commented. On multi website Magento stores admin can manage customer balance independently for each website regardless of different currencies.
Customer Credit extension allows funds to be transferred to the customer's internal balance in an instant manner instead of periodic need to create discount coupons. Auto generation of a large amount of predefined Recharge Codes significantly simplifies the gift certificates/debit cards creation process.
Discover more Magento promotion extensions by Mageworx
Effectively Manage Internal Credits
Pay for the products and services using customer Internal Credit Balance
Purchase internal credits (you can sell internal credits as standard products)
Invoice orders paid with internal credits automatically
Edit orders paid with credits
Choose Internal Credits when creating orders manually in the back-end
Display the "Credit Balance" column in the customers grid in the back-end
Send email notifications to the customers when store admin changes internal balance
Edit notifications templates in the back-end
Import / Export customers' credits in a .CSV file (using Dataflow Profiles)
Add/deduct Credits under the Internal Credit tab in the Customer Information section
Auto credit refund if an order is canceled/refunded (when a customer pays with credits)
Return credits instead of funds in case of an offline refund
Show a static block in the "My Credit" section
Allow using Internal Credits for specific customer groups (select customer groups, which will see the internal credit functionality on your site)
Credit Balance activity is being logged for the customers and admin future reference (these logs are displayed in the customer's area and in the back-end when viewing a customer profile)
Recharge Codes
Refill customers' Internal Credit Balance using pregenerated Recharge Codes
Simplify the process of gift certificates/debit cards mapping
All Recharge Codes activity (codes expiration dates, codes usage) is stored and can be accessed via the Recharge Codes section
Export/import Recharge Codes in a .CSV file
Download a sample .CSV file to see how it should be created before importing codes
Payment Methods
Use Credits with other payment methods (Partial Payment)
Apply credits right on the cart page
Select checkout attributes the credits should be applied to (Subtotal, Shipping & Handling, Tax)
Use Multiple Address Checkout
Partial payment will be automatically activated during the checkout when a customer doesn't have enough credits
Credit block on the cart page is developed to cause minimal conflicts with custom templates/themes and extensions
Share Credits
Customers can share Internal Credits with anyone
Customers can create the credit codes for specific values of internal credits and see when each code was used
All the actions with customers' codes are logged in the credit report in the back-end
Credit Rules
Create rules based on specific conditions (credits are automatically applied to customers' balances):
Customer attributes - e.g., purchased amount, registration date and customer's birthday. Thus, you can give credits to every new customer or when customers get a certain amount purchased (overall orders numbers).
Product attributes - all available attributes in your Magento store - SKU, name, price, etc. Give credits for purchasing only specific products only. For example, if you want to give credits for purchasing only a couple of products, you can create the rule with the SKU condition & write the message "Buy this product and get 100 credits".
Customer Actions - reward customers with credits for specific actions, like product reviews, product tags, signup for a newsletter, Facebook likes.
Mark a credit rule as one-time. Thus the rule will be applied only once for the current customer.
Create rules to give a % of an order's total. For example, you can create a rule to reward customers with 10% from an order's grand total if they purchase for $1000+.
Create rules to apply credits for specific products only. For example, you can allow purchasing specific products using credits. The credits will be applied only to these products.
Credits Expiration
Specify a default period in days for using credits (this range specifies how long customers can use their internal credits before they get expired)
Update or keep unchanged current customers' balances if the default expiration setting is changed (the setting affects current customers' balances when the store admin changes the default expiration period.)
Specify period in days customers will be notified before their credits will be expired
Exchange Rate
Specify the exchange rate of 1 point to 1 unit of your store base currency
Multi-currency set-up support. In case you have more than 1 currency allowed, the resulting sum will be converted with the consideration of your currencies rates
Credit Reports
Get the most accurate insight on:
every action with credits on the site (displays it in the back-end)
the total amount of credits in the system
the total amount of used credits
the number of customers with active credits
the percentage from the total number of customers on the site who modified customers' balances (a staff name)
Every action goes along with comments to know the details about every record
Report is updated instantly
Support for SOAP API
Get, set, increase or decrease the customer's balance via Magento SOAP API
Generate Recharge Codes using Magento API
Support Magento SOAP API v2
Other Features
Full support of Paypal Website Payments Standard, Website Payments Pro, Express Checkout
Supports Compilation Mode
Compatible with Extended Orders extension (you can display "Internal Balance" column in the orders grid to see the amount of used credits for every order)
Compatible with SagePay payment method
Compatible with One Step Checkout by Idev (by request - drop us a line)
Compatible with One Step Sheckout by Apptha (by request - drop us a line)
Compatible with Webtex Gift Card
100% Open Source
Customer Experience
Free high priority technical support
Free LIFETIME extension updates
Free service of resolving module conflicts
30 days money back
Live Demo
Frontend: customer-extensions.magentoext.com
Admin: customer-extensions.magentoext.com/admin (Please select "Customer Credit" in the list of available extensions)
User Guide
You can look through extension User Guide here.
Live Examples
Extension Homepage
Click on "Get Extension" button in the top of this page OR visit the URL Customer Credit extension to see Live Examples of Customer Credit extension
Support
If you have any questions, contact our Support Department and our team will get back to you shortly.
Related extensions:
Magento Donations Ultimate
- accept donations from customers
Extended Contacts
- define multiple contact departments
All Mageworx
Magento extensions
:
Updates
Like our Facebook page to receive timely updates and get 5% discount for all MageWorx's extensions