"We Miss You" Alerts
How many shopping carts stay un-ordered on your website? Do your customers have wishlists that are not converted into purchases? Or perhaps there are customers who have not logged in for a time and miss your great new products and proposals?
Remind your customers about your online store with "We miss you" email alerts.
You can set email reminders to be sent in 3 cases, and add the period of time after which they should be emailed:
» Shopping carts have not been ordered
» Wishlists stays unused
» Customers have not logged in
Create as many rules as you need, limit their time or make them unlimited. Each rule will have its own email template directly in the settings, where you can write a nice "miss you" message, add any links, images, and enter the promotional coupons.
Convert your leads into customers with "We Miss You" Alerts Magento module.
This video shows how the "We Miss You" Alerts extension works: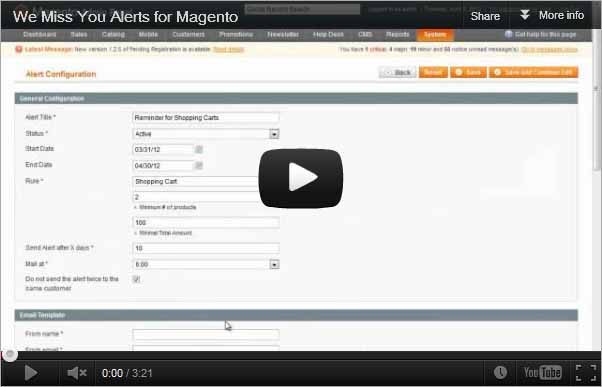 Useful Links
Extension Page:
"We Miss You" Alerts
Documentation:
"We Miss You" Alerts User Guide
License
Magento extensions developed by IToris are provided with 2 license types for each Magento Edition - regular and premium.
Regular licenses are website-dependent. All stores and storeviews under one website will be handled by one license. Each website within one Magento installation requires a separate license.
Premium licenses cover the whole Magento installation including all its websites, stores and storeviews. This license type is recommended for customizations.
Apart from live website, the same license key covers a number of standardized sub-domains for development and testing purposes. Please see our license for the full list of supported sub-domains
We never base our prices on the number of products you have, neither do we make you depend on our server's stability.