Instant Search & Suggestions
The fastest search module with partial match support for Magento! See speed tests below. No need to install other software like Sphinx or Solr!
.
For your customers - immediate search results while they still type. Products with images, rating, description, price and even ability to add to cart/wishlist immediately from the search box. Moreover - suggestions (keywords), articles, categories - all are clickable links.
Search changes on-the-fly while your customers type, adjusting the results. If they want to see products only - they switch to products' mode with one click and no additional time taken to display all products found.
Highlighting of the keyword(s) in articles, products and categories. All areas are separated and organized for convenient display.
For you - plenty of settings to make search work the way you need. Decide what to be included in search and what not. Exclude special type CMS pages (404 or cookies) from search results.
Select what to be displayed for each search area - limit the number of search results, include or exclude description, rating, price, wishlist/cart links for products. Allow or disallow categories, articles, CMS pages to participate in search.
Adjust search box's size and display directly in settings to meet your custom template's needs. Standard Magento search starts working in a new way, so your customers will intuitively find where it is located.
All this makes Search and Suggestions module impossible to replace for you to get a modern advanced search in minutes and for your customers to find exactly what they are looking for.
Speed Tests
Measured on
LAMP
(Linux + Apache + MySQL + PHP) system. Hardware:
Intel Core i5-3470, 4GB RAM, 128G SSD
.
Search conditions: partial match in
product title, short description, long description, sku
. Sorted
alphabetically
. Search results are in
seconds
.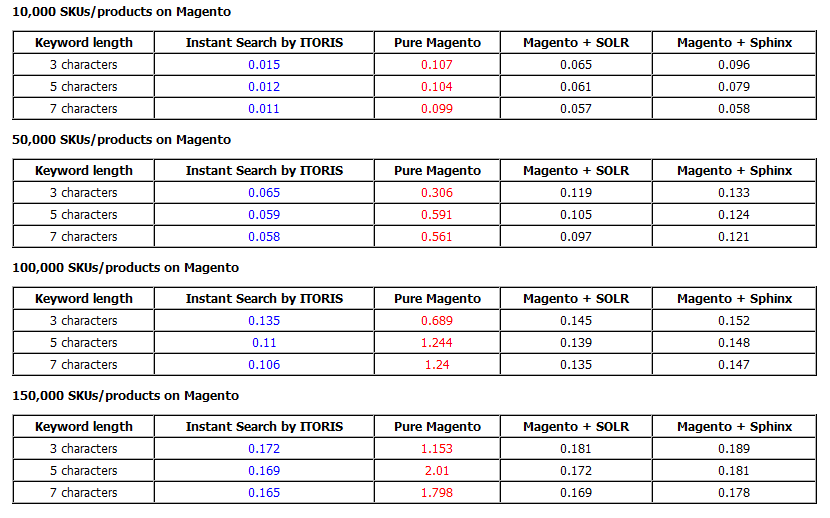 This video shows how the Instant Search extension works: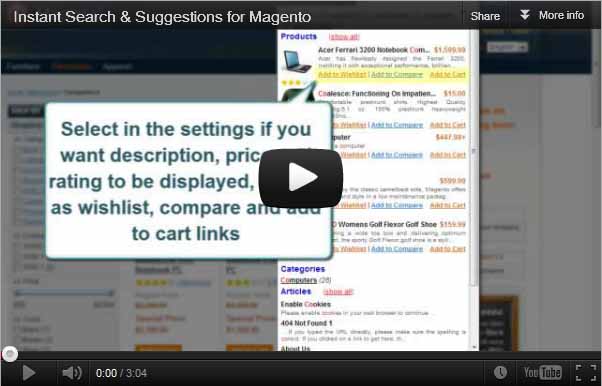 Features
» Really fast search achieved with a progressive cache-based algorithm
» Results display immediately, while still typing
» Suggestions are show directly in the search field in the Google-style (NEW)
» Search results can include keywords, products, categories and articles (CMS pages)
Products:
» Products can have image, title, description, rating, add to cart, add to wishlist, add to compare, price.
» Full management over products' display. Decide what to include, limit description's length, set the order of products' display (alphabetically, by popularity, by relevancy, and so on).
Articles:
» Articles to be included or excluded (convenient for special CMS pages like 404, cookies, or temporary ones with proposals).
» Manage articles' display - how long the description should be, number of articles, display order.
Keywords:
» Manage keywords - include or exclude them, set how many should be shown, select the order of display. Keywords can display the number of products associated with them
Categories:
» Select categories to be displayed or not. Each category is clickable.
Useful Links
Extension Page:
Instant Search & Suggestions
DEMO:
Instant Search & Suggestions DEMO
Documentation:
Instant Search & Suggestions User Guide