Advanced File Manager FileMagus
File Magus
is an advanced web-based file manager with plenty of abilities for you to easily manage files and folders of the website. You will have an impression you work locally thanks to the modern interface of File Magus (indeed, you can even drag a file from your computer directly on server).
Bulk copying, moving and deletion, archives, FTP and HTTP connections, direct preview of files and even ability to edit code files. Plenty of settings, hot buttons, pan interface, executing OS commands – your work with Magento's files has never been so easy.
This video shows how File Magus works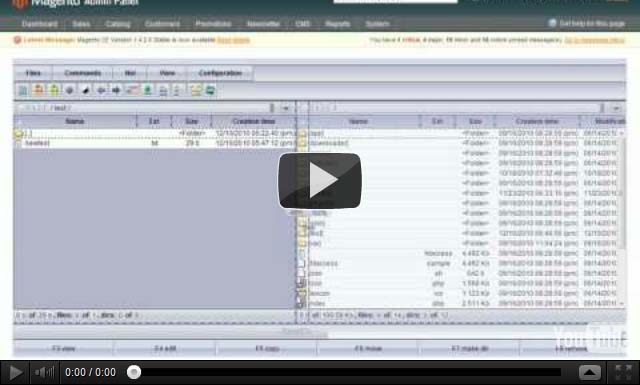 Features
» Creating, copying, moving, renaming, deleting files/folders
» Syntax highlighting editor for editing files
» Changing Windows/Linux file/folder permissions
» Changing Linux file/folder owner
» Compressing/decompressing
» File search by name, content, size, creation date
» Downloading, uploading files (files can be drag&dropped from desktop to browser!!! FF >=3.6, IE 9)
» Files/folders comparison
» Files/folders list builder
» Splitting/combining files
» Windows/Linux OS command line
» HTTP downloader
» Full-functional FTP client. Up to 4 parallel connections
» Viewing system information and more...
Useful Links
Extension Page:
File Manager for Magento
Documentation:
File Magus User Guide
License
Magento extensions developed by IToris are provided with 2 license types for each Magento Edition - regular and premium.
Regular licenses are website-dependent. All stores and storeviews under one website will be handled by one license. Each website within one Magento installation requires a separate license.
Premium licenses cover the whole Magento installation including all its websites, stores and storeviews. This license type is recommended for customizations.
Apart from live website, the same license key covers a number of standardized sub-domains for development and testing purposes. Please see our license for the full list of supported sub-domains
We never base our prices on the number of products you have, neither do we make you depend on our server's stability.