Sliding Panels in Stickers/Memos
Sliding panels created in Stickers/Memos module are a great way to create a promotion, a sale alert, show tips and important information for your customers.
In this module you can create sliding panels and insert them anywhere - top, left, right, bottom. The panels will display titles, and when clicked they will slide out showing their content. Or you can set them to slide out slowly when a page is opened - to make even more eye-catching.
Usage of the attractive sliding panels is unlimited. Just several samples:
» Create tips and how-to's for your customers
» Add information about sales, discounts and promo actions - texts, images, links
» Create special sliding menus visible for customers or for visitors only
» Embed downloadable documents, videos, even widgets (see our demo with contact form embedded)
Stickers/Memos module provides smart usage of space - no need for re-loading, no need for additional temporary pages. You can bind sliding panels to the whole page, or to a selected area on the page.
There is ability to display a panel on one page, or on the group of selected pages.
Plenty of pre-made color schemes will be built in your design perfectly.
This video shows how the Stickers/Memos extension works: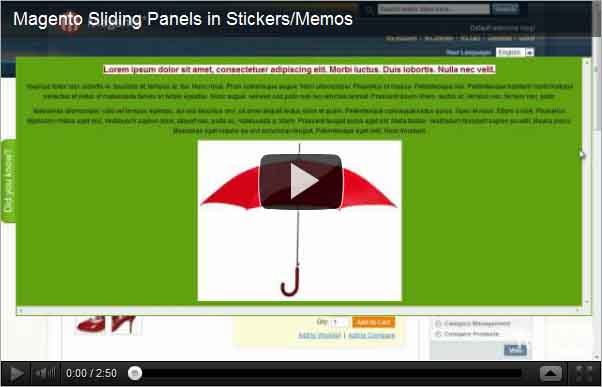 Useful Links
Extension Page:
Sliding Panels in Stickers/Memos
DEMO:
Sliding Panels DEMO
Documentation:
Sliding Panels in Stickers/Memos User Guide
License
Magento extensions developed by IToris are provided with 2 license types for each Magento Edition - regular and premium.
Regular licenses are website-dependent. All stores and storeviews under one website will be handled by one license. Each website within one Magento installation requires a separate license.
Premium licenses cover the whole Magento installation including all its websites, stores and storeviews. This license type is recommended for customizations.
Apart from live website, the same license key covers a number of standardized sub-domains for development and testing purposes. Please see our license for the full list of supported sub-domains
We never base our prices on the number of products you have, neither do we make you depend on our server's stability.