Product Images Slide Gallery
Product Images Slide Gallery
is the extension that will sell your products much better! Now instead of simple display or products' images you will have a beautiful multi-effect rotating gallery for each of your products.
It substitutes standard image display for products and provides several beautiful rotation effects for all images of the selected product. Your customers will be able to view auto-rotation, rotate images forcibly, view larger images on hover and on click, switch the rotation off.
Administrator can select the style of rotation, pre-defined color scheme, activate/deactivate automated rotation, set sizes for gallery blocks.
Color Schemes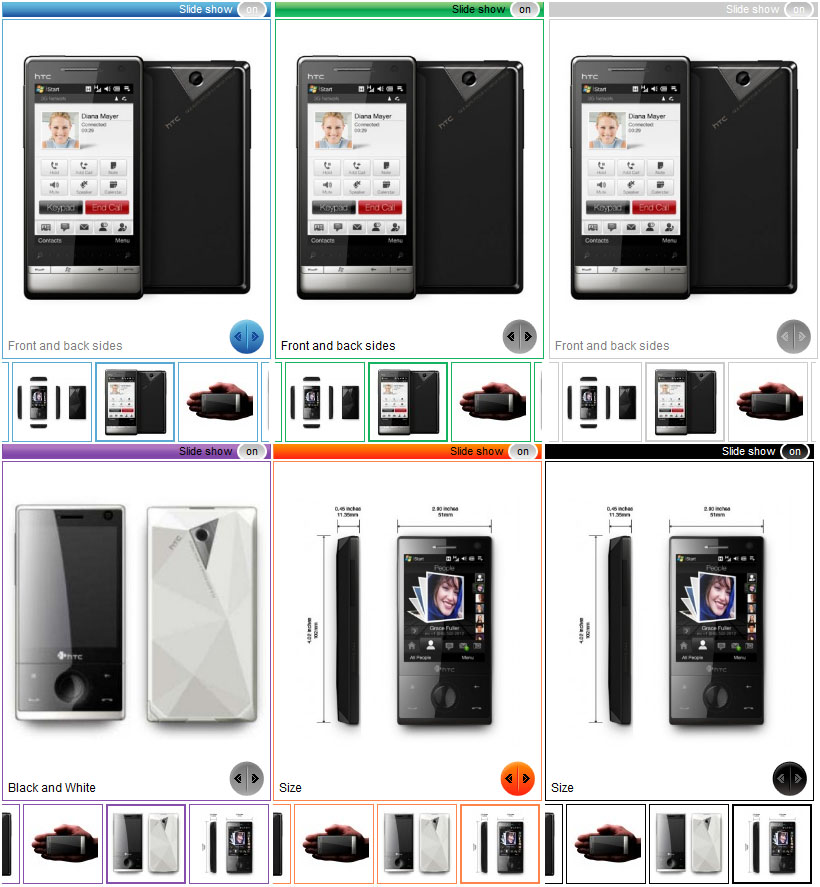 Features
Admin area
» Ability to select color scheme for the gallery: black, blue, green, grey, magenta, red, white
» Style of slideshow: slide horizontally, slide vertically, fade effect
» Ability to set the height of the gallery
» Switch automated sliding on/off
Customers
» Thumbnails of all product's images
» Display of image's title
» Ability to rotate images forcibly with navigation arrows
» Ability to switch off/on automated slide show
» Your customers will see the images rotating by circle when the automated slider is active
» Customers will be able to click on a thumb and it will become active
» On mouse hover the image becomes two times larger
» On double click the image is displayed in full size + convenient ability to close it (return back).
Useful Links
Extension Page:
Product Image Gallery for Magento
DEMO:
Product Image Gallery DEMO
License
Magento extensions developed by IToris are provided with 2 license types for each Magento Edition - regular and premium.
Regular licenses are website-dependent. All stores and storeviews under one website will be handled by one license. Each website within one Magento installation requires a separate license.
Premium licenses cover the whole Magento installation including all its websites, stores and storeviews. This license type is recommended for customizations.
Apart from live website, the same license key covers a number of standardized sub-domains for development and testing purposes. Please see our license for the full list of supported sub-domains
We never base our prices on the number of products you have, neither do we make you depend on our server's stability.