Store Login Access Management
With several stores within one Magento installation, each providing its own privileges and serving different types of customers, it is crucial to limit access of customers to stores.
For example you have a retail and a wholesale store, and want to disallow retail customers' access to the wholesale store.
Store Login Access Control
extension for Magento will work great in this case.
With this extension you will be able to easily manage where your customers can login and where they can't depending on the store they have created account in.
Apart from general login ability, this extension provides a way to disallow registration (new accounts' creation) on selected stores (for example, you create accounts for wholesalers manually only from the back-end).
One more ability - store(s) can be viewed by logged-in customers only. Customer who are not logged in will see login form only when they try to open the store.
Store Login Control allows setting where customers should be redirected when they login - to dashboards of current of main store, to the main pages of current or main store or to a custom URL.
Watch the video presentation of how Store Login Access works and how it can help you.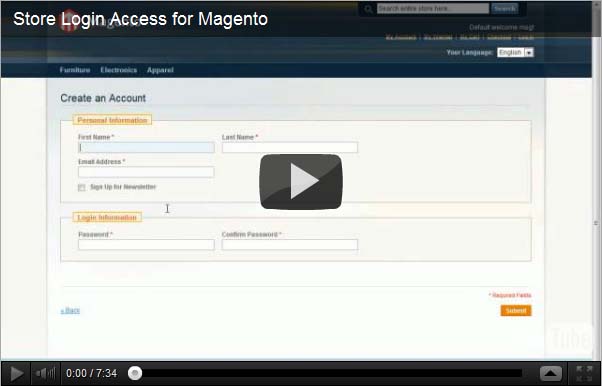 Features
• Per-store management
• Access to selected stores store only for logged-in customers
• Allow/disallow new accounts' creation on selected stores
• Access to stores depending on which store account was created
• Redirect after login (to dashboards, main page or a custom URL)
• Bulk and individual login access control of customers
• In combination with other modules - pending registration for selected stores, custom registration form(s), registration/login forms in modal windows
Combination with other modules
There is ability to combine several modules thus creating an advanced login management system that meets your needs perfectly:
Pending Registration
- for example, you have a retail and a wholesale store. Your retail customers register in a regular way and have access to the retail store only. Your wholesale customers register, their accounts are pending. You validate wholesale accounts manually, and only after the validation the wholesalers are able to login and view wholesale store.
Registration Fields Manager
- You can create an expanded registration form for your wholesalers to collect all information you need, while your retailers will have a different registration (standard or custom as well). After the registration (pending for wholesalers if you wish) your wholesale customers have access to all stores, while retail customers van view retail store(s) only. The customers will have different account details as well.
Smart Login/Registration
- this module allows displaying login/registration forms in good-looking modal windows (DIV). Customers can login or even register while staying on the same page - there will be no redirects and they can continue from where they have been before login/registration.
And even more
Extension Page:
Store Access Control
DEMO:
Store Access Control DEMO
Documentation:
Store Access Control User Guide
License
Magento extensions developed by IToris are provided with 2 license types for each Magento Edition - regular and premium.
Regular licenses are website-dependent. All stores and storeviews under one website will be handled by one license. Each website within one Magento installation requires a separate license.
Premium licenses cover the whole Magento installation including all its websites, stores and storeviews. This license type is recommended for customizations.
Apart from live website, the same license key covers a number of standardized sub-domains for development and testing purposes. Please see our license for the full list of supported sub-domains
We never base our prices on the number of products you have, neither do we make you depend on our server's stability.