Simi SalesTracking/Mobile Dashboard App
Check oder status via mobile. Everytime. Everywhere.
How many sales have you got in last hour ?
Made for Magento lovers by Magento experts. Check it with Simi Tracking now. It's FREE
SimiTracking is a free application to check
magento oder status
and track your sales via mobile.
Benefits of Magento Oder Status - Simi Mobile SalesTracking
You are busy and often need to work while away from the office. Are you urging to find a good way to keep eyes on your e-store without having to literally be next to the laptop all the time? Built with that in mind,
Simi Mobile Sales Tracking is the first and only Magento Mobile Dashboard app
, providing a full set of cutting edge features to follow sales, oder status !
You can now get access to your real-time magento oder status data, such as today's sales, today's orders, and bestsellers...from any mobile devices wherever and whenever you want. Just tap and all necessary detailed reports are at your fingertips!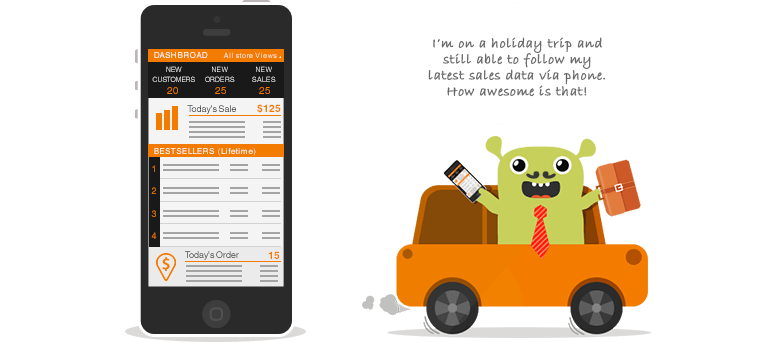 How to get started Magento Oder Status - Simi SalesTracking
1. Download Connector
As it named, connector connects your sales, oder status information to the app.
2. Install on Magento backend
Install connector on Magento backend to start tracking. Simple as any extension.
3. Download the app
Download the app and start the awesome tracking.
Features of Mobile Dashboard app - Simi SalesTracking - Oder Status Magento
Provide general real-time sales statistics
Whenever and wherever you log into the Simi SalesTracking app, the updated overview report on data like today's sales, today's orders, bestsellers... awaits you on the dashboard. By bringing what truly matters to the forefront, Simi SalesTracking reduces the time consumed for keeping up to date with new sales status since the last logout.
Real-time statistics allows you to monitor activity, check magento oder status as it happens on your store. The reports are updated continuously and each hit is reported seconds after it occurs.
Bestsellers' statistics at your fingertips
Do you need help in making the suitable strategy to boost up sales? Simi SalesTracking provides you with a detailed report on bestsellers. The number of orders, total order value and orders' details of each best-selling product are shown by specific store views.
Thus you may exactly know their statuses and come up with timely decisions while there are any changes. Go to BestSeller report to see which product is selling hot on your store to make decisions fast and precisely with magento oder status.
You even configure Bestseller display just the way you like.
Orders reports right in your pocket
View all magento orders statuses and their details in any specific period of time, such as: Today, Yesterday, ... Or use Filter function to view them by their status, such as: Complete, Canceled, Closed, On Hold...
You can certainly view an itemized report on orders including total sales and order details in a specific period of time.
What if you have a vast number of orders? Simi SalesTracking allows you to instantly retrieve a list of orders needed by the Filter function.
What if you see a valued order in 'pending' status? Get in touch with your customers directly via 'phone' or 'email' icons and find out what caused the problem.
Customers' information available for tracking
The app shows an overview of customers in a chronological list. The information of customer's country and the number of orders placed in a specific time are also displayed, helping you target right customers.
It's a smart way to manage your customer base even on mobile devices.
The list of customers contains all personal information and their purchase history. You can tap on email or phone number to contact your customers instantly.
Easy settings for your sales tracking app
With just a glance at Dashboard, you can get an overview of today's sales, orders status magento, bestsellers...We bring all that truly matters to the dashboard to save your valuable time.
Simi SalesTracking allows configuring Bestsellers display, filtration on order status as you wish.
Visit Simi Mobile Sales Tracking Product Page
http://www.simicart.com/simi-mobile-sales-tracking.html
SimiCart