Sale Labels
Your special proposals and sales are missed by your customers? They do not find discounted products? No more! Add sale labels to your on-sale or discounted products and attract your customers' attention.
Sale Labels module allows 4 types of labels to be created. You can easily change the look, text and location of the labels. Select if you prefer labels to be displayed on the main product's image only - or on catalog and thumbnail images as well.
One more special feature - add 'out of stock' labels if you want your out-of-stock products to be displayed.
This video shows how the Sale Labels extension works: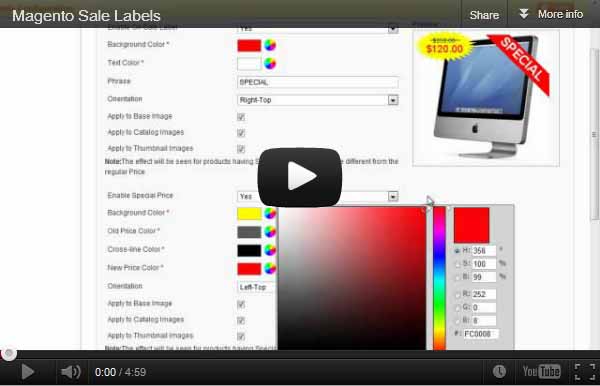 Features
» Four types of labels
» Special old price/new price label
» Easy re-design. Change colors, texts, locations with one click
» Real-time preview
» Out of stock label
Useful Links
Extension Page:
Sale Labels
DEMO:
Sale Labels DEMO
Documentation:
Sale Labels User Guide