Reward Points Lite by MageWorld
"This extension is really very useful. 90% of all customers exchange their reward points during the checkout. This is the proof that the investment in this extension was not waste of money. A++" - Anton, Rechemco.com
Overview
Reward your customers for specific interactions on your site such as buying products, reviewing products, inviting friends to your site, or even just registering or signing up for your newsletter.
You can set different reward points for different products and display these points on the product and catalog pages. You can set the 'points to currency ratio' at your desired level. You can also offer your customers the option of buying reward points.
Reward your customers for interacting on your site and they are sure to reward you by returning more often.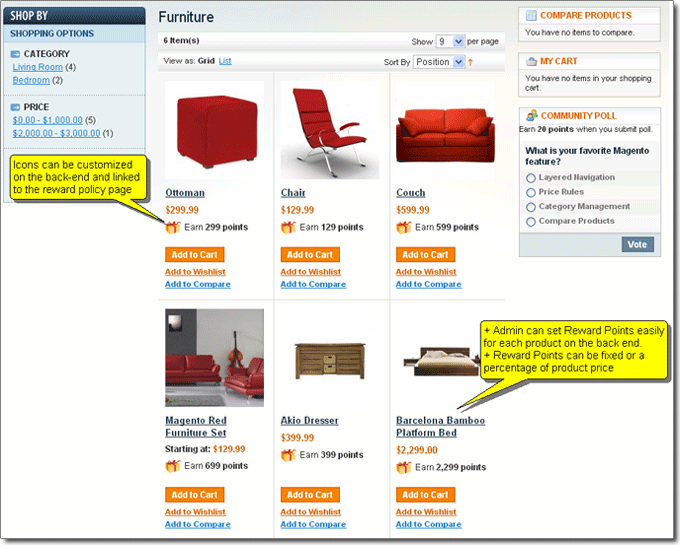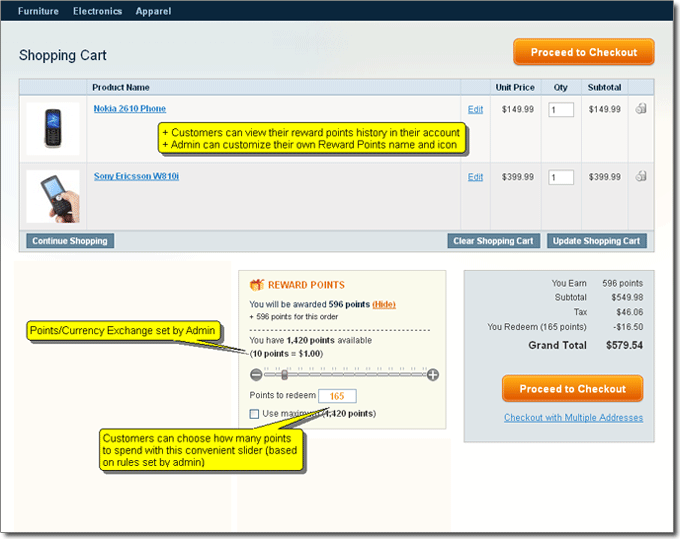 Features
Reward Customer Behavior
Reward Customers for Registering on your web site
Reward Customers for Signing up for your Newsletter
Reward Customers for Posting a new Product Review (Approved by Admin Required)
Reward Customers for Voting in a Poll
Reward Customers for Tagging Product
Reward for Facebook Like
Reward for Facebook Send
Reward Customer Purchases
Reward points on specific products
Fixed reward points on purchase
Reward fixed points or by percentage based on product price (Configured in Rule)
Reward Referrals
Reward Referral Visitors
Reward Referral Sign-Ups
Reward Referral Purchases ( With Different Reward Points for the First and Subsequent Purchases)
Allow Customers to Invite and Share with Friends
Customers can invite friends via email to visit your web store
Customers can share your web store with friends via social networks (Facebook, Twitter, Google 1+,...)
Share a referral link on a forum, blog, messenger
Use Reward Points
Redeem points as discount in shopping cart
Track Reward Points
Customers can check their reward points balance
Check Point-Currency exchange rate
Track their detailed transactions history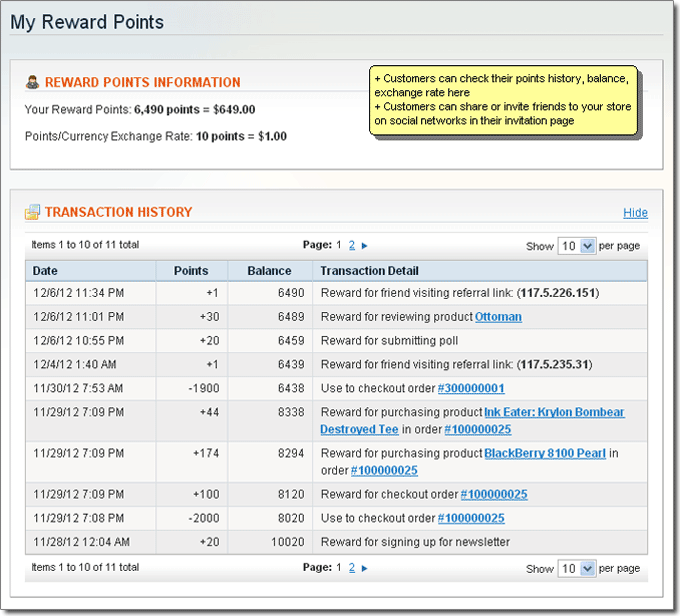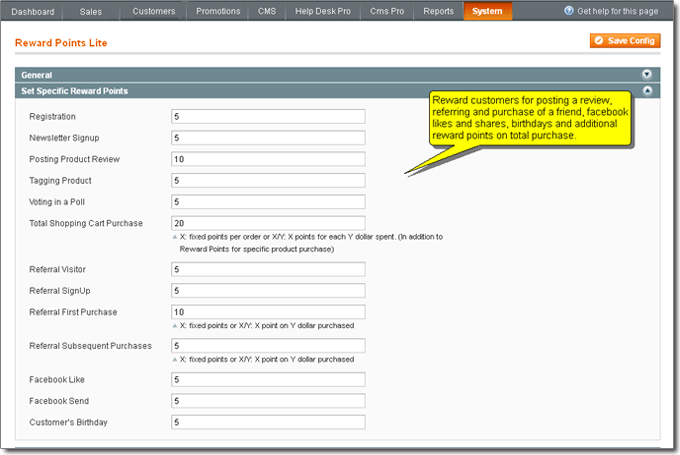 Set Specific Reward Points
Registration
Newsletter Signup
Posting Product Review
Tagging Product
Voting in a Poll
Total Shopping Cart Purchase
Referral Visitor
Referral SignUp
Referral First Purchase
Referral Subsequent Purchases
Facebook Like
Facebook Send
Customer's Birthday
Track and Manage Customer Reward Points
Track the point transaction history of all or specific customers
Allow the adding or subtracting of reward points by admin to customers with a space for comments
Import customer reward points in bulk via CSV
Easy Management
Set Point/Currency exchange rate
Custom reward points in minutes
Create your own reward point name and icon
Email notification and template
Highlight Features
Focus on increasing Customer Loyalty and Higher Sales per Transaction
Easy to use points on shopping cart page with the points slider
Support multiple stores
Encourage Referrals and Sharing
Easy to track and manage customer reward points
Easy to customize the design, templates, icons and style to match your site.
Magento Compatibility
+ Community 1.4.x - 1.8.0
+ Enterprise N/A
Find more information at Live Demo: