Quick Order Form + AJAX Search
How much extra time do your wholesale and regular customers spend browsing in the catalog and forming new orders with the products they know already?
Save the time and help your customers with
Quick Buy module
.
Large orders are formed in minutes with this Magento module - as it provides
AJAX search
by SKU, title, category or description, as well as forming a new order list from the found product on-the-fly.
All is provided on one page, no overloading or unwanted redirection. Real-time and beautiful visual effects are pleasant bonuses to the functionality.
Your customers will undertake several iterations of search, each time adding the products they need to the order list. Then they will easily manage this list - set quantities, select custom options. And with one button click this list will be added to the shopping cart.
This video shows how Quick Buy extension works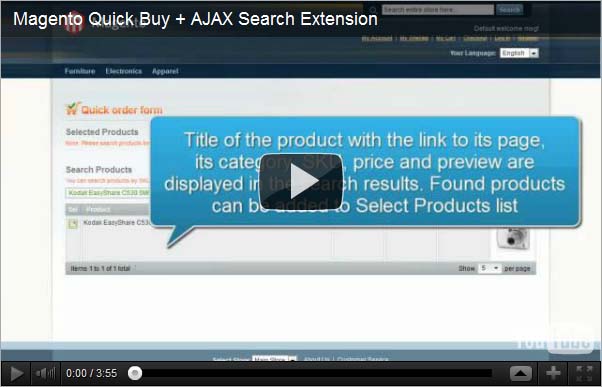 Features
» AJAX search by SKU, title, category or description
» Found products added to Selected list on-the-fly
» Easy order management - mandatory options and quantity set inside the list of products
» No page overloading, all is available together
» Quick Buy has a direct URL and can be added anywhere on your stores
Useful Links
Extension Page:
Quick Buy + AJAX Search for Magento
DEMO:
Quick Buy + AJAX Search DEMO
Documentation:
Quick Buy + AJAX Search User Guide