Quick One Page Checkout
Quick Checkout
module allows checkout to be completed on one page. All information needed for the order is combined on one page.
There is no page overloading, AJAX-driven functionality is provided.
Apart from usual checkout functionality there are several new great features:
Login box
- there is ability for customers to login during checkout. They will stay on the same page, login box will slide.
Account
can be created directly on checkout page. If customer wants to create a new account there is an additional area sliding down to collect account information.
Terms and Conditions
- sometimes you need your customers to agree to the terms and conditions before they complete the order. You can activate the setting and add the terms' text - your customers will see the box when they finish their checkout.
Addresses and shipping
apart from convenient addresses' management, shipping options and cost will change on-the-fly after the address has been entered.
Order
- customers will see the detailed order with the list of products, prices, total cost, etc. Clicking on a product slides down its full details, including the configurable and custom options selected. Directly from the order there is ability to return to the shopping cart and update it.
This video shows how the Quick Checkout extension works: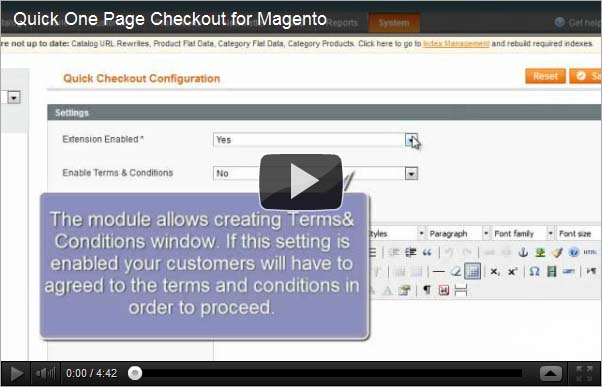 Features
» Login box
» Quest checkout or instant account creation
» Convenient addresses' management
» Shipping options and cost depend on the address entered
» Terms and Conditions functionality available
» Detailed order available
» AJAX-driven one-page checkout
Useful Links
Extension Page:
One Step Checkout for Magento
DEMO:
One Step Checkout DEMO
(Add several products to shopping cart and proceed to checkout)
Documentation:
One Step Checkout User Guide