Product Tabs Slider
Product Tabs Slider
creates a modern tabular interface on your products' pages, thus organizing all products' information in a well-ordered way and making it more user-friendly.
Your customers will get well-structured products' details - no need to scroll the pages down and down. All important details are now at hand. Plus each tab has a unique anchor, so if you want to point your customers to a specific tab - just give them a link with the anchor.
You will avoid extra coding to create a tabular interface. Product Tabs Slider will convert standard Magento product blocks into tabs. If you have no blocks in your layout - they can be declared. You can create standard tabs that will pull data from products' attributes, as well as custom tabs, where you can add any content you wish - texts, images, links, videos, even Magento widgets. Please
see our demo
with contact form and Questions/Answers functionality inserted into tabs.
The module allows creating a separate list of tabs for each store/storeview, as well as change tabs for each product individually (add unique tabs or remove standard ones).
Scrolling for tabs appears automatically when there are more tabs than the page can display. There is a way to select where in your layout the tabs should be displayed with primary tab. Pre-created design schemes to meet your website's look as well as ability to switch beautiful sliding effect when tabs are changed - all this allows adding and designing tabs literary in minutes for your stores.
Search engines index all your tabs easily the same way as they would index blanket-style product pages. So no information will be lost for search engines.
NEW FEATURES!
Now you can make tabs available for selected customer groups only. Also you can create tabs visible for the customers who have purchased a product or for those who have not purchased this product yet only.
This video shows how Product Tabs extension works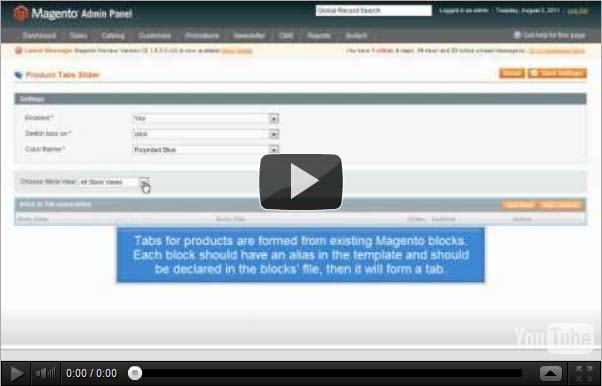 Features
» Standard tabs formed automatically from product blocks
» Custom tabs to contain texts, images, links, video, Magento widgets
» Both standard and custom tabs to be shared between all products
» Ability to change tabs for each product individually
» Separate set of tabs can be created for each store/storeview
» Anchor for each tab (you can point your customers to a selected tab including its anchor to the link)
» Ability to pull products' attributes in tabs (as variables)
» Ability to set primary tab (to define where tabs should be displayed on product pages)
» Pre-created color schemes
» Full indexation of tabs' content by search engines
»
*NEW*
Tab visible only for the customers who have purchased this product (for downloadable user manuals)
»
*NEW*
Tab visible only for the customers who have not purchased the product (for pre-sale questions and proposals)
»
*NEW*
Tabs to be visible for selected customer groups only
»
*NEW*
Each tab to make available for selected stores/storeviews individually
Styles of tabs and color schemes available in the extension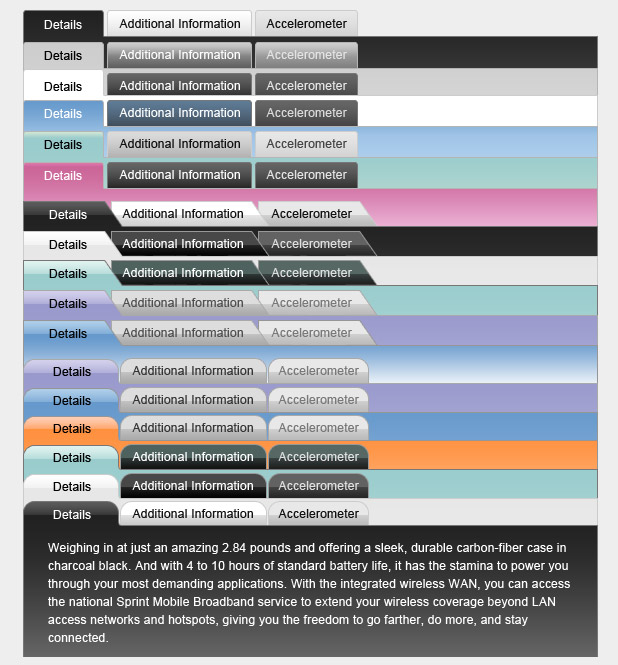 Useful Links
Extension Page:
Product Tabs for Magento
DEMO:
Product Tabs DEMO
Documentation:
Product Tabs User Guide
License
Magento extensions developed by IToris are provided with 2 license types for each Magento Edition - regular and premium.
Regular licenses are website-dependent. All stores and storeviews under one website will be handled by one license. Each website within one Magento installation requires a separate license.
Premium licenses cover the whole Magento installation including all its websites, stores and storeviews. This license type is recommended for customizations.
Apart from live website, the same license key covers a number of standardized sub-domains for development and testing purposes. Please see our license for the full list of supported sub-domains
We never base our prices on the number of products you have, neither do we make you depend on our server's stability.